Ted Cruz's Cunning Response to the Border Crisis: End DACA!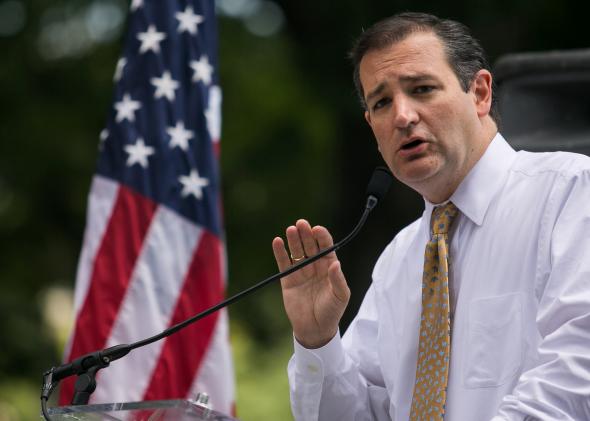 It dropped last night and it's unlikely to pass, but Sen. Ted Cruz injected himself into the border crisis like Paul Stanley rising out of a stage elevator at the start of a KISS show. True, Cruz is the elected U.S. senator from the state with the greatest current influx of child migrants. But his colleague, Sen. John Cornyn, was trying to get a coalition together for a small bill reversing the 2008 child trafficking provision that created a special processing system for migrants from Central America.*
Cruz is going for a full defunding of President Obama's Deferred Status for Childhood Arrivals order. His bill would mandate:
No agency or instrumentality of the Federal Government may use Federal funding or resources—
(1) to consider or adjudicate any new or previously denied application of any alien requesting consideration of deferred action for childhood arrivals, as authorized by Executive memorandum on August 15, 2012; or
(2) to authorize any alien to work in the United States if such alien—
(A) was not lawfully admitted into the United States in compliance with the Immigration and Nationality Act (8 U.S.C. 1101 et seq.); and
(B) is not in lawful status in the United 11 States on the date of the enactment of this Act.
And so a Canada-born senator whose father fled the communist regime in Cuba to build a life in Texas is the point man for reversing the 2012 psuedo-DREAM Act. Why introduce it, if it won't pass? Well, Cruz believes in it, and as far as he's concerned it focuses the blame for the current crisis on DACA. A worried House Republican aide (remember, lots of these people still sort of want the House to pass an immigration bill before the election) tells Joel Gerkhe that Cruz's bill "could look like an overreach, particularly given how the mainstream media will distort it." But Cruz has previously found that the media's coverage of his effort bounces right off of Republican voters. He has been able to spin the 2013 Obamacare funding fight not as a tragic own goal on the GOP, but as the very reason Obamacare riled the 2014 electorate. It'll be dead easy to tell Texas (and Iowa) crowds that he wanted to kill the border crisis at the root, but mushy Republicans failed to stand with him.
*Correction, July 18, 2014: This post originally misspelled John Cornyn's first name.