Rand Paul: The Republican Candidate Least Feared by Young Non-Republicans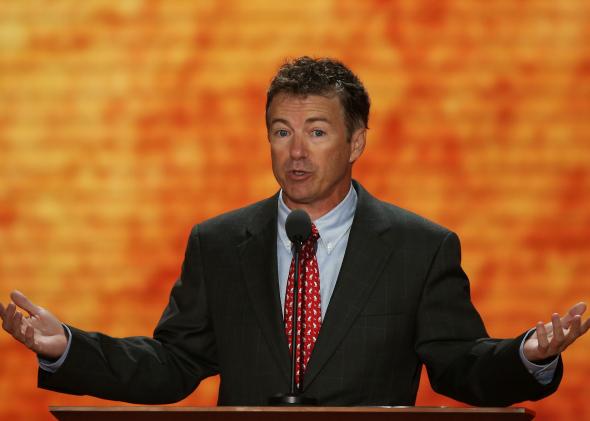 The new Quinnipiac poll out of Colorado and new NBC/Marist poll out of Iowa should please Democrats only for the residual pain they might cause Dick Cheney. In Colorado, Rand Paul performs absolutely the best against Hillary Clinton, among any of the 2016 Republicans—he leads her 46–43, and has led consistently since the pollster started trial heats last year. In Iowa, Paul and Clinton are tied, 45–45.*
This is the summer of Rand Paul; in a way, all of 2014 has been a summer of Rand Paul. No Republican gets more positive coverage. Reporters (myself included) love to cover a politician who riffs with so little dependence on talking points. Readers click on anything Paul-related, which is among the reasons why Paul's criminal justice reform bill co-sponsored with Sen. Cory Booker got universally happy write-ups, from NPR to Politico. (The big news from Politico's Paul/Booker event was that the men took a selfie together.)
Where does Paul's support come from? The Quinnipiac poll, which offers up its crosstabs, finds that Paul is marginally more popular than other Republicans across most age groups. But he's far more popular among voters under 30. He wins them by 7 points; Chris Christie wins them by 4, Jeb Bush loses them by 4, Mike Huckabee loses them by 7. That's a small mound of evidence for the theory that Paul's "liberty movement" politics, his identification with privacy and drug law reform, etc., cracks the millennial voter code.
The only cold comforts for Paul? This is Colorado, where for various reasons (usually underpolling of Hispanics) polls have recently underestimated the Democratic vote. And as I keep banging on about, in my Cassandra way, the Summer of Rand Paul has featured absolutely none of the negative stories that will come if Paul becomes a national candidate.
*Correction, July 28, 2014: This post originally misstated that Paul is the only Republican who leads Clinton in Iowa. Paul ties Clinton.