New GOP Idea That Can Close the Gender Gap: Bring Policy "Down to a Woman's Level"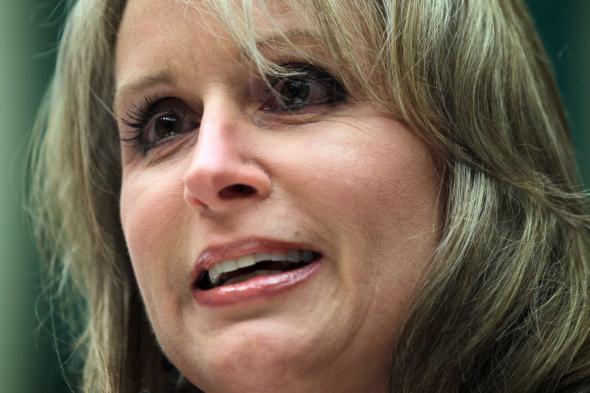 Ashe Schow is out with an intriguing story from a panel that no other reporter scored a ticket for. It was a Friday panel put on by the Republican Study Committee, the House's conservative caucus; it was low-key enough to avoid mention on the RSC's website, or be turned into an RSC video. So the only report from the RSC's first event since Georgia Rep. Rob Woodall (July 9) took over is Schow's.
She doesn't sound impressed. The RSC, like the larger GOP, is on a messaging-to-women binge. North Carolina Rep. Renee Ellmers, a leadership favorite who's often put forward when the party wants a female messenger on health care or jobs, explained that men failed to bring policy "down to a woman's level" and thus lost votes.
Men do tend to talk about things on a much higher level. Many of my male colleagues, when they go to the House floor, you know, they've got some pie chart or graph behind them and they're talking about trillions of dollars and how, you know, the debt is awful and, you know, we all agree with that ... we need our male colleagues to understand that if you can bring it down to a woman's level and what everything that she is balancing in her life — that's the way to go.
Reading that, I thought of this week's Republican message, read by Senate candidate Joni Ernst (linked above), and how she focused on the promise of the Balanced Budget Amendment (a dead idea that polls well) because government should run its affairs like "you" run the household. No pesky charts there! And I remembered the RNC's messaging push of late June, when RNC vice chair Sharon Day argued that women were "not single issue voters" but human beings whose "priorities are the economy, government spending, education, and healthcare." There's a little bit of fantasy here, similar to what Democrats engage in when they ask why poor working class whites don't vote en masse for them. They're allowed to consider other factors when they vote.