Dinesh D'Souza, Effective Crybaby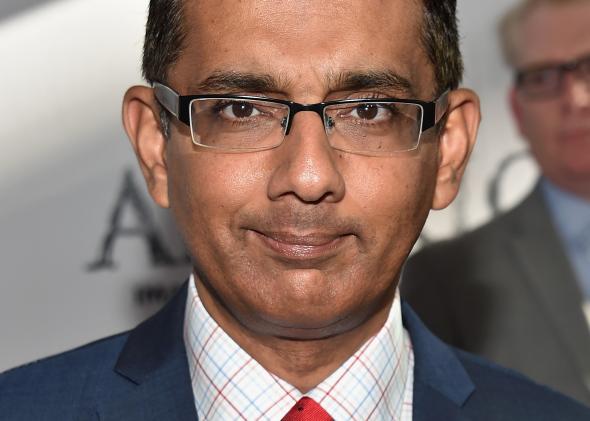 Hand it to Dinesh D'Souza—he's become a real pro at bullying organizations into selling his schlock. This month D'Souza rolled out America, a movie and companion book about how the world is better off because George Washington was not assassinated during the Revolution. (There's more to it, but that's the counterfactual hook of the movie that leads to a pretty predictable love-it-or-leave-it travelogue. I have read synopses, but not seen it.) It did quite well for a documentary, earning $2.75 million over the Fourth of July weekend, though that didn't put it on the trajectory to surpass the $32.9 million gross of D'Souza's 2012 Obama documentary. The book appeared to be doing fine, too, though it didn't make the New York Times bestseller list.
Countless artists and authors experience this problem. D'Souza dealt with it in a unique way: throwing tantrums and lawyering up. Attorneys for D'Souza sent a letter to Google asking whether the low search placement of America—which happens to share the name of a popular soft-rock band, as well as two continents and a country—was due to "human or automated error." Id est, was Google rigging the game against D'Souza?
The whining got results. Here's what you get when searching Google for "America."
Here's what you get when you search "America" in Bing.
But this wasn't the end of D'Souza's targeted outrage. On July 7 noted birther and journalist Jerome Corsi reported that Costco was going to pull copies of D'Souza's book by July 15, after selling "more than 3,600 copies." Corsi let readers speculate what it meant that Costco's CEO was an Obama supporter, and quoted D'Souza's disbelief that the New York Times had not listed the book as a bestseller even as it pulled four-digit sales numbers.
"It's their newspaper, and they have a right to rig their list any way they want," said D'Souza, "but if they are doing it, people should know."
But D'Souza's book, like his movie, is no runaway hit. According to Nielsen's Bookscan, which tracks sales, D'Souza's latest has sold 23,000 copies. That's not bad—my publisher would call it a win if my upcoming book sold that much in a month—but it's 139,000 fewer copies than Ben Carson's latest, One Nation, has sold. And Carson hasn't tried to browbeat anyone into giving his book publicity or goosing its search engine status.
UPDATE: After posting this, some angry tweeters asked what game I was playing. Was I too dumb to see that D'Souza is currently #1 on Amazon?
Congratulations! You fell for the grift. D'Souza's book was released on June 20 but floating around #50 on Amazon's list. Only after the author/campaign finance scofflaw threw several fits about the bias that was preventing America (the country, not the movie) from reading his book did purchasing it become a cause. Up the charts it went, as gullible people took their stands against bias.
UPDATE II: D'Souza tweets a response to Alyssa Rosenberg's take on this ambitious multi-platform scam:
Pretty good trolling attempt -- to report accurately on D'Souza's efforts is to be paranoid about him. In reality, as Chris Tembruell on Twitter, D'Souza's foot-stomping about Costco happened after the store's 459 American locations sold, on average, eight copies of his book.