One Super PAC to End Them All, and Why It Could Beat Scott Brown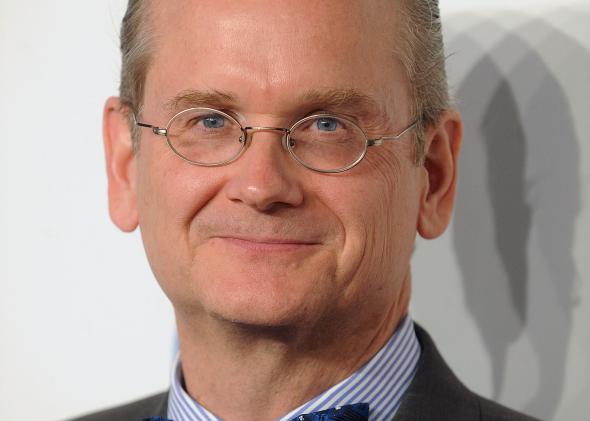 In the latest of my ongoing Weigelcasts, I talk to Harvard professor Lawrence Lessig and nonpartisan political strategist Mark McKinnon about Mayday PAC, their new (and thus far succesful) campaign to raise a bunch of money and use it to thrust campaign finance reform into the 2014 election. Yes, it is a super PAC designed to scare Congress into ending super PACs. One of the slogans: "Embrace the irony."
Another slogan might be "oh, wow, we're pulling this off." I talked to Lessig and McKinnon slightly before they succeeded in hitting their second-round goal of $5 million in donations and pledges. (Round one was for $1 million.) The project is crowdfunded, with some extremely wealthy people (like libertarian Peter Thiel) committing big money to goals for four reforms, two of them initially proposed by Republicans, two by Democrats.
Why has the slack fallen on campaign finance reform? Not because it stopped being popular, said Lessig. Because the issue won. "The reform community thought, OK—we did it!" he said. "We got McCain-Feingold!" In 13 years since the issue was so powerful that George W. Bush had to sign it (and hope for the Supreme Court to shred it), reformers failed to evolve. Their argument, said Lessig and McKinnon, needs to be that they're expanding access to free speech—vouchers and tax deductions for participating—not limiting it.
I asked Lessig and McKinnon which races they'd get involved in, and when. The latter answer: soon. The former answer: Well, there was a strong hint that recent New Hampshire transplant Scott Brown, who agreed to a super PAC-limiting pledge in his 2012 race but won't agree to a new one, is in Mayday's sights. What better way to announce the return of campaign finance reform than in clubbing a famous candidate in the first presidential primary state, just weeks before candidates start announcing?