The Rosetta Stone of the Professional Left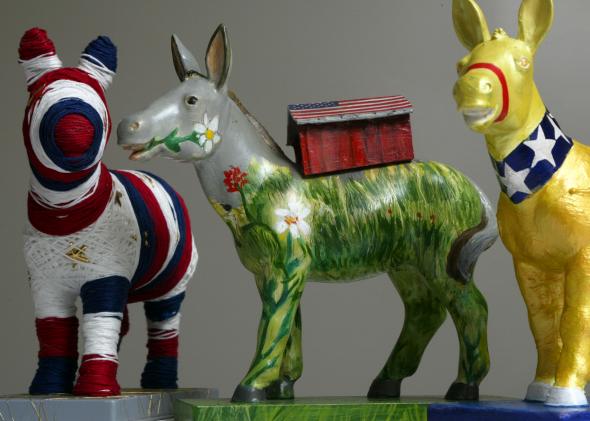 While I was off, Politico's Ken Vogel broke an exciting story from inside the Democracy Alliance, the coalition of liberal donors and groups that has tried for years to coordinate an effective left. (Disclosure: From 2009 to early 2010, I worked at the Washington Independent, in which capacity I appeared on a panel at an off-the-record DA meeting. Haven't been back, though.) The funniest part of Vogel's story was a warning document, provided to attendees, that listed the names and faces of reporters who might be snooping around the 2014 Chicago meeting.
But the 62-page document Vogel scored is genuinely fascinating. It should be recognizable to anyone who's worked at a nonprofit and had to recap successes in order to appeal to new donors. Here were the six claims/brags/projects that jumped up to me.
1. The "Metis" software for "tracking conservative smears." That's a product of Media Matters, and a reason the DA encourages a strong committment to David Brock's group.
2. Training for "acts of civil disobedience." Nothing new there, but in its funding ask, the New Organizing Institute—whose largely open-press Rootscamp I've covered twice—lists the training of immigrant rights protesters as a key 2013 win. For whatever it's worth, more than one Republican congressman has told me that the hunger strikes and office sit-ins that appeared to represent public pressure turned them into hard "no" votes.
3. The Progressive Leaders Network (the anti-ALEC). I've seen little coverage on the right of Progressive Majority, but its ambition is huge. The left, having sat on its collective hands during the decades-long growth of the American Legislative Exchange Council, has watched that group write model bills that can zoom through Republican legislatures. (I remember sitting in the Wisconsin Assembly in 2011 and noticing that at least one Republican who was waiting to vote for the union-busting Budget Control Bill had an ALEC leather binder.) Progressive Majority talks of expanding its version of this from 13,000-odd legislators to 20,000.
4. The Conservative Lighthouse for Reform. The Fund for the Republic, which aims to convert "the consensus" for campaign finance reform into action, cites an alliance with Republican strategists as a big 2013 win.
5. Catalist and Sandy Hook. The progressive voter contact program, which the right eyes enviously and constantly talks about outdoing, takes credit for bringing Sen. Kelly Ayotte on board with the Manchin-Toomey bill. The method: tons of voter contact.
6. The campaign against vote suppression. The Brennan Center, which is often cited in stories about voter ID laws and Election Day cutbacks, imagines a 2014 of coordinated action across (largely Republican-run) states.