The Real Reason Immigration Got Cantor in Trouble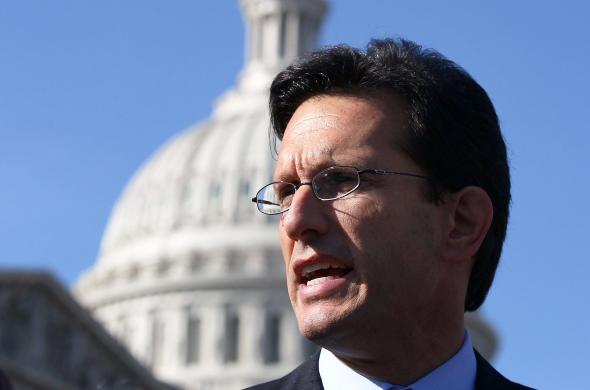 House Majority Leader Eric Cantor's loss to David Brat in Tuesday's Virginia primary managed to shock and set the political commentariat aflutter. The immediate reaction was formed around the idea that Cantor's position on immigration reform—or at least the way that Brat painted that position—was the likely culprit behind his fall. As a result, any thought of immigration reform—already an unlikely prospect—has now been thoroughly snuffed out.
Immigration has proved a slippery subject for Republicans running this year. A rash of recent primaries made it unclear how an anti-immigration stance plays with voters. In North Carolina, Renee Ellmers, a pro-immigration-reform candidate, won her primary by nearly 18 points (though, as my colleague David Weigel pointed out, this was an expensive victory). Races in California and Nebraska also saw the defeat of anti-reform candidates. Indeed, Sen. Lindsey Graham, a member of the Senate "Gang of Eight" that crafted its comprehensive immigration reform bill, won by a hefty margin Tuesday night in South Carolina. "Cantor's race was not the test of how sentiments on immigration reform sits with base voters," Whit Ayres, a Republican pollster, told me. And a new poll released today from a partnership of 10 conservative polling firms suggests the same: The majority of Republicans, even those who identify as Tea Party voters, agree that the system is broken and reform ought to happen. While, according to a new study released Tuesday from the Brookings Institution, immigration is not terribly high on the list of voter concerns, Republican respondents think it is more important to address than Democrats or independents do.
It also does not seem to be the case that Cantor's loss reflects how the concentrated objection of a minority can overwhelm the unfocused feelings of a majority (as with gun control, say, which a purported 80 percent of Americans support, but is unlikely to go anywhere as long as the NRA exists). With immigration, organizations such as NumbersUSA have spent less in 2014 and backed fewer candidates than in the past, according to numbers from the Center for Responsive Politics. Groups that favor restricting immigration have smaller rosters and thinner checkbooks than the Chamber of Commerce and Americans for Tax Reform—organizations on the right that favor reform.
But, polls suggest, what the Republican base doesn't want is amnesty: Crossing our borders and breaking laws shouldn't be rewarded with impunity, they say. Cantor's opponent Brat managed to convey that the House majority leader was precisely the type of pro-amnesty politician conspiring with Washington liberals on the DREAM Act and gallivanting around with Mark Zuckerberg that Virginians had to oust. Immigration, and amnesty in particular, became a useful vehicle to clothe a more nuanced but also more salient concern that underlies the GOP's fractures—the division between insiders and outsiders, the establishment Washington man and the grassroots local.
Had Cantor not been so disliked by his constituents, this would not have worked so well. But by all accounts, he was rarely in the district and didn't respond to local needs, as when an earthquake hit his district, but he refused to help get federal funds for repairs. Painting Cantor as pro-amnesty on top of that easily added to dissatisfaction, even though the issue of immigration itself didn't harm other Republicans in other races.
So it is too easy to simply say that Cantor's loss was the result of anti-immigration sentiments coming to the fore for Brat. But that doesn't mean those who predict the death of immigration reform are wrong: Unless you believe Grover Norquist, the upshot of Cantor's loss is indeed that there will be no movement on it in the House, even if the reasons for Cantor's undoing were more complicated than his views on the subject.