Eric Cantor Loses: The Official Live Thread of the South Carolina and Virginia Primaries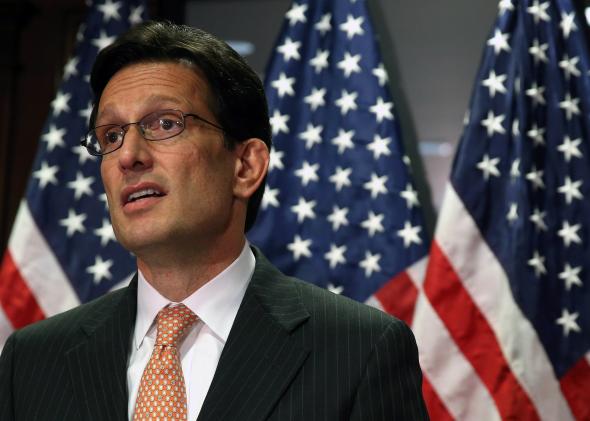 There's not too much happening tonight—oh, apart from two fun races that will be analyzed and overanalyzed and then analyzed some more for signs of Tea Party fever.
UPDATE: If I were a prouder man, I'd delete my first line about how much was happening tonight. Obviously, quite a lot is happening: Eric Cantor, who was all-but-assured to become speaker of the House when the gavel grew too heavy for John Boehner, has lost his primary. He has lost it resoundingly, losing by huge margins in rural parts of the district, losing even in population centers like Henrico County (the Richmond suburbs).
It's a historic defeat. Not since the 2004 defeat of Tom Daschle has a party's congressional majority leader lost an election; I'm still struggling to find a case where a majority leader lost a primary. And while I covered David Brat's race against Cantor a few times, I joined the vast majority of journalists in assuming Cantor would take this. After all, he seemed to spot the voter unrest early on, and he spent nearly $1 milllion in the final weeks while Brat struggled to spend six figures.
Immigration reform: Yes, Eric Cantor managed to be sunk by immigration reform without even bringing a bill to the floor. Like John Boehner, Cantor reached out to pro-reform groups and was seen by the GOP base as open to some eventual bill. This riled activists and opinion leaders like radio hosts Mark Levin and Laura Ingraham. "Eric Cantor is an ally in the biggest fight that will occur in the next six months in Washington," Ingraham said at a weekend rally for David Brat, "and that is the fight over immigration amnesty."
A panicked fight-back: Cantor's campaign did gear up in a hurry to beat Brat. But the lines it came up with were—what's a nice, neutral word?—insane. The Cantor campaign claimed, ludicrously, that Brat was a "liberal professor" because he served on a board at the appointment of a Democratic governor. It claimed that Cantor had stood like a stone wall against immigration reform, which the Ingraham/Levin-listening voters knew was just nonsense.
Democratic chaos: We don't know how many Democrats chose to vote in the GOP primary to oppose Cantor. We do know they were asked to. Ben Jones, the former Dukes of Hazzard actor and former congressman who challenged Cantor years ago (and lost), issued a popular open letter calling on Democrats (and anyone else) to cast a vote for chaos' sake. There's no party registration in Virginia, so who knows how many Democrats in Richmond (where Brat won 45 percent of the vote) or Chesterfield County (55 percent) decided to dump Cantor?
A napping media and "establishment": This is a headline from the June 6 edition of the Washington Post.
Cantor internal poll claims 34-point lead over primary opponent Brat
This is the original lede from a WaPo story that went up six hours before polls closed.
A conservative challenger is expected to fall far short of defeating House Majority Leader Eric Cantor (R-Va.) in Tuesday's congressional primary. Disorganization and poor funding have stymied the campaign of tea party activist David Brat, even as he tapped into conservative resentment toward a party leader who has been courting the Republican right for years.
To be fair, it was WaPo's Robert Costa who wrote the first story hinting that Cantor's challenger had "momentum." (I interviewed Brat after reading it.) But in this age of Data Journalism, in this time of easy access to anonymous Republican sources, there was precious little close-to-the-ground analysis that hinted at the depth of Cantor's problems.
7 p.m.: Polls close in South Carolina and Virginia, where, conveniently, almost all the interesting races will take place. In the Palmetto State, where the GOP is holding a primary for U.S. Senate, the media has written all but the final graf of the latest "Tea Party RIP" story. Sure, it's a good story, especially if Molly Ball is holding the keyboard. Sen. Lindsey Graham made it his job, for years, to antagonize Tea Party activists and groups that he felt were recklessly moving his party away from possible compromise. When feeling frisky, the Club for Growth and other similar giant-killers swore they'd take out the guy who predicted the Tea Party would "fade" and that anti-immigration reformers were "bigots."
Graham outflanked them. He got a lucky break last year, when Sen. Jim DeMint resigned to be replaced with ambitious (and less friendly-fire-friendly) Rep. Tim Scott. He also cleverly balanced his obsessions, so that if he was irritating activists by working on immigration reform on Monday, by Tuesday he was clubbing Hillary Clinton over Benghazi. It's amazing to think that the left flank of the GOP is now represented by a onetime Clinton impeachment manager (Graham) and a guy who primaried Charlie Crist (Rubio), but here we are, and they've endured. If Graham cracks 50 percent of the vote against state Sen. Lee Bright and two other candidates, he wins his nomination with no runoff.
Then the fun begins. A simultaneous Democratic primary is pitting state Sen. Brad Hutto, whom the establishment/newspapers support, against Jay Stamper, a felon who moved to the state 15 months ago because he liked the weather. It's been only four years since Democrats accidentally nominated poor, slow Alvin Greene for a Senate seat, and they don't want to be humiliated by themselves again. Whoever they pick will face Graham and, possibly, former Lt. Gov.-turned prisoner-turned-reality TV star Thomas Ravenel, who's been talking about a libertarian-flavored third-party challenge.
Anyway. That's South Carolina. In Virginia the action is in two safe seats—deep-blue VA-08 (the close D.C. surbubs) and less-deep-red VA-07 (Richmond suburbs and central Virginia). To the consternation of progressives, the heavy front-runner in VA-08 is Don Beyer, a 63-year-old former lieutenant governor and ambassador who barreled into the race as soon as it became open. It's a safe (68 percent for Obama in 2008 and 2012), racially diverse (only 64 percent white), progressive district that could elect an up-and-comer like Del. Patrick Hope. But Beyer, who lost a 1997 gubernatorial race and moved steadily left as a donor and outsider, spent the most money and called in favors from people he'd helped—people like Howard Dean.
Here's an example of the relative strength of the "establishment" in both parties—in VA-07, held for a decade by Majority Leader Eric Cantor, there's a strong talk radio-backed race being run by a college professor named David Brat. Cantor panicked late, after Brat supporters beat a Cantor-picked candidate at a local GOP meeting, and proceeded to batter Brat with ads protraying him as a dangerous liberal while Cantor was a proud foe of "amnesty." Greg Giroux has a good guide to the counties of the 7th, and which ones will produce the best Brat vote. If the guy holds Cantor below 60 percent, it'll be a moral victory for supporters like erstwhile Slate-ster Mickey Kaus. If he wins ...
MORNING UPDATE: Cantor's defeat is the story coming out of the primary, but here's a quick guide to the others.
- In South Carolina, Lindsey Graham easily passed the threshold for outright victory. The toughest job in Washington tomorrow belongs to immigration reformers who want the media to focus on that, instead of reporting on the aftermath of Eric Cantor's defeat.
- In Arkansas, state Rep. John Burris went down to a challenger who owned an assisted living facility. The issue? Burris, a Republican, had helped push through the state's Medicaid expansion. To little fanfare, conservatives have been scalping the Republicans responsible for this in the hope of gutting the expansion next year.
- In Nevada, where the Democratic establishment took a pass on challenging Gov. Brian Sandoval, the winner of the Democratic gubernatorial primary was "none of these candidates." (No-hoper Bob Goodman got the second-largest number of votes and will get to lose to Sandoval.) Niger Innis, a black Republican who courted national support, lost his primary for a seat in Congress.