Here's How Quickly Conservatives Turned on Bowe Bergdahl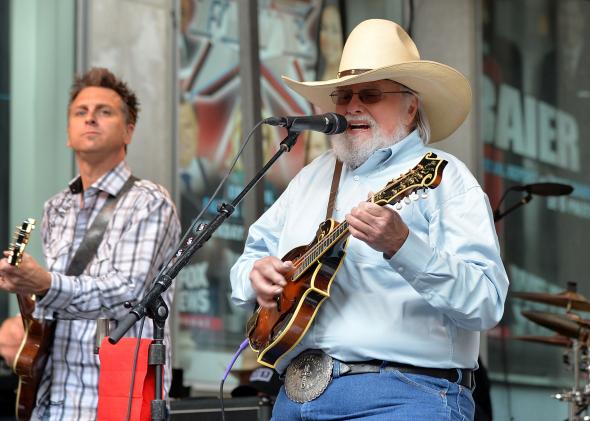 The undisputed winner of Twitter today is Matt Binder, a producer at Majority FM who has spend untold minutes/hours digging up tweets from conservatives who called for Bowe Bergdahl to be freed ... until he was, and they turned on him.
The feed is full of such things, and Adam Weinstein has already curated some highlights. I'll just point out two from notable people. Here's the account of Shaughn Adeleye, one of the activists who stung NPR in 2011 by posing as a Muslim Brotherhood ally wanting to invest money for favorable coverage.*
And here he is this week.
Here's Charlie Daniels—yes, he of "The Devil Went Down to Georgia" fame.
Obama its time to bring Sgt. Bowe Bergdahl home he's been a Taliban prisoner for 4 years Rescue him,it's more important than rescuing G M

— Charlie Daniels (@CharlieDaniels) June 12, 2012
And here he is after the controversy began.
Obama can trade five of the most dangerous men in the world for a soldier who may be a deserter and can't even make a call to save a hero

— Charlie Daniels (@CharlieDaniels) June 3, 2014
After yesterday's quick "gotcha," in which I compared John McCain's Bergdahl advocacy from February with his current anger at the five-for-one trade, some conservative readers speculated that McCain didn't know the "deserter" charges yet. Why, he'd called Bergdahl a "fighting man!"
But the story of Bergdahl's alleged desertion was no secret in 2012. It was in the subhed (and the story, of course) of Michael Hastings' well-traveled profile of the POW. True, that was just one story, and since Bergdahl's release some of the men who served with him have given much more splashy interviews on cable TV, laying out the ways they thought Bergdahl let them down. Some even suggest that the Taliban's attacks became more accurate after Bergdahl was captured -- hint, hint.
Still. You rarely get to see public opinion lash back so quickly and so tightly connected to an ideological thrust. It's so intense that Bergdahl's hometown is canceling a public homecoming celebration.
UPDATE: The city of Hailey, Idaho has sent reporters an official statement on the cancellation of the homecoming.
Hailey community members who worked during March and April of this year to organize their annual Bring Bowe Back event in Hailey have asked to cancel the event. When the news of Bowe Bergdahl's release was announced this past Saturday, the organizers joyfully declared that the event would be renamed Bowe is Back, and would become a celebration of family and friends being reunited with their son who was had been held captive in Afganistan for five years.
In the past, the event had been a celebration of support to the family through these many years. National media attention on Hailey and this event has led many across the nation to believe that the event is intended to be a military parade. There is broad interest in this topic, as evidenced by the approximate 100 correspondences per day received by the City of Hailey this week. The organizers and Hailey expect a significant increase in attendance to this event, by people who both want to support or protest against it.
In the interest of public safety, the event will be cancelled. Hailey, a town of 8,000, does not have the infrastructure to support an event of the size this could become.
UPDATE II: After this post went it up, some conservatives branded it as an attempt to shift the storyline from the administration's mistakes to the reaction of people who had no role in the mistakes. Not my point, since I'm not defending the decision. Rather than parachuting into a story that's being worked hard by defense and military beat reporters, I'm just covering the political impact of the thing. And it's just true that, until Bergdahl was released and more of his fellow soldiers went on the record to criticize his conduct, there was very little conservative criticism of the guy.
Now, it's true that not every conservative weighed in on this. But the conservatives who did generally portrayed the lack of attention to Bergdahl as a signal of White House weakness, just as the circumstances of Bergdahl's handover are now a signal of White House perfidy. Quoting former Rep. Allen West from just seven months ago, in a post about the men "Obama left behind":
Army SGT Bowe Bergdahl [is] still held by the Islamic terrorist Haqqani network, probably in Pakistan, in the same place where Osama Bin Laden was hiding. This past POW/MIA national day of recognition, Defense Secretary Chuck Hagel reiterated a pledge to secure the young Army NCO being held captive, but have there been any actions? Any time, attention, or even mention from the Commander-in-Chief? Nah, no camera highlights in it for him.
West wasn't advocating for anything like the eventual 5-for-1 trade that Obama agreed to. But in December 2013, it was not hard to find evidence that Bergdahl was captured after "just walking off" his base. Michelle Malkin, who's a more careful reporter than liberals give her credit for, was pointing this out as early as 2009. When I snarked (on Twitter) that conservatives were blaming the media for their own oversight -- they could have just read Michael Hastings's 2012 piece about Bergdahl -- the snark flowed back at me. Of course people didn't read everything about this case, much less if it came from a liberal magazine.
My own conversations with my usual sources -- and a lot of reporting by people with better sources -- suggest that the White House was blindsided by the reaction to Bergdahl's liberation. Susan Rice's insistence that the soldier "served with honor" flew because, well, who was saying otherwise? My only point is that the public opinion on Bergdahl changed so quickly, in ways that previous reporting hinted it might have, that it became a fascinating example of how people pick sides.
*Correction, June 4, 2014: This post originally mispelled Shaughn Adeleye's last name.