Flashback: When Rand Paul Called Coal "Dirty"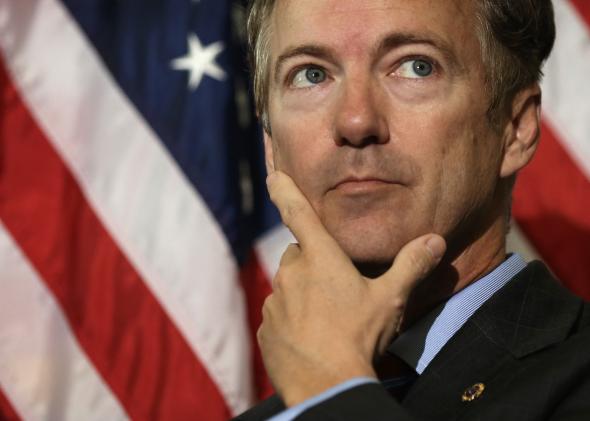 The great Chris Moody, who like me spent some formative years in the libertarian movement's salt mines, has some cheeky fun with a six-year old video of Rand Paul. Today, Paul is calling proposed EPA emissions standards a threat that will "destroy jobs here in Kentucky and across the country." In 2008, when campaigning for his dad's second presidential bid, Paul told a Republican crowd that coal was "dirty."
"Compare nuclear power to coal power," said Paul. "I mean, coal's a very dirty form of energy. You may have coal around you, it needs to be mined, but I mean, the thing is, it's probably one of the least favorable forms of energy."
Moody points out that Jesse Benton, Ron Paul's 2008 spokesman, is the 2014 Mitch McConnell campaign manager who's going to run around Kentucky defending coal. I'd just point out that this is an ideal example of how insane and intelligence-insulting the "war on goal" meme has been. Starting in 2008, the argument wasn't just that Democrats would regulate coal. It was that they were calling coal unhealthy. Not long after that Rand Paul quote, Sen. Harry Reid spoke at a solar energy event and said as much.
We talk about cost competitiveness, but one thing we fail to talk about is the costs that you don't see on the bottom line. That is: Coal makes us sick. Oil makes us sick. It's global warming, it's ruining our country. It's ruining our world. We've got to stop using fossil fuel. We have, for generations, taken it out of the earth, carbon out of the atmosphere, and it's making us all sick.
There is absolutely nothing controversial about the argument that burning coal has health costs. But the Reid quote has entered the zeitgest as a gaffe. ""If I were to be replaced by my opponent," said McConnell this year, "they would unscrew my desk on my side, move it over to the other side by Harry Reid and she would vote to make Harry Reid, who said coal makes you sick, the majority leader of the Senate." Imagine, the craziness of saying that coal makes you sick, in a state that has the highest incidence of black lung, a disease that's killed at least 76,000 miners.
Paul and Reid don't have the same position on this. If Reid was truly obsessed with replacing coal power, he probably wouldn't have spent a decade blocking the storage of nuclear waste in his state. But it's true -- in six years, it has become impolitic and frankly liberal to suggest that burning coal has adverse health effects.