Todd Akin a Tea Partyer? Not So Much.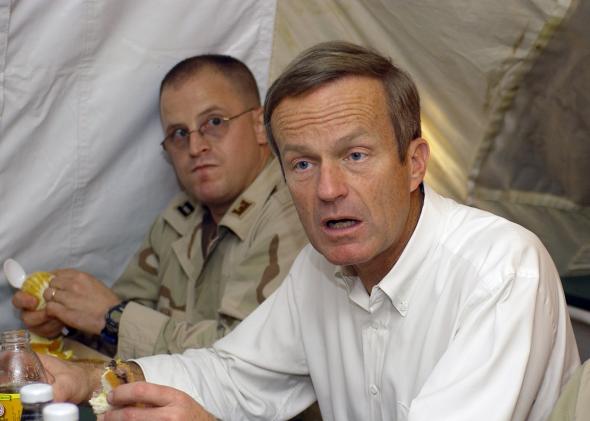 Vox attempts to explain the media narrative of the day—that "the Tea Party will lose three primaries"—but this is a subject that defies simple Voxplaining. Here was the original lede:
In 2010 and 2012, many Republican Senate primaries followed one particular pattern. The establishment would anoint a preferred candidate, but then a little-known Tea Party challenger would manage to win the nomination instead—and flame out spectacularly in the general election. There was Sharron Angle in Nevada, Christine O'Donnell in Delaware, Ken Buck in Colorado, Richard Mourdock in Indiana, and Todd Akin in Missouri— all of them lost, and the GOP failed to retake the chamber.
After some Twitter-shaming, the article has been edited and the "Tea Party" candidates are now called "right wing." That's a blander term that covers basically everyone who irritates the Republican Party's establishment. Still, the back-of-hand calculation that "the GOP would control the Senate today if not for the Tea Party" has never seemed right to me. Below, I've ranked the candidates mentioned by Vox. No. 5 had the least claim to be a Tea Party disaster; No. 1 had the most.
5. Todd Akin (Missouri). In no way was Akin a "Tea Party" candidate. Joel Gehrke has already done a great job of puncturing that myth, and shaming the people who believe it. Everyone forgets that the Tea Party was divided between former Treasurer Sarah Steelman (Sarah Palin, Mike Lee, Tea Party Express) and businessman John Brunner (FreedomWorks and the Chamber of Commerce). That's right—one candidate was backed by both "the Tea Party" and the Chamber of Commerce. In the last polls before the primary, it looked like either Brunner or Steelman could defeat McCaskill. Had "the Tea Party" won, McCaskill would likely have been out of the Senate.
4. Sharron Angle (Nevada). It's true, "the Tea Party" made Angle its candidate in 2010. Even the Club for Growth, which has been judicious recently, endorsed Angle. The problem, for Republicans, was that there was no "establishment" choice that promised to run any better. Harry Reid made sure of this by boxing stronger challengers out of the race. In the stretch of the Republican primary, Angle faced two-time loser Danny Tarkanian and one-term state Sen. Sue Lowden. The NRA and the pro-life Susan B. Anthony List endorsed Lowden, but she never recovered from an April 2010 TV interview in which she pined for "the old days" when people could barter for health care by bringing "a chicken to the doctor." Lowden collapsed in polls that tested her against Reid—Angle, ironically, was able to sneak through the pack as the gaffe-free and electable candidate. People have forgotten all about this, to the extent that they sometimes think Angle made the chicken gaffe.
3. Ken Buck (Colorado). How did a Weld County DA with weak fundraising manage to beat his state's former lieutenant governor, Jane Norton? With a lot of counter-establishment help—Jim DeMint endorsed Buck, and groups like Americans for Job Security spent early money on him. But it was never clear that Norton could win the general election, and Buck couldn't. Before the primary, Norton had slipped behind incumbent Sen. Michael Bennet; Buck was outperforming her. As Erick Erickson has pointed out, correctly, Buck was damaged when the state party nominated Dan Maes for governor, a businessman with utterly nonexistent campaign skills, who quickly plummeted as conservatives got behind the third-party bid of Tom Tancredo. He won because the establishment pick, Scott McInnis, was caught out in a plagiarism scandal right before the election.
2. Richard Mourdock (Indiana). Yes, this one can be pinned on the Tea Party. In 2010 the nascent movement saw a great opportunity—an open Indiana Senate seat!—but divided its votes between former Rep. John Hostettler and Marlin Stutzman (who ended up in Congress anyway as a consolation prize). In December 2010, Indiana Tea Party groups united and pledged to endorse a single opponent to incumbent Sen. Richard Lugar. Democrats were so confident that the Tea Party would take out Lugar that they tempted Rep. Joe Donnelly into the race. Donnelly, who always polled strongly against Mourdock, was in a close race until the final days. Then Mourdock said that "even when life begins in that horrible situation of rape, that is something that God intended to happen."
1. Christine O'Donnell (Delaware). Mourdock was Indiana's state treasurer, an ambitious and tested politician who happened to make some mistakes. O'Donnell was a pundit-turned-frequent candidate who had no political base until the Tea Party arrived. Richard Lugar turned 80 during the 2012 election, and was of an age when, sometimes, senators lose primaries. Rep. Mike Castle, the popular congressman and former governor who wanted to go out as Delaware's senator, was a spry 71. The O'Donnell win would have been unthinkable had the Tea Party movement not existed and third-party groups not swung in to endorse and fund her.
Let's break that down. Had "the Tea Party" won in Missouri, the GOP likely would have gained a Senate seat. Had it lost in Indiana and Delaware, the GOP likely would have gained them. It's a jump ball in Colorado and Nevada—let's split the difference and say maybe Jane Norton would have eked it out. I'd say you can only blame "the Tea Party" for a net loss of two Senate seats since 2010. That's a period during which it helped send Mike Lee, Ron Johnson, Pat Toomey, Marco Rubio, Ted Cruz, and Rand Paul to the upper House—during which "establishment" candidates like Denny Rehberg, Heather Wilson, Rick Berg, Josh Mandel, George Allen, Tommy Thompson, Carly Fiorina, and Dino Rossi totally failed to win seats.