What if Bundy Ranch Were Owned by a Bunch of Black People?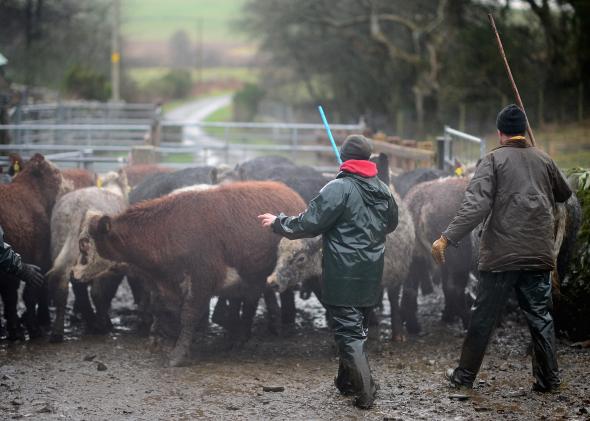 For 20 years the federal government has fined Cliven Bundy for grazing his cattle on protected land. And for 20 years Bundy has refused to pay. Last month this dance came to an end when the Bureau of Land Management sent Bundy a letter informing him that it intended to "impound his trespass cattle" that have been roaming on federal property. It closed off hundreds of thousands of acres, and earlier this month, moved to round up Bundy's cows.
Protesters challenged the BLM, and Bundy's son was arrested for "refusing to disperse" from the area in question. Bundy's cause caught fire on right-wing blogs, egged on by Fox News and conservative outlets like the National Review, which have held the confiscation as a dangerous intrusion on private property rights, despite Bundy's lawbreaking. Defending his decision, the rancher told one right-wing radio host that he's ready to take drastic steps beyond refusing to pay:
I told you that I did the legal thing and the political thing and the media thing and it seems like it's down to "we the people" if we're going to get it done. You know the things like militias. You know, I haven't called no militia or anything like that, but hey, it looks like that's where we're at.
To that end, hundreds of people from outside Nevada—including "militia" armed with rifles and ammunition—have joined his protests, going as far as to set up camp and confront federal officials with brandished weapons. The federal government blinked, and the Bureau of Land Management announced an abrupt end to its cattle roundup, hoping to avoid violence and further confrontations.
First, this entire incident speaks to the continued power of right-wing mythology. For many of the protesters, this isn't about a rogue rancher as much as it's a stand against "tyranny" personified in Barack Obama and his administration.
Second, it won't happen, but right-wing media ought to be condemned for their role in fanning the flames of this standoff. After years of decrying Obama's "lawlessness" and hyperventilating over faux scandals, it's galling to watch conservatives applaud actual lawbreaking and violent threats to federal officials.
Finally, I can't help but wonder how conservatives would react if these were black farmers—or black anyone—defending "their" land against federal officials. Would Fox News applaud black militiamen aiming their guns at white bureaucrats?
Somehow, given the degree to which right-wing media traffic in racial paranoia, I think we'd be looking at a different situation if the Bundy Ranch belonged to a bunch of black people. And as someone who closely follows the regular incidents of lethal police violence against blacks and Latinos, I also wonder whether law enforcement would be as tepid against a group of armed African-Americans. Judging from past events, I'm not so sure.