The Supreme Court Just Struck a Blow to Individual Campaign Donation Limits, and Conservatives Say It'll Be Good for Transparency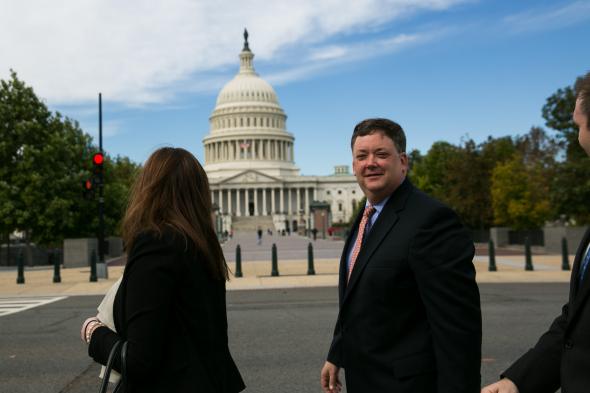 This morning, as was widely expected, a 5–4 majority in the Supreme Court struck down aggregate limits for individual donors. Until today they could give $123,200 to parties or candidates over an election cycle, and give no more than $2,600 each to more than nine candidates per cycle. Those limits are gone. Donors are still limited to $2,600 per candidate, but there's no longer a cap on their total spending.*

I'll defer to my colleague Dahlia Lithwick on most of the McCutcheon v. FEC story; the decision itself is right here, and ripe for analysis. What strikes me, from the majority opinion, is the embrace of the idea that the system of limits—the caps on how much donors could plug into campaigns and parties—was itself a detriment to disclosure.
"Disclosure of contributions also reduces the potential for abuse of the campaign finance system," writes John Roberts, quoting portions of Citizens United. "Disclosure requirements, which are justified by a governmental interest in 'providing the electorate with information' about the sources of election-related spending, may deter corruption 'by exposing large contributions and expenditures to the light of publicity.' "
This theory finds common ground with liberals and their war against "dark money." When I called Republican attorney Jim Bopp, who's single-handedly worn down the campaign finance legal system with lawsuits (Citizens United among them), he suggested that McCutcheon would usher in new transparency.
"The aggregate limits put political parties at a severe disadvantage," said Bopp. "Until today you could give unlimited amounts to super PACs but there were contribution limits generally. Now we can expect more money to flow to candidates, PACs, and parties, all of which are purely transparent. Right now, because of the contribution limits, if someone wants to participate they're forced to contribute to a super PAC. This is removing a significant contribution limit, which is how many candidates a donor can support. You can expect a super PAC to get less money than they otherwise would have—all of which is good for transparency."
It's a big assumption. Some of the largest donors in politics have hundreds of millions of dollars to throw around. Are the managers of super PACs truly worried about losing out if those donors can also max out to candidates and parties? The network of super PACs and 501s can still promise the ultrawealthy something that the parties never can. They can keep their donations and their identities secret.
While Bopp was telling me why even liberal reformers should appreciate this decision, the conservative attorney who'd brought Shaun McCutcheon's case this far was in full-on celebration mode. Three years ago Dan Backer had met the wealthy Alabaman at CPAC. He convinced him to challenge the court's donation limits. He'd been proved right about their chances.
"Whose client just won at the Supreme Court?" wrote Dan Backer on Facebook. "THIS GUY! SCOTUS rules in favor of McCutcheon!"
*Update, April 2, 2014: This post has been updated to clarify that donors are still limited to $2,600 per candidate, but there's no longer a cap on their total spending.