Shaun McCutcheon: "If You're Willing to Spread Ideas, You Should Be in Favor of Transparency"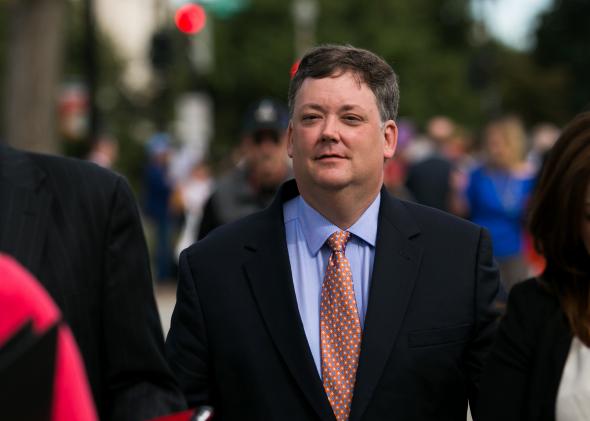 I spoke today to Shaun McCutcheon, the victorious plaintiff in the new, landmark campaign finance reform case, as did a bunch of other people—the man's phone was blowing up. Most of the conversation will appear in a story that's being finished now, but we went on to talk a bit about the power of outside groups. All McCutcheon wanted to do was deliver checks to candidates he liked. What about the still-protected money/speech that can be given anonymously to groups that can go on to make what looks, to all the rest of us, like campaign material?
"I'm in favor of transparency and knowing where the donations come from," said McCutcheon. "If you're really doing free speech, and you're willing to spread ideas, you should be in favor of transparency. Donating to campaigns? That should be disclosed, if it's above $100."
Of course, the groups I was talking about (or subtweeting, if you can do that verbally) do not describe themselves as campaign groups.
"Donors give to candidates and committees for direct campaigning," said Sean Noble, the founder of the new American Encore, and previously the sherpa of millions of dollars' worth of Koch and Koch network money. "Donors give to organizations like American Encore to fund educational and issue advocacy efforts to advance positive public policy. In our case, that starts by fighting to protect the free speech rights many on the left continue to try to limit."