Chris Christie Will Never Use the Wrong Jargon About Palestinians Again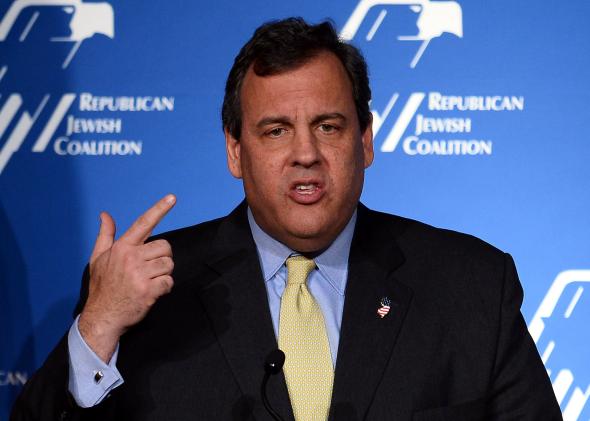 Four possible 2016 presidential candidates spoke at this past week's Republican Jewish Coalition meeting in Las Vegas. All of the color you need comes from Ken Vogel, who was there when Sheldon Adelson Maybach-ed into the Venetian, and as the aging billionaire scootered around his casino trailed by Republican strategists.
But the incident with the greatest immediate impact on 2016 happened very quickly. During his Q&A, with Adelson in a reserved seat, Chris Christie got a chance to muse about his family visit to Israel. He scheduled it for Holy Week, he said, and marveled at the religious freedom on display.
"Israel is the only place that would ever permit that what happens in Jerusalem, especially during Holy Week," he said. "All of those faiths coming together, freely and openly, to practice those faiths ... to see it myself the first time in person was overwhelming."
Good so far. But Christie kept talking. "I took a helicopter ride from the occupied territories across, and just felt personally how important that was to understand—the military risk that Israel faces every day," he said.
Occupied territories! That's an uncontroversial term in international law, but Christie wasn't addressing the U.N. He was in Sheldon Adelson's casino. As Vogel later reported, Christie got a chance to apologize for "misspeaking" once the donors were meeting with possible 2016-ers one on one.