Stephen Colbert vs. the Hashtag Activists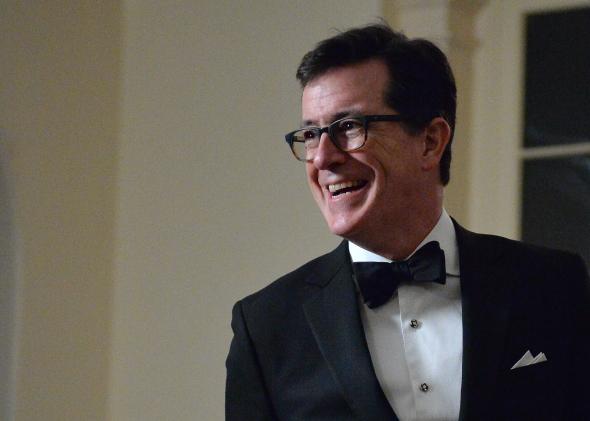 So: On Wednesday night Stephen Colbert made sport of Washington football team owner Dan Snyder and his plan to undercut criticism of the team name by founding an organization for the uplift of "original Americans." Colbert ran though all the reasons why this was funny, then called back to a skit from one of the show's first episodes, way back from the fall of 2005—a joke about the host being caught on a "live feed" playing a racist Asian stereotype (Ching Chong Ding Dong, from Guanduong), then not understanding why it was racist. Colbert would make amends with his new "Ching Chong Ding Dong Foundation for Sensitivity to Orientals or Whatever." He'd played versions of the game since then, dressing up in a sombrero for "Hispanic heritage month." It's one of the Colbert character's oldest gags—he "doesn't see color," so he can't ever be blamed if he accidentally does something horribly racist.
Most of a day later, the official Twitter account of The Colbert Report tweeted a short version of the joke: "I am willing to show #Asian community I care by introducing the Ching-Chong Ding-Dong Foundation for Sensitivity to Orientals or Whatever." Bad move. This attracted the ire of a 23-year-old freelance writer and hashtag activist named Suey Park, who gained prominence last year with the #NotYourAsianSidekick micromovement.
The Ching-Chong Ding-Dong Foundation for Sensitivity to Orientals has decided to call for #CancelColbert. Trend it.

— Suey Park (@suey_park) March 27, 2014
For much of the night, Park made war on Comedy Central, and thousands copied the hashtag. The network had made a powerful hashtag enemy, as Park reminded it. This was her work. She started hashtags like Comedy Central started six-episode sketch shows. The Guardian had placed her in a list of the "top 30 young people in digital media," No. 12, right below "Kid President." Her Facebook fan page and Twitter account provided information on how to book her, because she "speaks on race/gender and social media" and is a "board member of Activist Milennials." For much of the night, her Twitter feed tracked 1) the progress of #CancelColbert, 2) tweets thanking her for the hashtag, and 3) tweets from racist idiots who were angry at her.
By the time she tweeted that, the right had caught on. Tweeting at Colbert was an unexpected opportunity for cultural revenge—the petard-hoisting of a liberal comedian whose schtick was saying outrageous things in the voice of a "right-winger." The prime mover was Michelle Malkin, the Asian-American conservative (and, it is inevitably said, author of In Defense of Internment) who names and shames the people who hurl slurs at her.
If you managed to avoid the Internet last night, you missed a crash course in hashtag activism. In a smart and comprehensive piece for The Nation, Michelle Goldberg told its history, and how starting a trending hashtag on Twitter (the case study was #SolidarityIsForWhiteWomen) allowed otherwise unknown activists to force discussions on their terms. Twitter is public, and individual blogs or magazines are public, but a tweet with the right hashtag can be forced into the visual spectrum of someone who might have otherwise never paid attention to an argument.
The argument happens on the hashtag founder's terms. Comedy Central and Colbert fumbled to respond, with the network taking the blame for the out-of-context tweet but—because you have 140 characters on Twitter—never explaining that the joke was at Dan Snyder's expense. The weaponized hashtag also takes power from the people who are trying to mock it—Twitter doesn't discriminate between earnestness and parody. People making fun of the humorlessness and bad faith of the hashtag end up keeping it in the "trending" column.
#CancelColbert is the liberal version of a circular firing squad. I love watching this. GO PC Crowd!

— Liars Never Win (@liars_never_win) March 28, 2014
I'm ignoring the basic question: Does hashtag activism work? Well, any time a public figure or group of people is blitzed and told not to say something offensive, no matter how prideful they are, the instinct is to never say that again. Colbert was far, far from the first person to mock Dan Snyder's cluelessness with faux racism. Slate wrote about one effort last year; the Onion has done a bunch of stories about ways Snyder planned to improve the team name (like adding a liquor bottle to the logo); the Ego Trip collective wrote about it in "the Big Book of Racism." (I remember fondly the logo for the "New York Diamond Merchants.") The intent, in every case, was to shame Snyder or the owners of other teams with names playing on Native American stereotypes.
That's not acceptable to the hashtag activists. As they explained in 140-character bursts, when a white comedian like Colbert joked about racism by playing a racist, he was still telling his audience to laugh at a racist joke. Anyone who disputed this was trying to "whitesplain" satire—an argument that can never be debunked. You can laugh at being told to "check your privilege," but hearing that plants an idea that you can't shake. (This is not necessarily a bad thing, even though this particular hashtag was born midair above a shark.) And if it brings fame and clout to activists who have not really done anything to win your attention previously, that's a sweet fringe benefit.