The Koch Brothers: Only 48 Percent of Americans Know Them, Most Dislike Them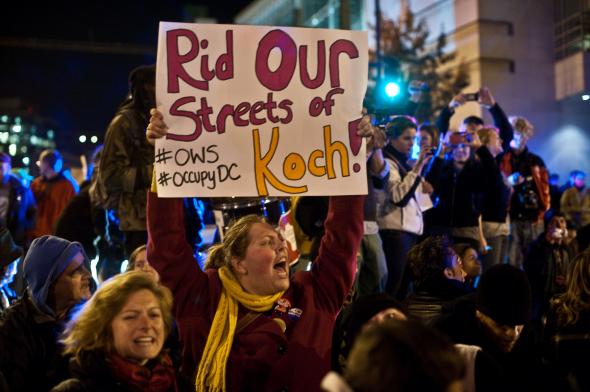 BuzzFeed's lede from the new GWU/Battleground poll is that "52% of Americans still don't even know who the Kochs are and another 11% have no opinion on them." The conclusion: Democrats' obsessive anti-Koch offensive is not bearing fruit.
I generally agree that the Koch focus (Kochus?) is a poor substitute for a positive Democratic agenda, if such a thing is possible, but I don't see anything in the poll that contradicts the Democratic strategy. Charles and David Koch never, ever do TV interviews, choosing to exercise their influence behind the scenes of political groups, and they're known by two out of five Americans?*
Here are the first 10 individuals asked about in the poll.
So 13 percent of Americans view the Kochs favorably and 25 percent view them unfavorably. By contrast, "Wall Street" has a 29/39 favorable/unfavorable rating, and the most prominent libertarian in America, Rand Paul, is at a robust 38/30. There you go—the Kochs are by miles the least popular icons of the pro-business, libertarian right. It only makes sense to pummel them. And when you pummel, you realize that "all Americans" will not be the electorate in 2014. The electorate will consist of maybe 40 percent of registered voters. Democrats need that electorate to grow a bit and include more Democrats. Anything that scares or angers them and makes them vote, they'll use.
*The Kochs are often compared, in the bogeyman game, to George Soros. But Soros took himself seriously as a public figure, publishing political books and doing a pre-election 2004 speaking tour.