Rand Paul Has "Quit Answering" Questions About His Father's Politics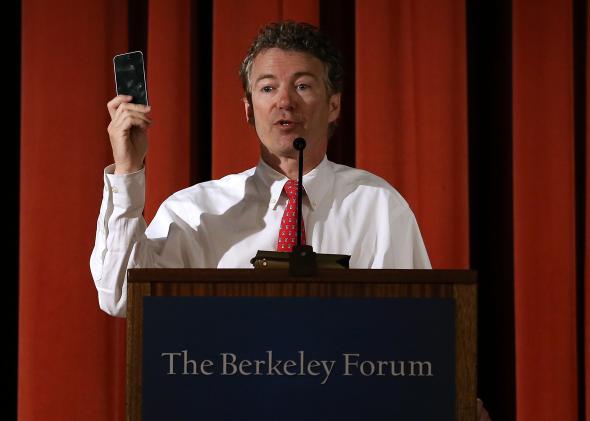 Sen. Rand Paul's trip to Berkeley received some of the friendliest press of his still-young political career. The New York Times sent one of its D.C. reporters to California to follow Paul, which produced an A1 story about something pretty well-known—that Paul is quite critical of the surveillance state. The Daily Caller dispatched reporter Alex Pappas to Berkeley, where he sat with Paul at a coffee house (oh, the clash of cultures!) and talked surveillance. The speech was solid: You can watch the whole thing here.
What I find fascinating about the coverage is the ease with which Paul shaped it. While Paul was en route to the left coast, his father, former Rep. Ron Paul, was telling viewers of RT and readers of USA Today that the Russian incursion into Crimea was none of America's business.
"Critics point to the Russian 'occupation' of Crimea as evidence that no fair vote could have taken place," wrote Ron Paul. "Where were these people when an election held in an Iraq occupied by U.S. troops was called a 'triumph of democracy'? Perhaps the U.S. officials who supported the unconstitutional overthrow of Ukraine's government should refocus their energies on learning our own Constitution, which does not allow the U.S. government to overthrow governments overseas or send a billion dollars to bail out Ukraine and its international creditors."
What did Rand Paul think of this, or of the American response to the crisis? If he was asked, it did not show up in the stories. Talking to Pappas, Paul pre-empted any questions about his father's politics.
Reporters sometimes ask Paul, he said, to comment on his father's beliefs. But he said he's done doing that. "I've pretty much quit answering" those questions.
"I've been in the Senate three years, and I have created a record of myself," he said. "And I have my opinions."
He referenced George W. Bush's campaign for president in 2000."Did he get tons of questions about his dad?" Paul asked. "I don't know that he did, to tell you the truth.
This isn't Paul's standard for other politicians. Let me pick one at random—oh, let's pick Hillary Clinton. When asked about the presumptive 2016 Democratic nominee, or when asked about Republican appeals to female voters, Paul immediately brings up Clinton's husband and asks how people can tolerate "associating" with someone who engaged in "predatory behavior." Hillary Clinton spent eight years in the Senate and four at the State Department, but has to answer for her husband's actions in the mid-1990s. Paul, with three years behind him in the Senate, says he does not have to answer for what his father does right now.
I'm inclined to agree with Paul. I also expect the way the media handles this to change on a dime when Paul stops being a fascinating, bridge-building libertarian politician, and starts being a potential president.