The Cheeseheads Will Rise Again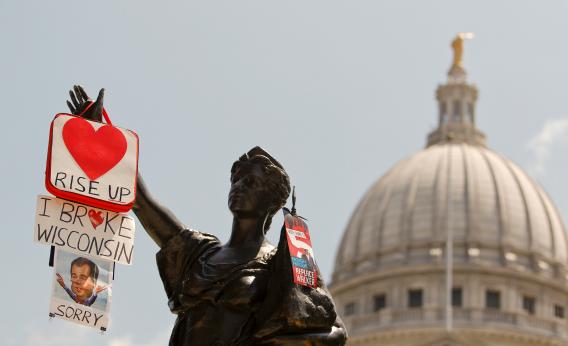 Believe it or not, protesters are still in the Wisconsin State Capitol almost every day—they have been since February 2011. A core group of 30 or so "Solidarity Singers" have been meeting outside or in the rotunda of the Capitol most weekdays to protest Gov. Scott Walker's anti-union law and Walker's existence in general. To discourage the protesters' daily singalong, Walker's Department of Administration started limiting group sizes to four people and requiring permits to congregate in the Capitol. If you've ever lived in Madison, you can guess how well that policy has worked out: It's mostly led to more protesters getting arrested and fined for misdemeanors.
But on Monday, one of the perma-protesters was arrested and charged with felony battery during the daily noon singalong in the rotunda. In this video two officers appear to tackle him to the ground hard after he waves his hands and starts backing away from them. (I wrote about Jeremy Ryan, another perma-protester who filmed Monday's arrest, for the Milwaukee Journal Sentinel in 2011.) Watch:

It's not just young upstarts getting arrested: A Madison city councilman and the editor of a local progressive magazine were both arrested earlier this month for taking photos of the singalong. This is exactly the kind of headache Madison liberals want to give Walker. Counting a failed recall attempt in 2012 and a potential 2016 bid, Walker will have faced four elections in six years. If you watched Morning Joe last week, you saw Walker fine-tuning his 2016 message—that states are laboratories of democracy, and as governor his science experiment has led to fiscal solvency. Still, he's been nowhere near as outright about his ambitions as Gov. Chris Christie or Sen. Ted Cruz—that would only give protesters in Wisconsin more grist ahead of his 2014 re-election. The best he can do for now is lay low and keep fundraising.