The Middle East Friendship Chart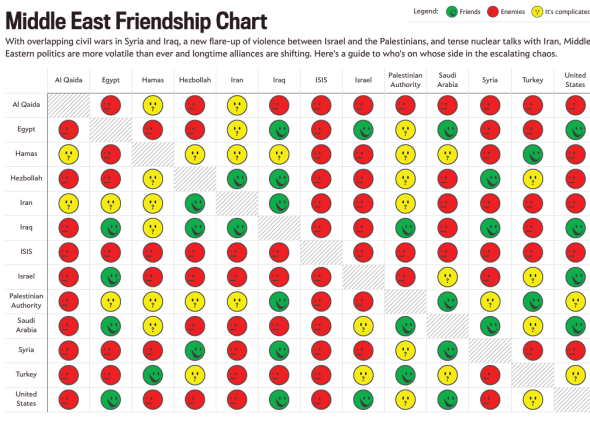 With overlapping civil wars in Syria and Iraq, a new flare-up of violence between Israel and the Palestinians, and tense nuclear talks with Iran, Middle Eastern politics are more volatile than ever and longtime alliances are shifting. Here's a guide to who's on whose side in the escalating chaos. Click a cell to learn more information.
| | | | | | | |
| --- | --- | --- | --- | --- | --- | --- |
| Legend: | | Friends | | Enemies | | It's complicated |
For the interactive version, visit Slate.com on your desktop or tablet.
The Iraqi government has been critical of Israel, but doesn't have much of a relationship with Hamas.
Syria: COMPLICATED
*Correction, July 17, 2014: Due to a production error, this chart originally misstated that Saudi Arabia and Syria are friends. They are enemies. Also, the chart misstated the relationship between Egypt and Syria as the relationship between Egypt and Saudi Arabia.