This Firehouse Light Bulb Has Been Shining Since 1910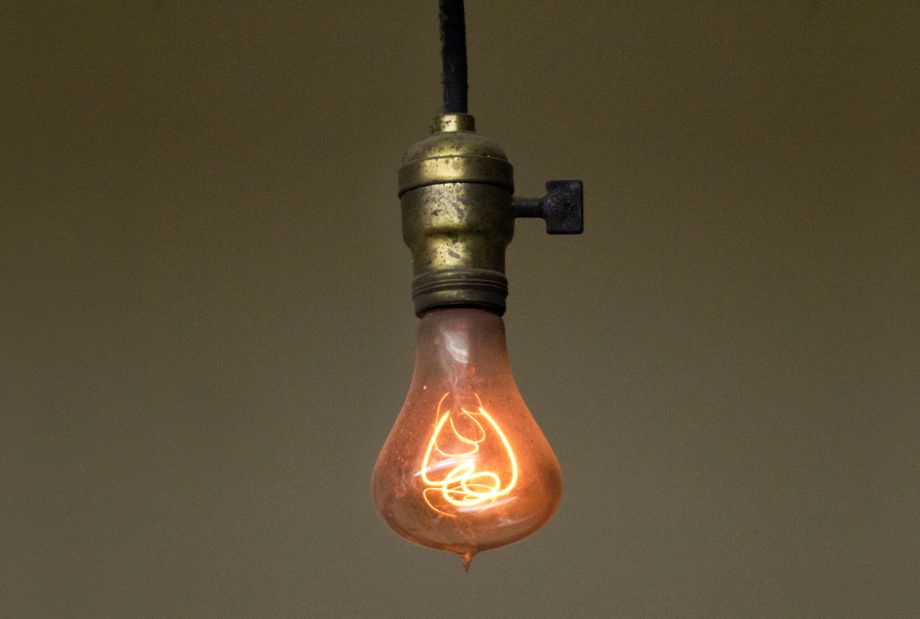 This week's edition—about a firehouse light bulb that's been burning since 1910—can be played below. Or keep reading to learn more.
Hanging in the garage of Fire Station No. 6 in Livermore, California, there's a small, pear-shaped light bulb. It is glowing right now.
This light bulb has been glowing, with just a couple of momentary interruptions, for 113 years. You can see it glow in real time.
The bulb is a genuine heirloom from the dawn of electric illumination, built by one of its pioneers: Adolphe Chaillet.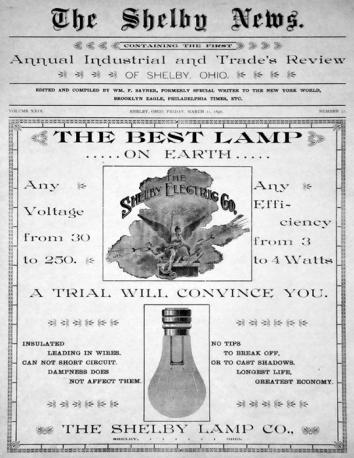 Thomas Edison may be the first inventor to come to mind when thinking about illumination, but he wasn't the only one. There were legions of tinkerers trying to come up with better designs, trying to iterate and innovate bulbs that would burn longer and brighter at a cheaper cost.
All over America, figurative light bulbs were going off over people's heads, and some of those became actual light bulbs.
Chaillet liked to do a product demo where he'd have a big light bulb bank like a theater marquee. In it would be one bulb of his own design, and the rest would be bulbs by competing brands. Chaillet would start slowly dialing up the power. One by one, the competitors' bulbs would all explode. Every time, Chaillet's would be the last one shining.
One of those tenacious light bulbs made it to Livermore, California, when a shop owner donated it to the town's volunteer fire department in 1901. That way the firefighters didn't have to ready their horse-drawn "hose carts" in the dark.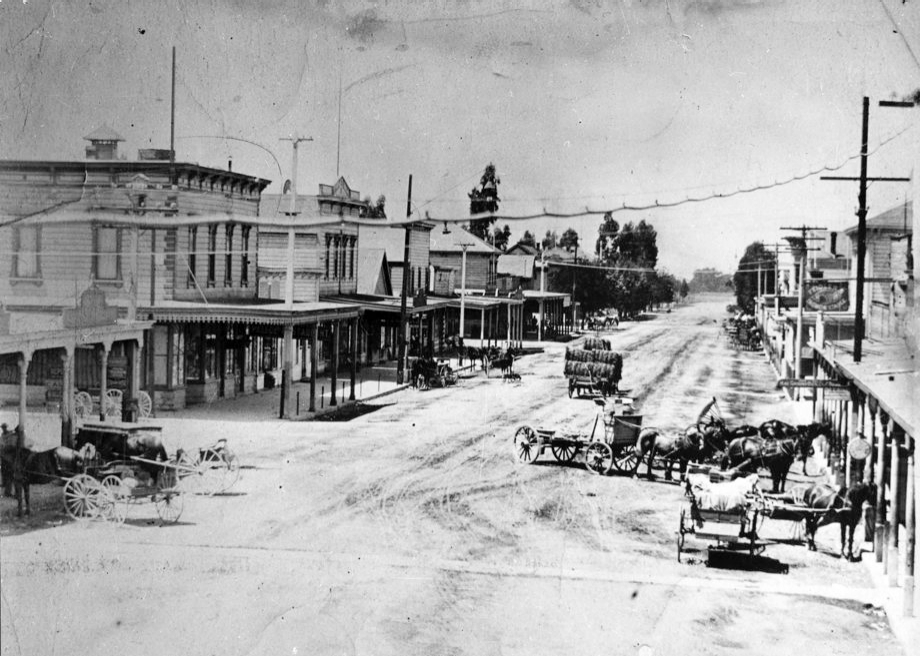 Eventually, the old-fashioned hose carts were replaced with fire trucks. The bulb hung between the firehouse's two garage doors, and the firefighters were aware of it but didn't think much about it. The bulb hung down from a long cord, and it was low enough that you could walk by and tap the bulb and watch it swing back and forth. Bored firefighters would throw Nerf balls at it.
In 1971, the first full-time chief of the Livermore fire department, a guy named Jack Baird, got curious about the light bulb. And he asked a local newspaper reporter to look into the bulb's history. The resulting article got the residents of Livermore talking about the bulb, and it became a point of pride. It was Livermore's own little antiquity. The firefighters stopped throwing Nerf balls at it.
Five years later, the fire department was moving into a new building, so they moved the light bulb as well. It was escorted with red lights and a siren.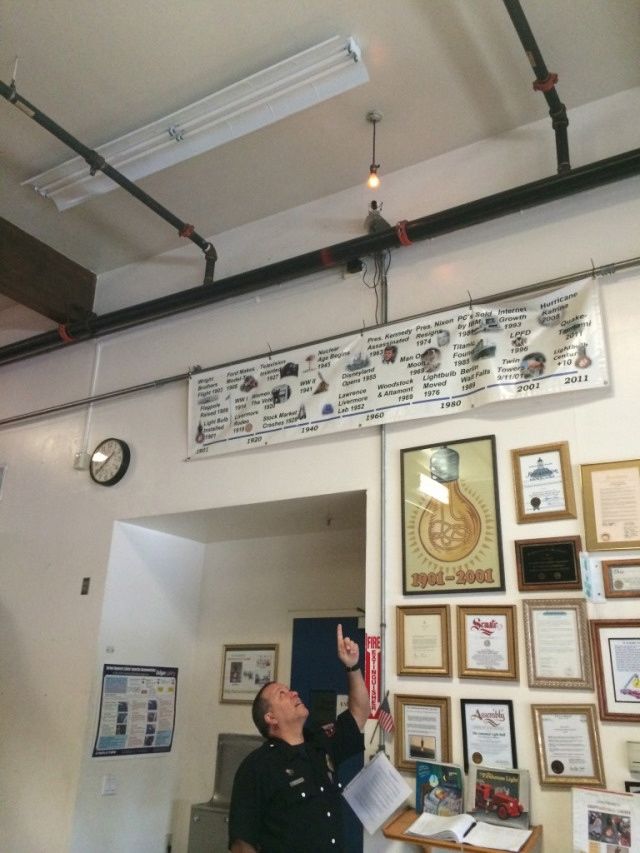 As the light bulb was becoming more and more famous, people got to wondering what it was made of and how it could possibly still be working. The only way to solve the mystery would be to crack the light bulb open, and no one wanted to do that.
In 2001, a group of locals decided that Livermore ought to have a 100th birthday party for the light bulb. The newly formed Centennial Bulb Committee started planning what they thought would be a small get-together at the firehouse that June. Six hundred people showed up.
By then, responsibility for the bulb had passed from Baird, the first fireman to become interested in the bulb, to one of the firefighters who'd served under him, a man named Lynn Owens.
Owens had been one of the guys in the 1970s who had sat around chucking Nerf balls at the light bulb. When the bulb was 100, Owens was a grinning, aging retiree with tiny glasses and a bristly white mustache. Owens loved the bulb, and he loved to proclaim his love. "That light bulb is dependable," said Owens. "That light bulb has been doing the job it was intended to do since 1901."
People have written Centennial Bulb Committee to say the light bulb "gives me hope" and is a "reassuring reminder of faithfulness and service." In a letter, President George W. Bush called the light bulb "an enduring symbol of the American spirit of invention."
The light bulb outlived Jack Baird, the fire chief who first became curious about it, and Lynn Owens, its most devoted caretaker.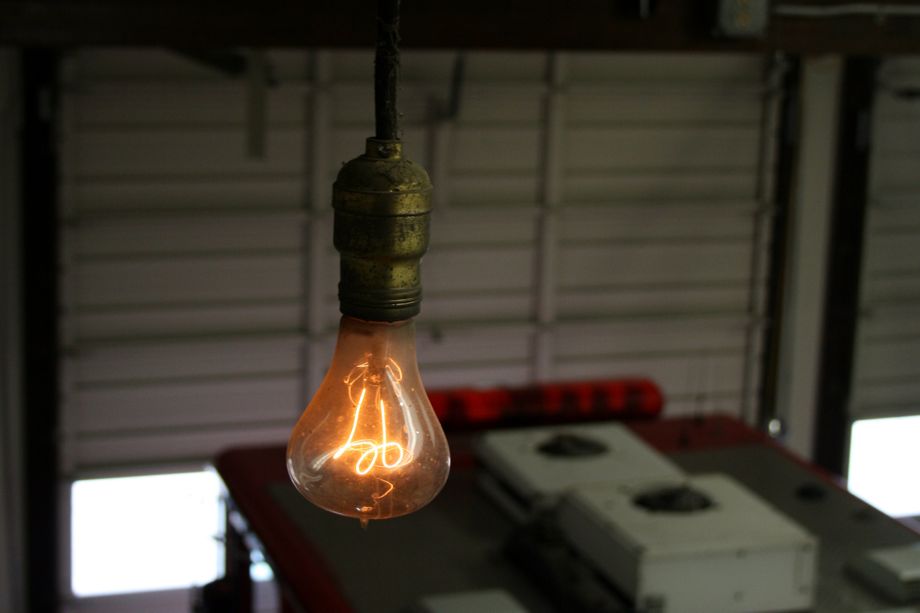 99% Invisible is distributed by PRX.