DIY Legs That Let You Transform Any Flat Surface Into a Table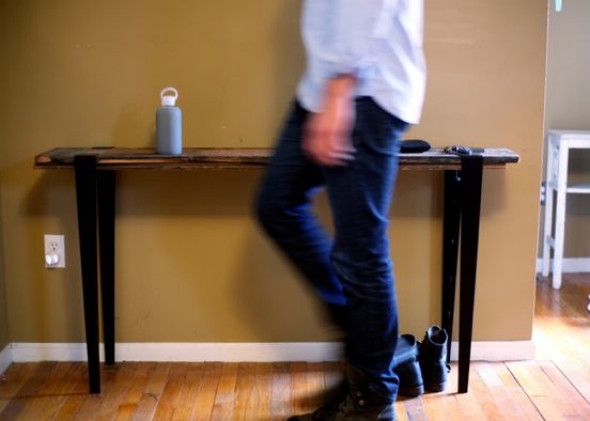 The world is full of discarded building materials waiting to be reclaimed and reborn. But not everyone has the tools, know-how or confidence to turn that cool door, vintage floorboard, or old window into a console or desk.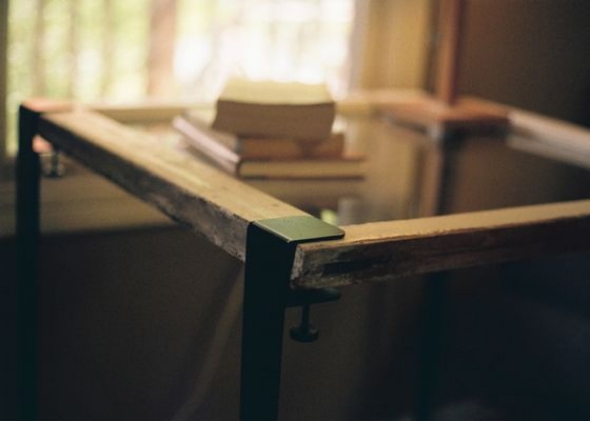 Enter the Floyd Leg, a set of four clamp-on, steel legs made in Detroit that allow you to turn any flat surface into a table. Available in 29-inch table and 16-inch coffee table height, the Floyd Leg was invented by Detroit-based designers Kyle Hoff and Alex O'Dell, who are running an already-successful Kickstarter campaign that has earned $211,931, significantly more than its $18,000 goal, to produce an initial run of the legs.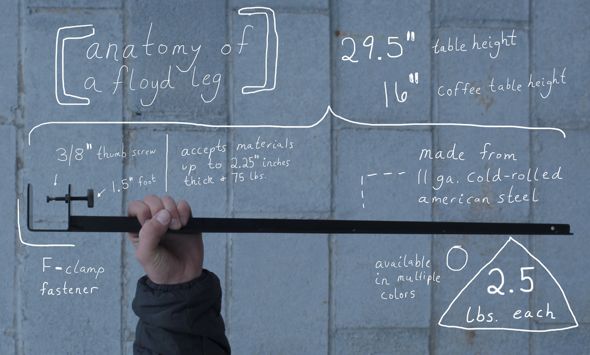 The simple, ingenious idea to build a set of good-looking reusable table legs came to Hoff when he found himself moving from city to city in the space of a few years, buying and throwing away furniture as he went.
"To solve this problem, I was looking for a work desk that was easy to pack up and move around with," he said in the Kickstarter pitch. "It occurred to me that if I built a set of legs with a minimal and functional design, any surface material could be changed out; simply pack up the legs and then find a flat work surface in the next city. It wouldn't require any building knowledge and only a few minutes to set up. Searching out material palettes would be an interesting and low-cost endeavor. It was sustainable because no alterations to the surfaces were being made."
Named after Hoff's father, grandfather, and great-grandfathers Floyd, all steel mill workers, the legs will be produced in local Detroit machine shops, in powder-coated black or white finishes. The makers suggest that the leg is best for "medium and light" uses—meaning desks, coffee tables, and consoles, not heavy-load dining tables—and estimate the legs can support up to about 75 pounds, depending on the material used to make the table.