Watch a South Carolina School Board Meeting Erupt Into "Jesus Loves Me" After an Attendee Speaks Up for Transgender Rights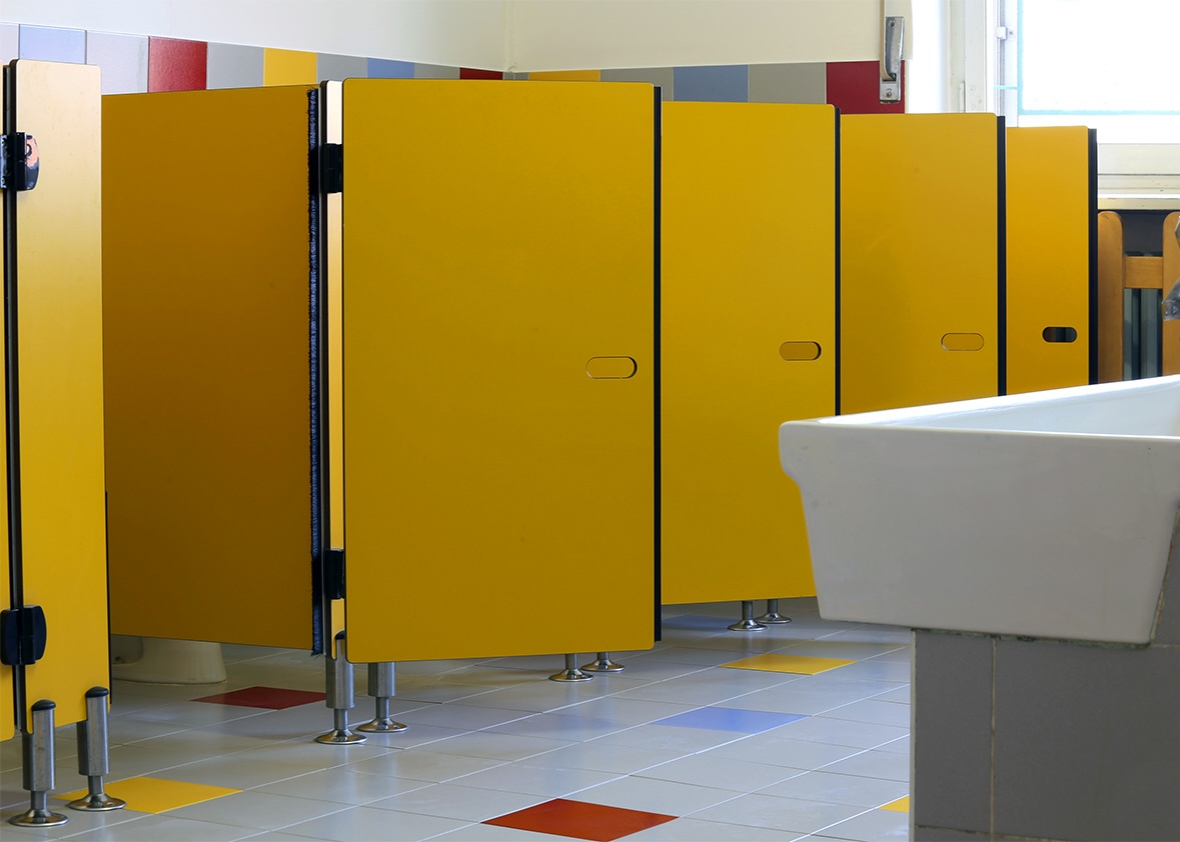 Some very strange shots were fired on Monday in a brewing transgender-bathroom war in Horry County, South Carolina, when a woman defending transgender rights at a school-board meeting was interrupted by a roughly 500-person chorus of "Jesus Loves Me."
In January, a high-school senior who has used the boys' restrooms since seventh grade was suspended for a day for refusing to switch to the girls' (or the nurse's) restroom in his last semester of high school. Until last fall, when a teacher discovered that he was born female and complained, the school had never taken issue with his use of the boys' bathroom; according to CNN, his family had "reached a decision with school administrators to use the boys' room to make everyone more comfortable" five years ago.
In response, he threatened to sue Horry County Schools for the same Title IX violations at the heart of Gavin Grimm's case in Virginia, which a federal appeals court recently decided in the transgender teenager's favor. Faced with the potential loss of much-needed federal funds, Horry County—a municipality that includes Myrtle Beach—quickly backed down, pissing off a whole lot of locals in the process. (In the meantime, the transgender student at the center of the Horry County "controversy" has decided to finish his senior year online for fear of being outed at school.)
Which brings us to last night's epic school-board meeting.
In the video, which is worth watching in its entirety, a lone woman tries to defend the rights of transgender students amid a sea of angry citizens (many of whom look far too old to have school-age students, incidentally).
"A child feels that they are male and they are in a female body—" the speaker, Melanie Moore, says, but is quickly cut off by loud boos, leading her into the shakier ground of "What about those who are born with both sexes?" Hecklers respond with questions about her religious views ("Are you a believer in Christ, Jesus?") and residency ("Are you from Horry County, ma'am?" over and over from all corners)—because only a heathen carpetbagger could embrace such a radical, child-endangering position as hers.
Even before the thundering "Jesus Loves Me" coda (which gets underway at 6:19 in the 7-minute video), this chaotic school-board meeting offers an amazing inside look at the circular, nonsensical reasoning that the anti-trans contingent deploys to defend "the word of God" and the "order of Nature" against the rights of kids. Because, as Mark Joseph Stern wrote on Tuesday, anti-trans Americans are losing the moral and legal argument, big time, they've got nothing but cockeyed gender-binary absolutism to keep them afloat. As one audience member puts it, "A male dog has a male body part. If we see a dog with two body parts, we all know that there is something wrong with the order of nature and the order of God when it comes to that dog." Uh… amen???