How Hard Is It To Make Your Own Children's Book? Reader, We Tried.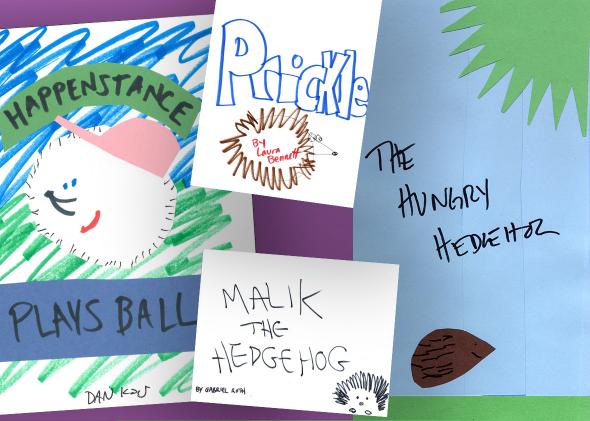 No one doubts that some children's books are great. But it's the kind of greatness that often looks so intuitive, so breezy and slight, that it can seem deceptively simple to pull off. No matter how much Goodnight, Moon you devoured as a child, or how many hours you've spent reading Don't Let the Pigeon Drive the Bus to your own offspring, it's hard to grok what really goes into making a children's book and what it takes to make a truly good one. So we, a group of hubristic Slate editors and writers, decided to try our hand at creating some kids lit ourselves.
Our kids lit "hack-a-thon," as we called it, had a few rules. Each book would star the same animal and have the same moral. A panel of judges, experts in the field of children's literature, would select an animal protagonist and a moral for us—which would only be revealed at the beginning of the Hack-a-Thon. Never mind the question of whether great children's literature should really have a "moral" at all; for the sake of this exercise, we needed parameters. We would have one hour to create our kids books. Then we would submit them to be mercilessly judged by the professionals.
And so, anxiously, we began.
The animal protagonist:
The moral:
"When one door closes, another door opens."
The tools:

White paper
Crayola markers
Black pens
Colored construction paper
Scissors
The contestants:

Laura Bennett, senior editor
Dan Kois, culture editor
Laura Miller, books and culture columnist
Gabriel Roth, senior editor
Julia Turner, editor-in-chief
Katy Waldman, words correspondent
The judges:
Kat Brzozowski, editor at the Macmillan Young Adult/children's literature imprints Swoon Reads and Feiwel & Friends
Alvina Ling, vice president and editor-in-chief at Little, Brown Books for Young Readers
The results:
Prickle by Laura Bennett
Kat Brzozowski: I love the illustration of Prickle; you can tell he's a hedgehog without being told. I also like the strong sense of voice from the first page. I like the message, although I'm somewhat disturbed by the idea of a hedgehog as a piece of sporting equipment.
Alvina Ling: Kudos for trying to write in rhyme, but it's generally not something we recommend for picture books except for the "experts." I liked the plot of this, though—it was fun and unexpected, and a good portrayal of the moral. And, I liked the supportive older brother.
Cheryl Klein: We editors will often warn beginning writers off writing in rhyme, because so many of the resulting manuscripts come off as incompetent imitations of Dr. Seuss. But this text was actually pretty decent, with regular meters and interesting rhymes. The book also presents a problem young kids can relate to—wanting to succeed at something, to be as good as an older sibling—and resolves it through a couple of surprising twists and Prickle's own actions, with events that would be fun for a (professional) illustrator to show in the pictures. If I were editing this, I might suggest cutting the last page so the moral isn't stated quite so obviously, and finding some other way to show Spike's pride in Prickle.
Happenstance Plays Ball by Dan Kois
Kat Brzozowski: I'm immediately drawn in by the use of construction paper here; it gives the book a nice sense of layers and depth. I also love the look of effort on Happenstance's face; you show us his effort without having to spell it out in words. I'm unclear on how Happenstance joins the game in the end. Does he become the ball? Again, the image of a hedgehog as sporting equipment is somewhat disturbing.
Alvina Ling: HAHAHA. Love the humor. And, the saturated colors of the mixed-media illustrations were great. The story is very slight … of course would need to be fleshed out more in order to be close to publishable. But, I think this one is very kid-friendly.
Cheryl Klein: It's great to see this illustrated in spreads rather than individual pages, as spreads are how readers actually look at picture books, and the illustrations themselves have a terrific vigor and use of color and line. This also turns the moral in a nice direction, showing how friends can work together to make new possibilities. However, picture-book-age readers can be very literal, so we often try to avoid publishing books that show dangerous behavior as fun, and I'm a little concerned the story suggests that hedgehogs like their friends using them as baseballs …
Wilma Loves Cake by Laura Miller
Kat Brzozowski: I like how expressive the faces are in this one. Even without words, I can tell what these characters are feeling and thinking. There may be a bit too much going on, plot-wise; I had a hard time following what was happening in the middle pages, but I got back on track by the end.
Alvina Ling: Lovely illustrations. I understand that this wasn't meant to be a wordless picture book, which is good, because I found it a little hard to follow without text. But, at the same time, I do think the illustrations did a nice job telling the story on their own, and in the end I did "get" what the book was saying. This one felt very classic in its execution (reminiscent of Frog and Toad and Wind in the Willows), and did a nice job with the moral—I liked that the characters had to collaborate and be proactive to make the cake happen.
Cheryl Klein: The fact that I didn't need to read the text to understand the story and emotion here is one of the hallmarks of a good picture book. The story is protagonist-driven, as Wilma has a clear desire and takes action to achieve it, and the well-paced illustrations reminded me of the work of Edward Soren or David Small. I do think it would need some words, however, to give all the characters more personality and round out the narrative a little more.
Malik the Hedgehog by Gabriel Roth
Kat Brzozowski: The use of the present tense here throws me somewhat; it's an unusual choice for a picture book. I like that you've focused on the essential hairiness of a hedgehog in your depiction of Malik. The plot feels like it could use some development; I'd love higher stakes for what snack Malik gets in the end.
Alvina Ling: Writing is a bit choppy, too much "real time" narration. Maybe a little too literal in its interpretation of the moral. The illustrations are great—Malik is particularly adorable on the cover. And, I loved the text on the last page!
Cheryl Klein: Malik struck me as very much a bro type—he lives in an apartment in Cleveland with just a TV and a refrigerator, which is mostly empty; his needs are few and easily satisfied—so I'm not sure he would be the most relatable protagonist for picture-book-aged readers. This feels almost like a postmodern, ironic, parody-of-kids'-books gift book for grown-ups, more than a book for kids themselves. It does make nice use of white space and repetition in the cupboard pictures, though.
The Hungry Hedgehog by Julia Turner
Kat Brzozowski: I like the use of construction paper and the simple visual imagery of the animals, especially the giraffe. I think the bush is somewhat hard to read; I couldn't tell what it was at first. I'm not sure what the moral is here. Is the giraffe upset that the hedgehog got food, or happy for him/her?
Alvina Ling: I love the cut-paper illustrations! And, loved the storytelling used very minimal text. The hedgehog jumping was darling. The little twist at the end with the giraffe coming back is very on trend right now, reminiscent of Jon Klassen and Peter Brown. I wished there was a little more than just chance that brought the hedgehog to the fruit, but I think it's still a nice interpretation of the moral.
Cheryl Klein: I liked the art style here, and how it managed to characterize both the hedgehog and the giraffe through very simple shapes and lines. The story felt a little thin, though, and the resolution was driven more by circumstance or luck than the hedgehog's own action. The giraffe's appearance at the conclusion reopens the conflict with the hedgehog at the moment we expect the story to end, which could be fun for a public storytime—kids could make up their own versions of what happens next—but would be less appealing for parents putting their kids to bed.
Ariella and the Magnolia Tree by Katy Waldman
Kat Brzozowski: I'm getting more of an armadillo vibe from Ariella rather than a hedgehog; the wavy lines on the body remind me of scales more than hairs. I like the theme of finding beauty in unexpected places. I'd love to get a stronger sense of Buster and Ariella's friendship in the opening pages.
Alvina Ling: Nicely written, great friendship story, very sweet story all-in-all. Nice illustrations, and the story had good pacing. I thought this one had the best portrayal of the moral. Great job overall.
Cheryl Klein: I appreciated the sweetness of the characters' friendship, but one of the primary laws of picture book narratives is that the book's conflict should be resolved through the characters' choices and actions rather than a deus ex machina, and as the resolution here comes about through a gust of wind, it isn't living up to that. The graphic-novel-style boxes could be confusing to beginning readers (though they might appeal to more experienced ones), and as the standard picture book runs 32 pages, the illustrations could have been distributed over multiple spreads rather than being clumped together.
The verdicts:
Kat Brzozowski: Dan Kois' had the strongest sense of voice, in my opinion, and voice is the first thing I look for.
Alvina Ling: If I had to pick a winner, Julia Turner's wins it for me—just my gut feeling when I reviewed the story, and the combined effect of the text and art. I loved the illustration style, and the story itself felt very modern, and of what's working right now in the market. It's kid-friendly, too.
Cheryl Klein: Laura Miller's Wilma Loves Cake has the best illustrations, but I'd give the overall prize to Laura Bennett's Prickle, as it's the most complete package.
[But] in case this needs to be said: All of you should keep your day jobs.
Laura Bennett: I did not go into this exercise worrying at all about the hourlong time limit we had imposed on ourselves, so when the buzzer sounded, I was quite surprised to discover that I had still not illustrated the back half of my book. But oh, the rhymes! I worked so hard on those rhymes! For real: I spent about 25 minutes tenderly crafting an epic, metered poem about the tribulations and triumphs of Prickle the hedgehog and his brother Spike. So I learned the hard way that the success of a kids' book rides less on the prose than on the interplay between words and text and also on a certain visual gestalt.
My colleagues' creations made me aware of factors that I'd never even thought about—the importance of momentum from one frame to the next, for instance, and of playing with close-ups and zoom-outs in the illustrations for the sake of variety from page to page. One only need note the power of Gabe's wordless frame of Malik the 'hog contemplating the cupboard door, the whimsy of Julia's retreating giraffe butt, the dreaminess of Katy's elegant plot, the beauty of Laura Miller's woodland universe, or the dynamism of Dan's cut-out text bubbles to see how tiny imaginative details can really make a picture book sing.
Dan Kois: I learned that literally making the moral of the story your final sentence is a pretty hacky way to end a book. I learned that I am better than I expected (though still not good) at drawing animals playing baseball. I learned that if I spend under two minutes writing a story, it will be apparent in the story's quality. And after I finished my book, I learned from Gabe that I have a lot in common with genius children's author Mo Willems—specifically that we have BOTH written books in which a small animal wants to play a ball-related game and succeeds by becoming the ball. His was hugely successful, so I expect mine will be too.
Laura Miller: I don't think I'd ever really considered how much little details meant to me as a child reader, and particularly depictions of where characters lived. I wanted to see the stuff in their homes and I'd study things like the items on a shop shelf in a drawing. As soon as I started, I knew I had to have that, though it wasn't a very practical goal for a lightning session. Also, once my character was carrying a blue basket or wearing a purple bow, I felt immediately that I had to make sure both appeared in every scene where they could be reasonably expected. Maybe most children are not that obsessed with continuity, but I was.
Also, like everyone else, I hadn't really considered how many images it takes to tell a story with any kind of timeline. You need an image of her walking along before you get to the next scene, of her reacting to each new character, an image to represent each turn in that interaction. It was exhausting! In fact, it took me so long to draw all the scenes, that I couldn't finish coloring in all the details, let alone actually write the text, so I'm not sure anyone will be able to follow the story. (It was actually meant to have words.) Lastly, I was bummed out by how easily I came up with such a pat little moralistic story, in contrast to the brisk amorality of Dan and Julia's Hobbesian takes on narrative.
Gabriel Roth: I learned that hedgehogs are fun to draw but furniture is hard and just because you think the hedgehog is the most important thing in the book that doesn't mean you won't spend 90 percent of your time trying to do perspective on a fridge.
Julia Turner: I gained a new appreciation for the fact that my favorite children's books are dreamy and strange, and capture the wild wondering of childhood. I found it hard to be strange and efficient at the same time, and to be strange and deliver a lesson at the same time. I was particularly moved by the arbitrary but strangely poignant Cleveland setting and resigned but cheerful tone of Gabe's fruit roll-up-craving 'hog tale. I also learned that a faceless giraffe can be menacing.
Katy Waldman: I learned that plot in a kid's book is more encumbrance than asset and also that hedgehogs don't climb trees. (Really, I learned that I don't know anything about hedgehogs, including what they look like.) I gained an appreciation for the odd or wry detail: the facial expression, the specific snack food, the disappearing giraffe butt. I wish my story had been less sugary and more skinned-knees-y. The time pressure drove home the idea that while children's books seem simple, it's the kind of simplicity that requires a lot of care to bring off.