Poignant Short Stories Composed Entirely of Example Sentences From the Dictionary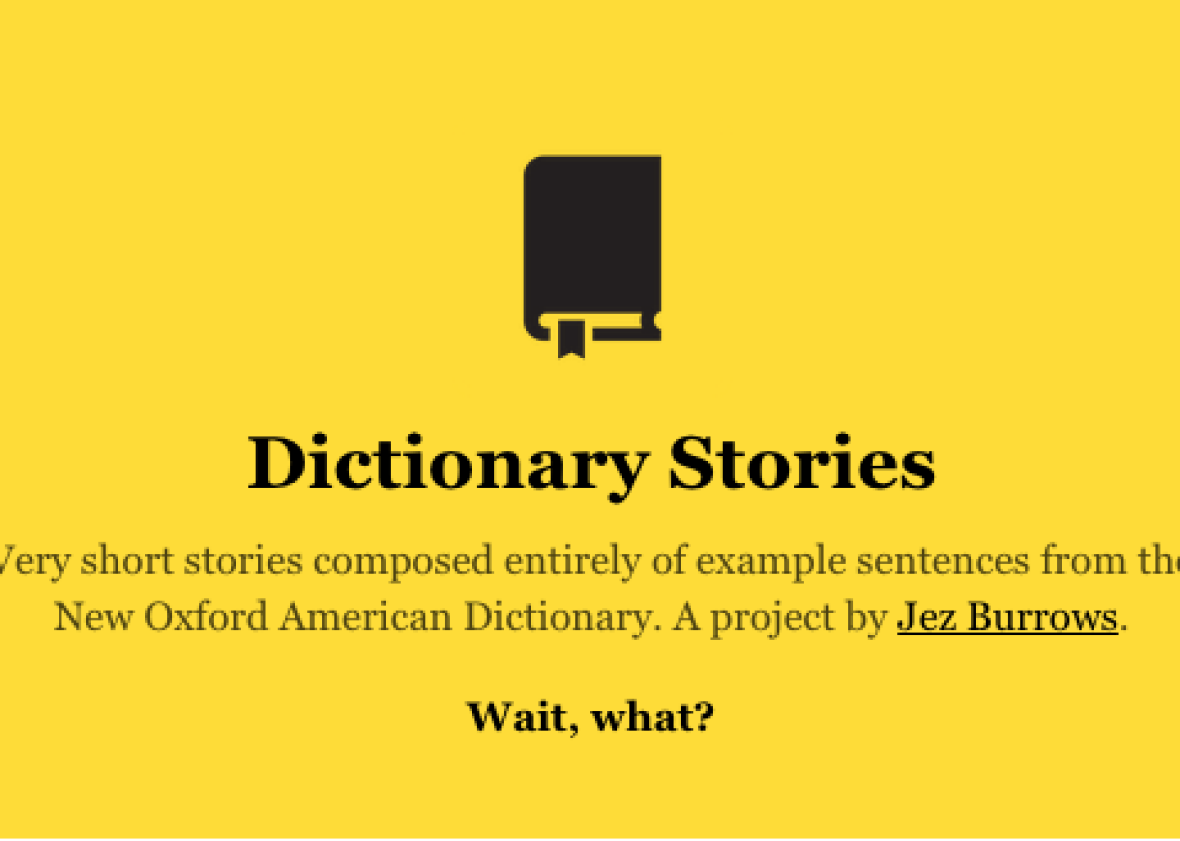 One of my favorite parts of the Scripps National Spelling Bee is when the contestants ask for a word to be used in a sentence. The sentences—which occasionally name-drop Drake or quote Kelis—are gems in their own right but are rarely actually helpful when it comes to understanding how a word is used. This is often even more the case in the dictionary, which doesn't have the added pop-culture amusement.
Jez Burrows, a British designer and illustrator, was looking up the word study in the online edition of the New Oxford American Dictionary, where, among "all the plain, functional language used to define the word, there was this very intense, melodramatic example sentence—'He perched on the edge of the bed, a study in confusion and misery.' " He told me over email that "It just seemed like a piece of fiction that had gotten lost and wandered into a dictionary." So he did what anyone would do in 2015—he started a Tumblr, Dictionary Stories, and wrote that story using other found explainer sentences from the dictionary.
But it turns out Burrows was on to something, that sentence kind of had gotten lost. Katherine Connor Martin, head of U.S. dictionaries at Oxford University Press, told me that they don't make up any of these sentences for the dictionary—they all come from existing work, which makes the piecing of them together to create new stories kind of poetic. The New Oxford American Dictionary uses the Oxford English Corpus, which is a collection of academic works and newspaper articles, but also some unedited content that appears on the Internet.
These sentences, she explained, aren't meant as definitions, they're meant "to provide an example of the word in context." Editors choose examples from this corpus, like the one for anyway that Burrows used in his story "Poor John." When I read the sentences for that word to Connor Martin—"Poor John always enjoyed a drink. Anyway, he died last year."—she laughed, "Sometimes in a word like anyway, as much as we try to be as clear as possible, reading how anyway is used is not as helpful as seeing an example."
While the Oxford Dictionary of English includes page and column numbers for their sentences—as an academic dictionary this documentation is extremely important—Oxford American likely won't be doing that anytime soon, though they have the source information for newer entries, they don't actually publish it yet.*
But the annotations and the fact that he's British haven't convinced Burrows to switch to the ODE or the OED: The NOAD links words, making it easier to find fodder and fall into a dictionary rabbit hole. Each of the underlined words in his stories is the word the sentence is connected to. Burrows is particularly fond of the "Gallons of fake blood" sentence. My favorite? The meta "I'll look up love in the dictionary." The word being used in a sentence there? Dictionary.
The best part, though, is how existentially moving these stories become. Burrows creates recipes (where he features the aforementioned gallons of blood) and poignantly moving confessionals that turn on their head with the last sentence. As Connor Martin told me, "These are meant to be unobtrusive—you generally want them to be as boring as possible." These stories are anything but, infusing the sentences with a whole new meaning.
Correction, Aug. 26, 2015: This post originally misidentified the ODE as the OED.

Update, Aug. 26, 2015: This post has been updated to clarify that though the NOAD has the source information for newer example sentences, they don't actually publish it.