Betting Long on Mark Zuckerberg
Why Zynga CEO Mark Pincus remains bullish on Facebook.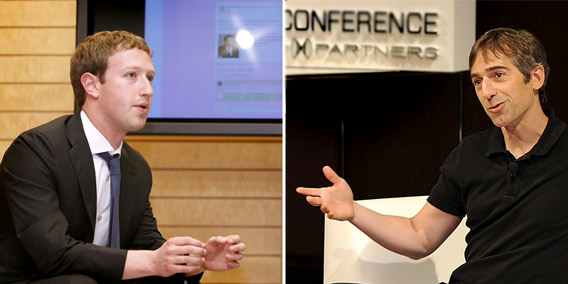 Despite the drop in Facebook's stock price following its IPO, Mark Pincus is still betting long on Mark Zuckerberg. Of course, the Zynga CEO knows that when you build a social gaming company that's woven into the fabric of Facebook, you have no choice but to root for Zuckerberg's success.
Zynga's own stock has taken a beating lately, in no small part because of investor doubts about Facebook. Yet Pincus still sees Zuckerberg as a great partner and "a visionary guy who wants to change the world." And he tells Slate's Jacob Weisberg that the Zuckerberg he knows is nothing like the one portrayed onscreen in The Social Network.
You can watch Part 1 of our interview with Pincus, in which he discusses how Zynga hopes to grow outside of Facebook's borders. In the days ahead, look for more of our interview with Pincus, including what he sees on the horizons of gaming.