In Touch With His Inner Steve Jobs?
Zynga CEO Mark Pincus cops to being hard-driving but insists he's a nice guy.
Tech entrepreneurs are happy to be compared to Steve Jobs, as long as it refers to visionary leadership and not overly demanding, egomaniacal perfectionism. Zynga CEO Mark Pincus has a reputation for being hard-charging just like Jobs, but at the moment his leadership skills are being put to the test.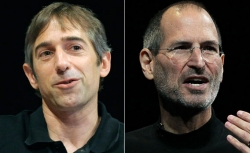 Zynga's stock price has plummeted this year amid concerns that the social gaming company is overly dependent on Facebook, which has seen its own stock drop since its IPO in May. This week, Zynga COO John Schappert resigned as part of a management shuffle.

Pincus recently sat down with Slate's Jacob Weisberg and addressed questions about his style. He says that his micro-managing tendencies stem from his passion for what his company does. And he insists that people who work for him will tell you he's a nice guy.
You can watch Part 1 of our interview with Pincus, in which he discusses how Zynga hopes to grow outside of Facebook's borders. In Part 2, Pincus discusses his relationship with Facebook CEO Mark Zuckerberg. And in our third segment, Pincus offers his take on the future of gaming.