Poking With a Purpose
Zynga CEO Mark Pincus explains evil power-ups and offers his forecast for the next wave of social gaming.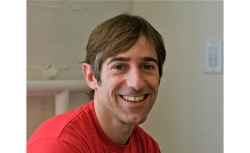 Given the speed at which technology and social media are evolving, it's almost impossible to imagine how video games might look and feel five years from now. But one thing Zynga CEO Mark Pincus is betting on is that gaming will become more social, with increasing numbers of people drawn into competition via their various social networks.
Of course, that would be good for Zynga, which has seen its stock price fall by almost 70 percent this year. Despite recent investor doubts, Pincus' social gaming company has more than 300 million monthly active users of games ranging from Farmville to Hidden Chronicles to Zynga Poker.
Pincus' personal favorite is Scramble With Friends, which he plays regularly against LinkedIn co-founder Reid Hoffman. And Pincus tells Slate's Jacob Weisberg that games like these are perfect for a world increasingly defined by multitasking, because they are "snacks you can consume in a couple of minutes."

You can watch Part 1 of our interview with Pincus, in which he discusses how Zynga hopes to grow outside of Facebook's borders. In Part 2, Pincus discusses his relationship with Facebook CEO Mark Zuckerberg. In the days ahead, look for one more segment, in which Pincus talks about his reputation as a hard-charger.