A Kingdom for Children
Director Wes Anderson on the childlike fantasies at the heart of his new movie Moonrise Kingdom.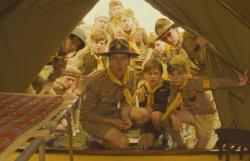 Wes Anderson's latest movie Moonrise Kingdom is set to premiere this week as the kickoff for the 2012 Cannes Film Festival.
A period piece set in the 1960s, the film tells the story of a 12-year-old couple who runs away from their New England town, leaving the adults scrambling to find them. It's Anderson's first release since his Oscar-nominated Fantastic Mr. Fox, and it features a high-octane ensemble cast, including Bill Murray, Bruce Willis, Frances McDormand, and Tilda Swinton.
Anderson recently sat down with Slate's Jacob Weisberg to discuss how his own childhood fantasies inspired the film, the influences of Francois Truffaut, and how hard it is to cast child actors and how happy he was to discover Jared Gilman and Kara Hayward for the lead roles.
In the days ahead, look for more of our interview with Wes Anderson, including how he turns commercials into mini-movies, why he's so fond of stop-motion animation, and the pleasures of working with Bill Murray.