Jeanne Gang, Architect
By carefully rethinking how things are made, Gang elevates green architecture to new heights.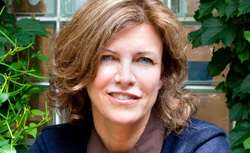 In a conventional high-rise building, every floor has precisely the same outline, and it's usually a rectangle. In the Aqua Tower in Chicago, designed by Jeanne Gang and completed in 2010, each curvy concrete floor slab has a slightly different shape. Gang is the head of Studio Gang Architects, which has completed buildings ranging from an amphitheater with a roof that opens like a flower to a cinema-inspired film school. But it is the Aqua Tower, which, at 82 stories, is the tallest female-designed skyscraper in the world, that is Gang's best-known work. The building has a liquid quality, but, as Gang is quick to point out, she didn't start out with the intention of designing a building that looked like water. The notion of fluidity perhaps better describes Gang's working process, which includes a collaborative office atmosphere and starts with an expansive research phase. Her flexibility has allowed her to elevate sustainable architecture to new heights.
In the Aqua Tower, this process began with the idea of allowing tower residents to grab views of landmarks around the city—by tugging out the west side of the structure, for example, an unusual view to the northeast could be created. Eventually, Studio Gang used a repertoire of different forms—one 2005 sketch labels different points on the facade as "flares," "swells," "waves," "doilies," and "clefts"—to give every apartment a balcony that doubles as solar shading for the unit below, reducing the overall energy needs of the structure. The irregular, rippling shapes of the facades also break up the fierce Chicago wind, making the balconies habitable at higher elevations (and for more months of the year) than would be possible in a conventional tower.
Because of its commitment to unconventional solutions and materials used in unexpected ways, Gang's firm has an unusually close involvement with its collaborators. "Usually you draw a building, bid it out, and then the contractor is the one who sources the material," explains Gang. In the Aqua Tower, however, as soon the architects considered making every floor a different shape, they had to engage with engineers and contractors to understand how the varying concrete slabs could work.
An even more extreme example of this kind of collaboration is the SOS Children's Village, a community center with an extremely low budget. Studio Gang accepted in-kind material donations for the project, necessitating a flexible design process that could incorporate the occasional unexpected revolving door or piece of shag carpeting. After an initial design for a brick facade was scrapped when a brick donation fell through, the firm opted for a concrete enclosure. But because any concrete donations would necessarily come in a piecemeal fashion, Gang decided to embrace the ad-hoc nature of the construction by soliciting donors of different concrete mixes and colors and making the resulting "strata-wall" the most visible part of the building. "Once we came up with that idea of using the fluidity of the concrete in bands," Gang recalls, "we had to get the tradesmen in right away to ask, is this possible? Just how much waviness can you get?"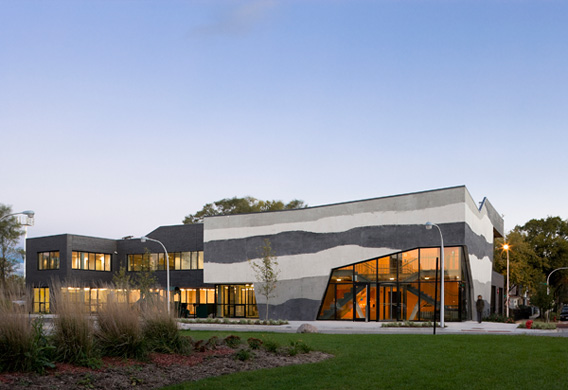 In many of Gang's projects, these unusual uses of material serve a green agenda. Sustainability isn't tacked on to her designs; it's the natural result of thinking very closely about how materials work and how things actually get built. But it's also a conscious decision by the firm. "When we first started the office in 1998," says Gang, "I felt like we were constantly trying to educate the clients about sustainability and it was such an uphill battle. Now, we have people who already want to do that who are coming to us."