Longform's Best Science and Tech Stories of 2013
Silicon Valley, genetic testing, and Google buses.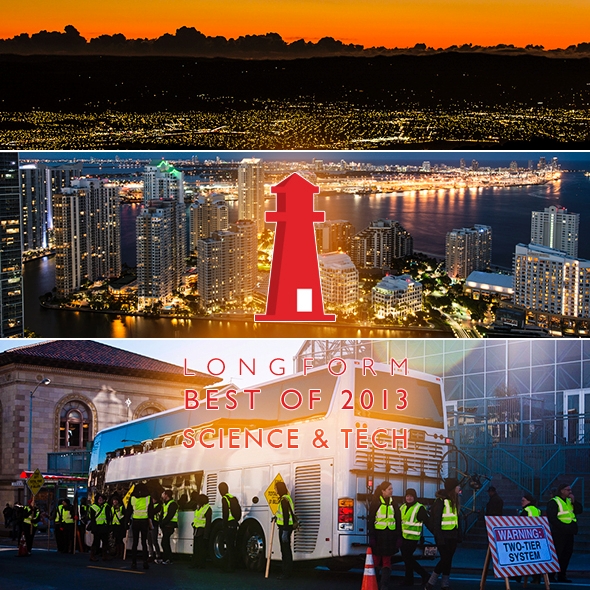 This week, we'll be sharing our favorite articles of the year on Slate. For our full list—including the top 10 of the year, plus picks in sports, politics, tech and more—check out Longform's Best of 2013.
The emerging political consciousness of Silicon Valley.

The technology industry, by sequestering itself from the community it inhabits, has transformed the Bay Area without being changed by it—in a sense, without getting its hands dirty. Throughout most of Silicon Valley's history, its executives have displayed a libertarian instinct to stay as far from politics and government as possible. Reid Hoffman described the attitude this way: "Look what I can do as an individual myself—everyone else should be able to do that, too. I can make a multibillion-dollar company with a little bit of investment. Why can't the whole world do that?" But the imperative to change the world has recently led some Silicon Valley leaders to imagine that the values and concepts behind their success can be uploaded to the public sphere.
On recreational genetics and the vulnerability of family secrets.

Searching your genetic ancestry can certainly be fun: You can trace the migration patterns of 10,000-year-old ancestors, or discover whether a distant relative ruled a continent or rode on the Mayflower. But the technology can just as easily unearth more private acts—infidelities, sperm donations, adoptions—of more recent generations, including previously unknown behaviors of your grandparents, parents, and even spouses. Family secrets have never been so vulnerable.

Inside the real program to sabotage Iran's nuclear facilities.
Three years after it was discovered, Stuxnet, the first publicly disclosed cyberweapon, continues to baffle military strategists, computer security experts, political decision-makers, and the general public. A comfortable narrative has formed around the weapon: how it attacked the Iranian nuclear facility at Natanz, how it was designed to be undiscoverable, how it escaped from Natanz against its creators' wishes. Major elements of that story are either incorrect or incomplete.
Even more than Silicon Valley, Miami embodies the central technological myth of our time—that nature can not only be tamed but made irrelevant. Miami was a mosquito-and-crocodile-filled swampland for thousands of years, virtually uninhabited until the late 1800s. Then developers arrived, canals were dug, swamps were drained, and a city emerged that was unlike any other place on the planet, an edge-of-the-world, air-conditioned dreamland of sunshine and beaches and drugs and money; Jan Nijman, the former director of the Urban Studies Program at the University of Miami, called 20th-century Miami "a citadel of fantastical consumption." Floods would come and go and hurricanes might blow through, but the city would survive, if only because no one could imagine a force more powerful than human ingenuity. That defiance of nature—the sense that the rules don't apply here—gave the city its great energy. But it is also what will cause its demise.
Boomtown San Francisco, as seen from the "Google Bus."
The buses roll up to San Francisco's bus stops in the morning and evening, but they are unmarked, or nearly so, and not for the public. They have no signs or have discreet acronyms on the front windshield, and because they also have no rear doors they ingest and disgorge their passengers slowly, while the brightly lit funky orange public buses wait behind them. The luxury coach passengers ride for free and many take out their laptops and begin their work day on board; there is of course wifi. Most of them are gleaming white, with dark-tinted windows, like limousines, and some days I think of them as the spaceships on which our alien overlords have landed to rule over us.