Published by

Better than Cookbooks: Computers Could Make Healthy Eating More Palatable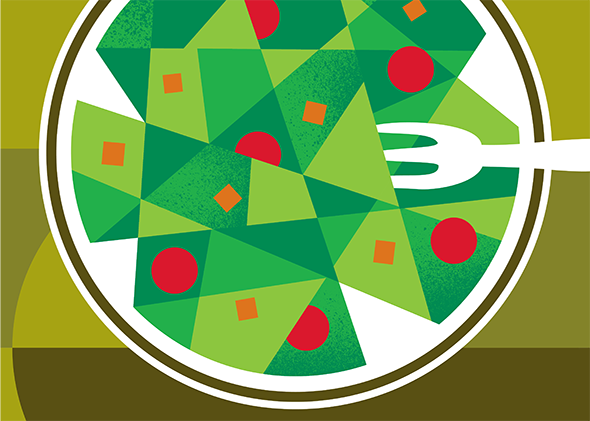 What if the food of the future was made not by technology, but with technology; with the tools and supplies that we already have?
Can computers understand ingredient availability, as well as personal tastes and dietary constraints? Discover flavorful ingredient pairings? Help us create new dishes that are healthy, taste good and have never been seen before?
According to some sources, about one-third of the food produced globally is wasted. That's 1.3 billion tons of food that's not consumed, every year. That is one and a half tons for each of the 850 million people in the world today who do not have enough to eat.
At the same time, eating habits play a major role in regulating the onset of many diseases including heart disease, which is the leading cause of death in the U.S. It can also impact rates for cancer, the second most common cause, or chronic lower respiratory disease, cerebrovascular disease, diabetes and kidney disease.
Unfortunately, cookbooks geared towards healthy diets don't tend to be very appealing.
We believe we can use computational creativity to help. First, let's try to define creativity. Creativity is the generation of a product that is judged to be novel, and also appropriate or valuable, by a suitably knowledgeable social group. There are at least three distinct groupings of creative domains:
1) Expressive creativity, which includes the visual arts and writing.
2) Performance creativity, such as music and dance; and
3) Scientific creativity, which includes inventions and science.
Research indicates that abilities within one discipline often transfer over to other disciplines within the same category. Culinary creativity mostly belongs to the scientific category.
Cognitive computing and the availability of big data together open doors to new possibilities for scientific creativity – from new discoveries in life sciences to improving the customer experience in the financial services and retail industries. While it would be difficult for computers to assess the quality of paintings or musical compositions, in science they can use data to create models that predict the value of innovations. Machine learning and natural language processing allow computers to understand how recipes work. Computational power makes it possible to analyze quintillions of combinations of ingredients and sequences of cooking instructions. And with information about ingredients at the molecular level, we've built models to evaluate the novelty, pleasantness and flavor balance of computer-generated recipes.
Let's take a look at how this works.
Over the past couple of years, we created a food knowledge database that contains recipes, ingredient ontology, and nutritional facts and characteristics of the flavor compounds contained in different ingredients. We then developed a system that asks for a few inputs about a dish you want to make, such as the key ingredients, cuisine, and dish type. The system then produces hundreds of never-before-seen recipe ideas accordingly, complete with proportions and instructions.
This system consists of three components: a combinatorial designer to try all of the combinations of ingredients that satisfy your inputs, a cognitive assessor to predict the novelty, pleasantness, and flavor balance of the ingredient combinations, and finally a dynamic planner to generate proportions and instructions.
We call the cognitive computing system Chef Watson.
In September at the TED@IBM conference in conjunction with TED Institute, I talked about how by providing recommendations based on our flavor preferences, or dietary needs, cognitive cooking has the potential to redefine how we choose what to cook and eat. Instead of following existing recipes, cooks can create their own personalized recipes on the fly. Individuals with diabetes can develop dishes that may help regulate their blood sugar while also satisfying their sweet tooth. A Brussels sprout gratin with sweet potato, cardamom, and ginger, for example, is rich in glucosinolates, whose role in the prevention of cancer is being investigated. People can prepare healthy and flavorful food without ever eating the same thing twice.
Cognitive cooking can also be an essential tool for helping to reduce food waste by suggesting recipes that can use what's on hand, whether it's for supermarkets and caterers selling prepared food, healthcare institutions serving meals to their patients, or consumers in their home kitchens. I cook at home a lot, myself, and I often find the more complicated the recipes, the more leftover ingredients they produce.
Our cognitive cooking technology was introduced by IBM and the Institute of Culinary Education (ICE) earlier this year with the Watson Food Truck at the SXSW conference in Austin, Texas. Since then, we've refined the technology and tailored it for use by other home cooks through our partnership with Bon Appétit. You can visit this site to download an app that combines IBM Watson technology and 9,000 recipes from Bon Appetit's culinary knowledge to work on recipes that are not only creative, but also healthy for you.