America's Infrastructure Is Crumbling
Shortfalls in investment will lead to fewer jobs, gridlock, and inevitable catastrophe.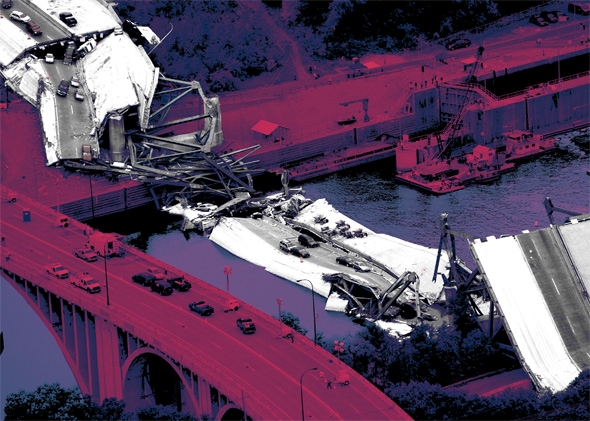 America's infrastructure is the backbone of its economy. If not for the United States' networks of roads and bridges, its waterways and sanitation systems, its power plants and electric grids, and its airports and harbors, trade and transport would vanish. The golden age of American infrastructure was during the post-World War II era. But now far fewer resources are dedicated to repairing, updating, and replacing the country's infrastructure. Like any system, it needs care to keep up with the demands placed on it. Yet lawmakers continue to neglect the maintenance of this vital network.
Today, America's infrastructure is woefully underfunded and its condition is severely degraded, despite local and state agencies' continued efforts to form private-public partnerships to manage our infrastructure in a tight fiscal climate. The American Society of Civil Engineers documents these shortcomings of investment in its series of reports Failure to Act. The investment shortfall is forecast to be $1.1 trillion by 2020, increasing to $4.7 trillion by 2040. The bottom line, according to ASCE, is that if investments in surface transportation aren't made in conjunction with significant policy reforms, families will have a lower standard of living, businesses will be paying more and producing less, and our nation will lose ground in the global economy.
This dangerous scenario is not merely some abstract concern. Investment shortfalls mean that much-needed maintenance and modernization are not being done and our infrastructure systems are deteriorating. For the most part, this isn't something dramatic you will notice overnight, but a gradual worsening of conditions over time. Your commute will become less reliable. Your shipments will take longer. You may experience more electrical outages and water issues. Occasionally, we will observe tragic events like the collapse of bridges seen recently in Minnesota and Washington. The deterioration of infrastructure has direct and indirect costs, sometimes measured in human lives. Naturally, a systemic failure presents an incredible direct cost.
Each infrastructure sector is linked to another. A failure of one adds pressure to another. For example, deteriorating conditions on our nation's roads may shift goods to travel by rail or barge on the inland waterway system. As we look onward over the next generation, the gap between allocated investment in surface infrastructure and the necessary funding widens. By 2020 the overall cost of deficient infrastructure will grow to $1.2 trillion for businesses and $611 billion for households under current investment trends.
In total, the nation's declining surface transportation infrastructure will cost the American economy more than 876,000 jobs and suppress the growth of the country's GDP by billions of dollars. Without a network of functional roads and bridges, the economy will grind to a standstill—just like so many cars caught in rush-hour congestion on a choked, deteriorating strip of highway pavement.
America's infrastructure underpins the nation's economy. It is the thread that knits the nation together. To compete in the global economy, improve our quality of life, and raise our standard of living, we must renew and update America's aging public infrastructure.
Correction, Oct. 16, 2013: This piece was originally misatributed to the American Society of Civil Engineers. It was written by Jeremy Dennison.
What do you think is the most pressing issue facing the United States over the next generation? Have your say in the comments section by clicking on the "comment" icon. Your contribution will help define the American Prosperity Consensus project. You can follow the project at america2040.com.