NFL 2012
How the hell did the Seahawks build an elite defense?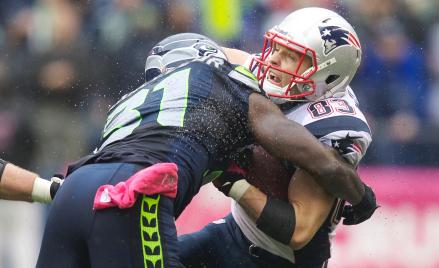 Great defenses often have an intentionality to their construction. The Ravens spend their early draft picks on defensive players, and they talk up their defense. One would never think of the Ravens without thinking of Reed and Lewis and Suggs and Ngata and all the rest. The Jets hired an architect of the Ravens' defense (Rex Ryan), signed a linchpin of the Ravens' defense (Bart Scott), and then spent three of Ryan's first four first-rounders on defenders. The 49ers built their recent success on their own first-rounders—Patrick Willis and Aldon Smith—other teams' first rounders—Justin Smith, Donte Whitner, Carlos Rogers—and an old Ravens coach, Vic Fangio, as coordinator.
Great defenses announce themselves. So how did the Seahawks build the league's best defense without anyone noticing? Their big coaching hire, in 2010, was Pete Carroll—who last coordinated a defense in 1996. Carroll is, as far as any outsider can tell, the Seahawks' cruise director. Their defensive coordinator is a fellow named Gus Bradley, who has held the job since Jim Mora's hilarious season in charge.
Bradley has never been interviewed for another team's head-coaching vacancy. He is part of no great coaching tree: He coached under Monte Kiffin for three years in Tampa, which essentially makes him a disciple of Lane Kiffin's top lieutenant. Yeah. And before that, he was the defensive coordinator for the North Dakota State Bison, where he punted in the late 1980s. During the years Bradley ran their defense—1997-2002 and 2005—the Bison went 53-26. He coached current NFLers Craig Dahl, Ramon Humber, and Joe Mays, and in his final season, with all three there, Bradley's unit led the Great West conference in scoring defense and total defense.
The cameras don't often cut to Bradley on the sidelines, and announcers don't extol his scheme, because his scheme doesn't draw attention to itself. In recent years, the league's great defenses—save the Bears'—have been 3-4 affairs, with complex blitzes and coverages heavily influenced by the Patriots and Ravens. This is to say nothing of whatever the hell Dom Capers is doing in Green Bay, where he will throw seemingly random combinations of linemen and linebackers out on the field. Color commentators love these schemes. The Seahawks run a 4-3, the white bread of defensive schemes.
But there's plenty of note going on in the Seahawks' 4-3 to make it more textured than the variants one might see in Minnesota or Buffalo. On rushing downs, the Seahawks do play something like a 3-4: they have four down linemen, but three of them are defensive tackles—big ones, like Alan Branch, Red Bryant, and Brandon Mebane. Together the three weigh 959 pounds. A pass-rushing end, usually Chris Clemons, will stand apart from the three linemen and try to beat the tackle one-on-one. The Seahawks call this man the "Leo," presumably because it sounds cool. On third downs or in obvious passing situations, Seattle might throw two Leos into their formation, with rookie phenom Bruce Irvin (who has 4.5 sacks already, despite playing only a third of Seattle's defensive snaps) playing opposite Clemons (who has 5.5 sacks). Then the Seahawks' line looks like the "wide nine" everyone talked about with the Eagles last year, except it actually works.
The Seahawks back up their front with the league's best and baddest secondary. (Seattle's linebackers—K.J. Wright, Bobby Wagner, and Leroy Hill—have all played well this year, but the Seahawks play a lot of nickel, and the linebackers aren't terribly essential to their scheme. Hill told John Clayton as much earlier this year: "The front four is a lot more important in Pete's scheme than it was in the previous [linebacker-heavy] regime.") No corps hits as hard collectively as Seattle's does, with Kam Chancellor, Brandon Browner, and mouthy Richard Sherman bruising receivers in front of Earl Thomas, the deep safety. To wit, here's Browner's hit on Wes Welker this week.
Browner is a cornerback. He hits like Ray Lewis. Where'd Browner—who has coverage skills, too; he deflected 23 passes and picked six off last year—come from? The Canadian Football League, of course. Browner went undrafted out of Oregon State in 2005, spent a year on injured reserve with the Broncos, and then he headed to the Calgary Stampeders. He made three all-star teams there before stepping into the Seahawks' lineup and starting every game. Browner is 28, but this is only his second season in the NFL—so it's conceivable he could get better. Sherman, the corner who taunted Tom Brady, made his NFL debut in 2011, too. At Stanford, he converted from receiver after an injury. He played two seasons there at corner before the Seahawks drafted him in the fifth round. What did he do when he showed up in Seattle? According to the Football Outsiders almanac, he had a 66 percent success rate when targeted on passes—that was second-best in the NFL. The Seahawks' safeties do their job, too. Against the run last year, Kam Chancellor, the strong safety, ranked 13th in Football Outsiders' success rate. Thomas ranked 10th. Both were in their sophomore seasons. The only elder in Seattle's defensive backfield is one-time All-Pro Marcus Trufant, who's 32. Trufant isn't the player he once was, but Seattle asks him only to play nickelback on about half of the team's snaps. He's handled the role well so far.
Aside from Thomas, the Seahawks' secondary isn't pedigreed. (This is not the norm among elite defenses. The Ravens' secondary has no one picked below the third round, and the Jets' secondary has three first-rounders.) Browner, Chancellor, and Sherman share two characteristics in addition to their onetime undesirability as prospects: They're all tall—Browner is six-foot-four, Chancellor and Sherman are both six-foot-three—and physical. Browner led the league in penalties last year, and his teammates were flagged often too: Seattle was in the top 10 for penalties in all the coverage-related categories (defensive holding, pass interference, illegal contact).
The lesson of the Seahawks' success might be that teams ought to look harder at big, physical corners, the ones theoretically hamstrung by sensitive officiating. Perhaps the league is overvaluing scrawny, speedy corners—I'm thinking of Leodis McKelvin, Alphonso Smith, Darius Butler, Kareem Jackson, and a slew of other recent busts. It's banal and predictable, but the NFL could use the reminder: size does matter.