NFL 2012
How the NFL's best defensive lineman is changing the way the game is played.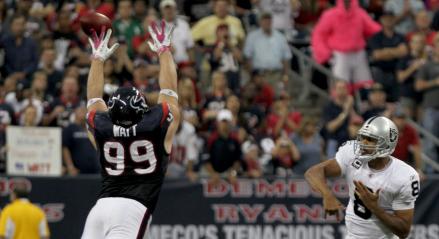 The star of Monday night's Texans-Jets game was unquestionably J.J. Watt, Houston's defensive end. Against the Jets, Watt had six tackles, one sack, and three passes defended. Overall this season, he's tallied 20 tackles, eight-and-a-half sacks, two fumble recoveries, and eight passes defended. Those first three stats suggest that he's a very good defensive player; the last one says he's a freak. He's a reminder that football innovates in the trenches, too.
Only two players in the league have more passes defended—aka, deflections—than Watt, and both of them are cornerbacks. In fact, Watt is the only defensive lineman to rank anywhere near the top of this particular leaderboard. He has more passes defended than coverage aces Aqib Talib, Cortland Finnegan, and Charles Woodson. Pass deflections can be a tricky stat. You'd expect the very best defensive backs to rank low on the list, as no one wants to throw to their side of the field. But what does it mean when a defensive end is tipping passes left and right?
Watt has been doing this sort of thing since college. In his two full seasons at Wisconsin, he batted away a total of 14 passes. (He also blocked three field goals and an extra point.) He has done this well enough and long enough that he has developed his own signature celebration move—a little Dikembian finger wag directed at his opponents.
One of the balls that Watt tipped on Monday was intercepted. Likewise, in Week 1, Watt deflected two passes that ended up the arms of his teammates. This is what makes his ability so noteworthy. When a defensive back bats a pass away, he's usually running stride for stride with a wide receiver and manages to knock the ball harmlessly to the ground. But Watt's deflections tend to hang in the air, in plain view of the Texans' defensive backfield, just waiting to be snatched up.
Since 2002, only five defensive linemen have accumulated more than 10 passes defended in a single season. Calais Campbell, Kevin Williams, and Johnny Jolly have all gotten 10 in a season. Jared Allen had 11 passes defended in 2006 and 10 in 2007, and Greg Hardy came away with 11 last season. With eight passes defended this year, Watt is on pace to finish with 26, a mark that would have been tops in the league for any player last season.
Watt isn't any more athletic than those guys; nor is he, at 6-foot-5 and 295 pounds, all that much bigger. So how is he getting his hands on so many balls? For one, he isn't being deployed like a normal 3-4 defensive end, a position that is usually asked to do little more than soak up blockers in order to free up his team's linebackers to make tackles.
Scheme alone isn't enough to explain Watt's prowess as a pass defender. Many other defensive ends and defensive tackles have the same knack for deflecting passes that Watt does, but few make a conscious effort to deploy that talent. Instead of selling out for the pass rush on every dropback, Watt often works himself into the passing lanes, almost like a ballhawking basketball defender.
Here is a play from the Texans' Week 1 game against the Jaguars:
Notice how Watt never really makes a serious play for the quarterback. He hits the offensive lineman just hard enough to gain some separation, and then he stands straight up and waits for Blaine Gabbert to throw the ball. Watt's in the perfect position to go skyward and deflect the ball.
And here's a play from last season's Week 16 game against the Colts:
You see Watt once again work himself into a position from which he can effectively leap for a deflection. He never puts a real pass-rush move on his lineman, but instead circles to his left while remaining upright and in a good jumping position.
This play from that same against the Colts is just as impressive:
Watt initially makes a move toward the inside, and when he is cut off there, he counters to his left. But his counter move isn't designed to get him to the quarterback; it's designed to put him in the quarterback's sight line.
Finally, this is from the Texans' Week 1 game against the Dolphins:
Again, Watt starts his initial pass rush, but almost immediately after making contact with his blocker he stops his momentum, goes upright, and focuses on leaping high enough to deflect the oncoming pass.
These aren't moments in which Watt is simply throwing his hand up in a last-ditch effort and hoping he gets a finger on the ball. He's purposely putting himself in a position to take advantage of his length and athleticism in a way that doesn't have anything to do with rushing the quarterback.
It's weird to find an NFL player as out of step with his peers as Watt is. Football loves to innovate, but usually it's a matter of slow-building consensus. We're used to defensive ends who fit neatly into one of two categories: the speedy passrusher who uses his superior strength and agility to get to the quarterback, or the blocker-absorbing brute who frees up his linebackers so they can make plays. But, as Dr. Z wrote years ago in his Thinking Man's Guide to Pro Football, "Defensive line play is innovation." At the time, innovation meant linemen gonging their counterparts' helmets. Today, it's J.J. Watt knifing into the sky, arms extended, turning passes into jump balls.