José Fernández Was the Future of Baseball
The Marlins' exuberant, Cuban-born pitcher changed what it means to play the game the right way.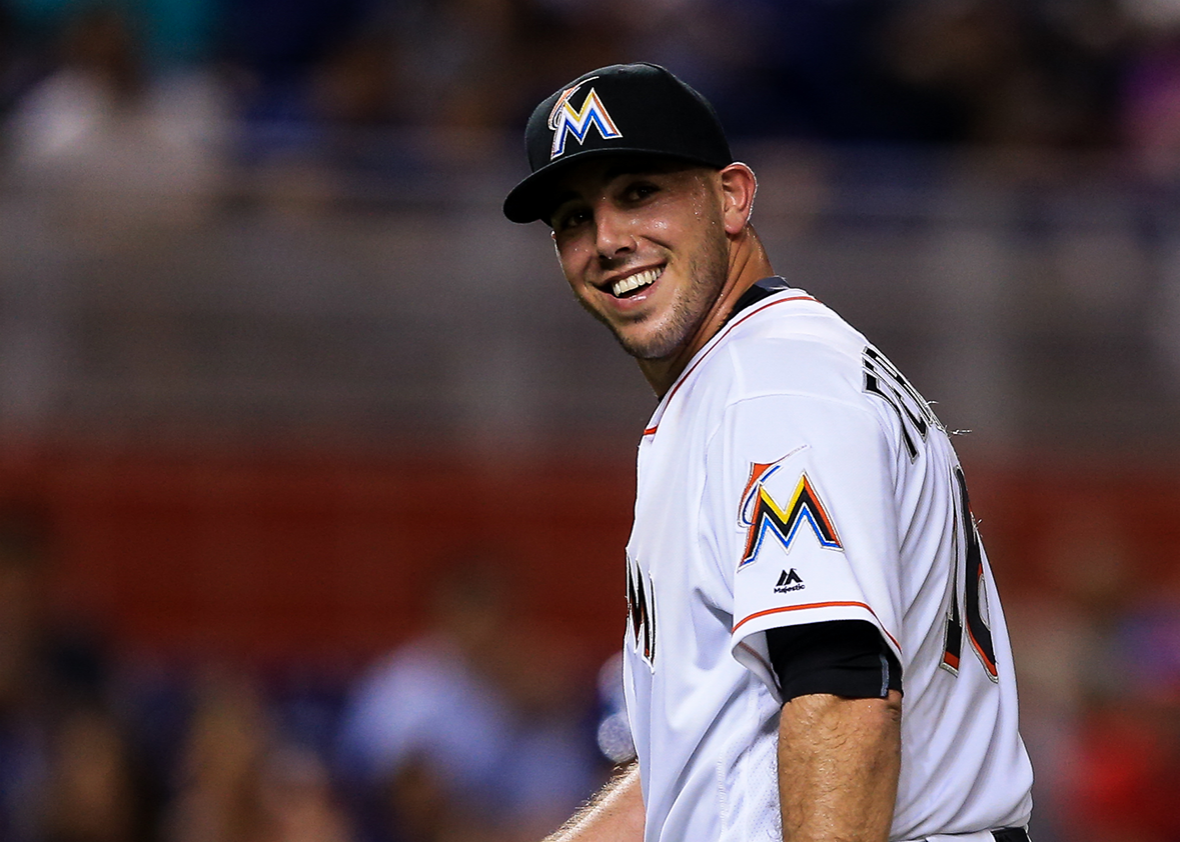 José Fernández, the 24-year-old Miami Marlins pitcher who died this weekend in a boating accident off the coast of Florida, was imprisoned in Cuba as a teenager for trying to escape the island. He finally managed to defect at age 15, but only after saving his mother Maritza from drowning. Just five years later, he won the 2013 National League Rookie of the Year Award and finished third in the voting for the Cy Young.
Though he started only 76 games in his career, Fernández had the potential to be a Hall of Famer. This season, just his second full one in the big leagues—he missed parts of 2014 and 2015 due to a torn elbow ligament and his subsequent recovery from Tommy John surgery—he averaged an incredible 12.5 strikeouts per 9 innings, the fifth-best mark in history for a starting pitcher. But Fernández also had the potential to change a sport that desperately needs changing. The Marlins starter loved the competition and camaraderie of baseball, and he loved striking fools out. From the moment he made his debut for the Marlins, he ignored the fusty expectation that players—often young, Latino players—dial back their exuberance lest they annoy their tight-assed opponents. At age 24, he'd already started to modernize the game's old-fashioned codes and what it meant to "play the game the right way."
Fernández defied those codes during his rookie year. The then 21-year-old hit his first major-league home run on Sept. 11, 2013, though "hit his first major-league home run" doesn't do this shot justice. Fernández crushed the ball, and he was justifiably thrilled, dropping his bat and watching his shot arc over the left-field fence before commencing a slow trot around the bases.
When Fernández reached home plate, Atlanta Braves catcher Brian McCann started lecturing him, whereupon the benches cleared, and both teams pretended to want to fight each other. "I just told him you can't do that," McCann said later. "You can get someone hurt. It was just something that didn't need to happen." Braves third baseman Chris Johnson added, "The kid is a good pitcher. He's got some other stuff going on, too, that upsets people sometimes. There were some guys in the dugout who weren't too happy with the smiling after getting people out and all of that kind of stuff."
Fernández did not try to defend his actions. "I feel I don't deserve to be here, because this isn't high school no more," he said. "This is a professional game, and we should be professional players. I think that never should happen. I'm embarrassed, and hopefully that will never happen again."
Veterans lecturing rookies on how to behave is as much a part of baseball's folkways as players scratching their crotches. These lectures are typically focused on ensuring the game is as much of a joyless slog as possible, and that lesson is enforced via threats of retaliatory violence. If you stop and stare because you're happy about hitting the ball very far, then someone will throw a 95 mile per hour fastball at your head. If you smile at people after striking them out, then … someone will throw a 95 mile per hour fastball at your head. (Baseball players' revenge plots are not very creative.)
Last October, the Toronto Blue Jays' José Bautista threatened to rip the game apart by launching his bat into orbit—a spontaneous reaction after hitting one of the most dramatic home runs in playoff history.
Bautista's spectacular bat flip, Hall of Fame pitcher Goose Gossage later explained, represented everything wrong with the sport he'd once loved. "Bautista is a fucking disgrace to the game," Gossage said in an interview with ESPN. "He's embarrassing to all the Latin players, whoever played before him." Gossage made the subtext of the sport's on-field policing explicit: White players born in the United States don't think their Latino counterparts conform to the sport's behavioral norms.
As Jay Caspian Kang noted in a New York Times Magazine story headlined "The Unbearable Whiteness of Baseball," baseball's demographics have shifted multiple times since Jackie Robinson broke the game's color line in 1947. That season, 98.3 percent of players were white, 0.9 percent were black Americans, and 0.7 percent were Latino. By 1975, 71.3 percent of major leaguers were white, 18.5 percent were black Americans, and 10.2 percent were Latino. At the start of the 2015 season, white players represented 58.8 percent of all major leaguers and 8.3 percent were black, while the sport's Latino minority had grown to 29.3 percent of all major-league players.
Back in November, the bat-flipping Bautista argued in a piece that appeared under his byline in the Players' Tribune that Latin players can make baseball great again if the sport's powers that be allow them to be themselves. "Baseball is a metaphor for America," the Players' Tribune article said. "It's a giant melting pot made up of people from all over the world and all walks of life. How can you expect everybody to be exactly the same? Act exactly the same? More importantly, why would you want them to?"
I disagree with the Blue Jays slugger. It would be perfectly fine if every baseball player acted the same way on the field, so long as they all chose to act like José Bautista and José Fernández.
In 2013, a month before the Braves got mad at him for hitting a home run, Fernández snared a liner hit by the Rockies' Troy Tulowizki. The subsequent byplay between the two All-Stars was joyful and human, and a reminder that intense competition doesn't have to be unsmiling competition.
The next spring, the Rockies' Carlos González hit a massive home run off Fernández and loitered around the plate to admire his achievement. Fernández didn't pout or act aggrieved. He grinned, broadly.
González "was just acting like a really good baseball player who was excited about crushing a massive home run against another really good baseball player, and Fernández understood that," Deadspin's Tom Ley wrote the next day. "Together they helped make a baseball game something that baseball games increasingly struggle to be: fun."
In the end, Fernández failed to live up to the terms of his 2013 apology—his admonition to himself that "this isn't high school no more"—and thank goodness for that. Goose Gossage, who was born in 1951, is not the face of the modern game. Neither is crusty 32-year-old catcher Brian McCann. Fernández, smiling after he gave up a home run—that is the look everyone in baseball should aspire to emulate.
[Baseball is] a tired sport, because you can't express yourself. You can't do what people in other sports do. I'm not saying baseball is, you know, boring or anything like that, but it's the excitement of the young guys who are coming into the game now who have flair. …
José Fernández is a great example. José Fernández will strike you out and stare you down into the dugout and pump his fist. And if you hit a homer and pimp it? He doesn't care. Because you got him. That's part of the game. It's not the old feeling—hoorah ... if you pimp a homer, I'm going to hit you right in the teeth. …
Fernández could himself be susceptible to upholding baseball's old codes. Just this month, he plunked Nick Markakis with a fastball a couple of innings after the Braves outfielder hit a two-run homer. Later in the game, Atlanta's José Ramirez threw a pitch over Fernández's head, leading both benches to clear.
"When Fernández was a little kid … all he would do was hit rocks with a stick," Dodgers announcer Vin Scully says, recounting the pitcher's childhood in Cuba as the slow-motion replay appeared on screen. "He'd take a paper sack from his home and he'd go searching for rocks that had to be a good size like a baseball, and he'd spend his day hitting them with sticks." Meanwhile, down on the field, Fernández revels in Maeda's skill. He's delighted even when he's been made to look a fool—delighted to be playing baseball.