The Least Boring Thing in Baseball
Korean first pitches—an appreciation.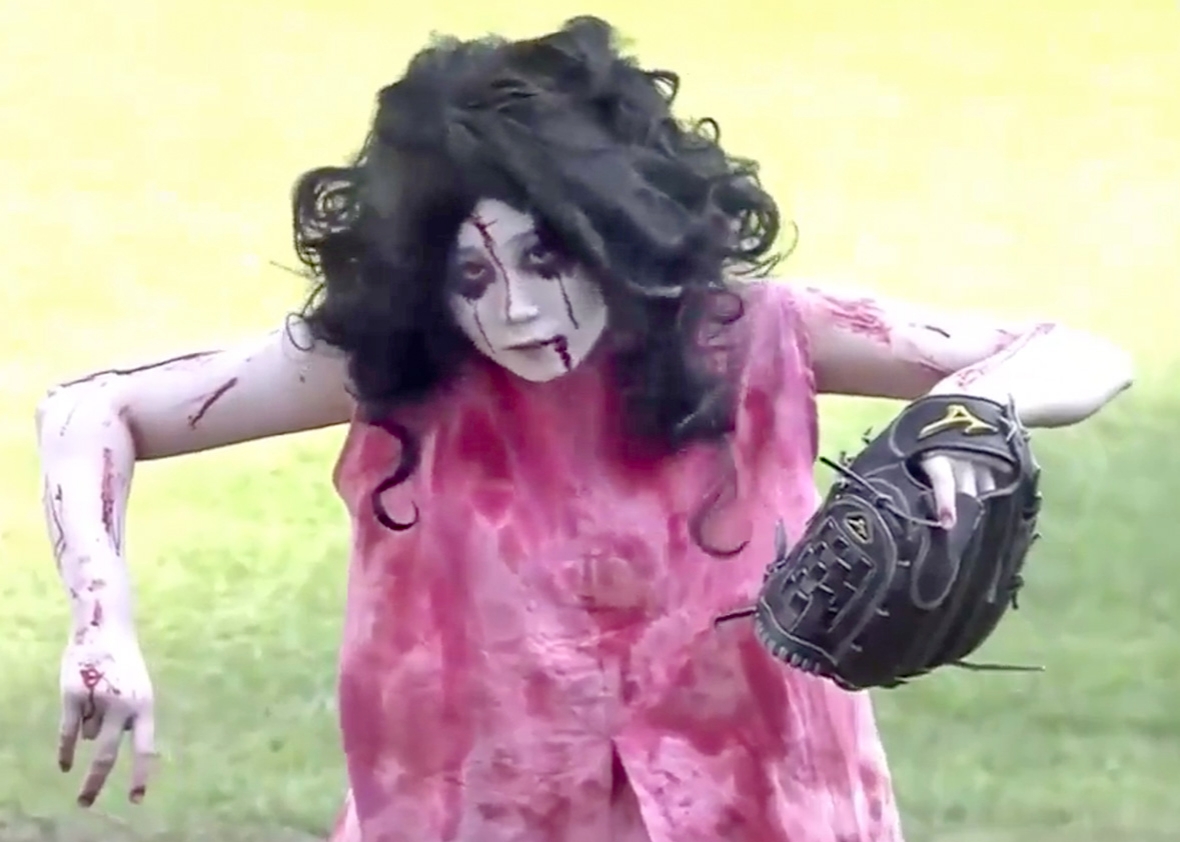 While they bow to no human in the field of tumbling-related medal acquisition, American gymnasts are followers rather than leaders when it comes to doing weird, gymnastics-y stuff in a ceremonial-first-pitch context. On July 5, 2013, South Korean rhythmic gymnast Shin Soo-ji executed an alarmingly flexible leg-over-head maneuver in advance of a game between the Doosan Bears and Samsung Lions.
Such acrobatic efforts are not unusual in Korean professional baseball, which has transformed the first pitch from a perfunctory pre-game ritual into an art form. I asked one of the world's leading purveyors of first-pitch footage from the Korea Baseball Organization, Dan Kurtz of the website MyKBO.net, to nominate his favorites. Kurtz's selections are below.
1. A month after Shin Soo-ji's toss went viral, actress and taekwondo practitioner Taemi pulled off this impressive martial-arts maneuver.
2. On Sept. 8, 2013, Olympic archer Ki Bo-bae projected the ball towards the plate using the tools of her craft.
4. Jessica Jung of the Korean pop group SNSD threw out the worst first pitch in the history of first pitches. (Yes, even worse than 50 Cent's.)
5. The team KT Wiz opened their inaugural season in 2015 with a great big ball of fire.
6. One popular subgenre of Korean first pitches: women coming out to the mound and tearing off their outerwear to reveal tiny baseball uniforms underneath. See fitness model Kim Jung-hwa:
8. In contrast to Major League Baseball, the KBO's first-pitch ceremonies typically include a batter who swings and misses. That didn't go according to plan at the 2002 KBO All-Star Game.
9. Last year, Nam Hyun-joon, aka Poppin' Hyun Joon, performed an elaborate dance routine with his crew while the catcher crouched and waited very, very patiently.
10. A couple of months ago, characters from the Japanese horror film Sadako vs. Kayako appeared in Korea for pitch-throwing purposes. That's Kayako pitching and Sadako hitting.