The Golden State Warriors Are the Greatest NBA Team Ever
And they're the most likable.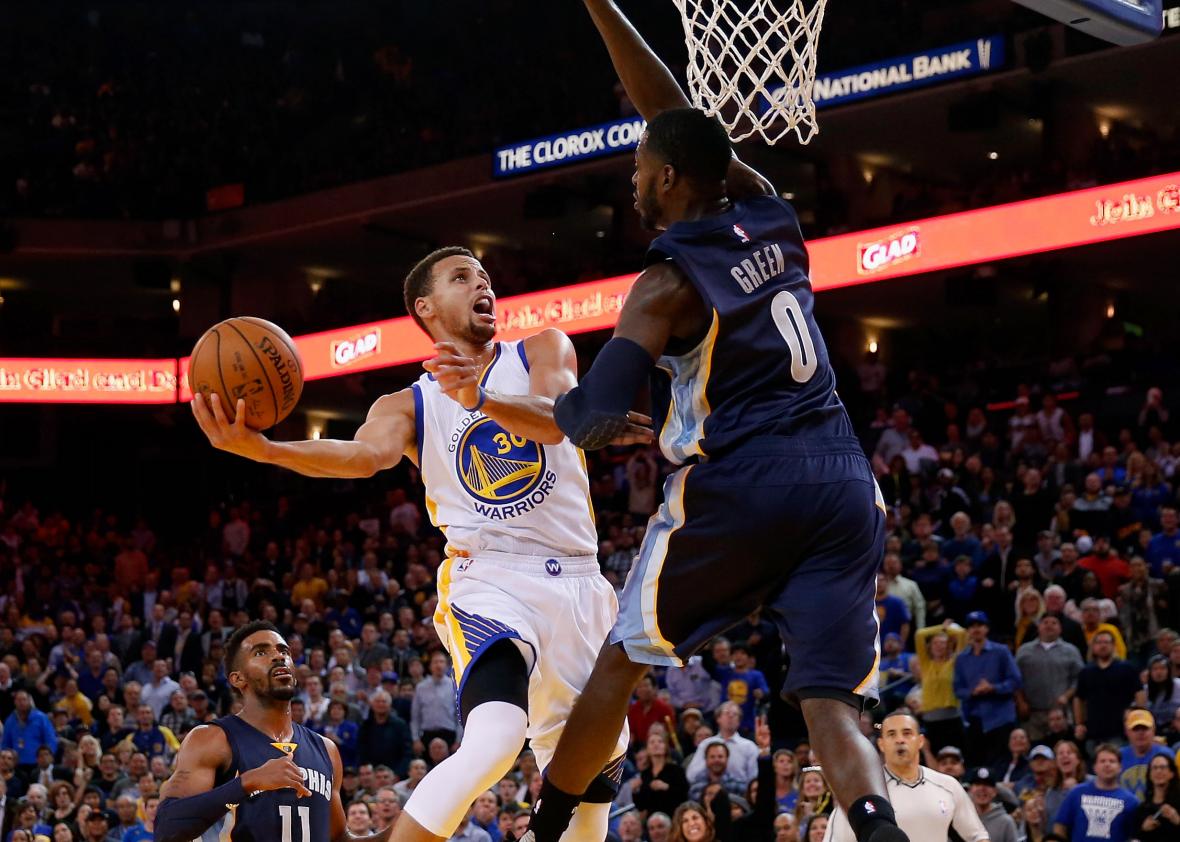 Nov. 19, 2015—The Golden State Warriors, reigning NBA champions, beat the Los Angeles Clippers at the Staples Center in L.A., 124-117, running their record to 13-0. Down 23 in the first half, the Warriors outscore the Clippers 70-49 in the second, shooting a ridiculous 8-for-9 from behind the three-point line in the fourth quarter. Warriors guard and incumbent MVP Stephen Curry scores 40 points, while his All-Star backcourt-mate Klay Thompson pours in 25. The Warriors have been dominant so far this season, but this win, coming on the road against a high-quality team that had built a conventionally insurmountable lead, seems a harbinger of something special. The day after the game, in a post titled "So How Are You Supposed to Beat The Warriors?" Deadspin's Kevin Draper writes, "73-9 seems untouchable, but then again, so do the Warriors."
Seventy-three–and-nine is touchable. The Golden State Warriors are officially the greatest regular-season basketball team in NBA history, and the coming playoffs will determine if they are better even than that. On Wednesday the Warriors broke the 20-year-old single-season record of 72 wins set by the 1995-96 Chicago Bulls, a mark that before this season had never been significantly challenged. The Warriors' achievement is remarkable in every way, but perhaps the most striking is that they managed it while remaining immensely likable. The Warriors are probably the most popular team in the league, among NBA die-hards and casual fans alike. Sure, there have been a few vocal dissenters, but even they seem aware they're nothing more than voices in the wilderness.
As Slate's sports likability matrix demonstrates, being both great and likable is one of the hardest combinations for a sports team to pull off. Most historically dominant teams become so numbing that, outside of hometown partisans, their likability tends to range from the dully resented (your 20th-century New York Yankees) to the loudly detested (your 21st-century New England Patriots). For an object lesson in this, look no further than the team whose record the Warriors just broke. In the 1990s, Michael Jordan and the Bulls were monolithic, a comically overpowering team that rattled off two separate runs of three-peats, both of which ended only when Jordan abruptly walked away from the game, first in 1993 and then again in 1998. In the 1990s, if you truly hated the Bulls you might as well have just stopped watching basketball altogether, and for most non-Chicagoans the team mostly engendered a sort of awed respect that stopped well short of actual affection. Twenty years ago, trying to figure out whether you liked the Bulls was like trying to figure out whether you like gravity.
Trying to figure out whether you like the Warriors, on the other hand, is like being 5 years old and trying to figure out whether you like magic. They routinely perform the impossible, and they seem to take as much delight in doing so as we do in watching it. Most miraculously, the Warriors have accomplished this in an era of basketball defined by diffusion and exposure. Between the vastly expansive television landscape, the popular online League Pass option, and the proliferation of embedded GIFs and Vines and YouTube highlights, in 2016 you can see an Andrew Wiggins dunk or a Kristaps Porzingis three-pointer without having to sit through a Wolves or Knicks game, or even an episode of SportsCenter. In 1996, your options for watching basketball were on local TV, on TNT and TBS, and (usually the Bulls) on NBC. The average NBA fan likely sees, even just casually, an exponentially larger amount of basketball than he or she did 20 years ago, and we're still not sick of the Warriors, not yet.
All recent history indicates that this probably won't last. Even if the Warriors win again next year, and they may well, the remarkable consensus that the team has achieved isn't likely to hold, and it's only a matter of time until they run afoul of our fickle sports culture. Someone will step out of line, endorse Donald Trump, suggest that Hamilton might be overrated. (Or perhaps their owner, who's apparently a lazily sketched villain from Silicon Valley fan-fic, will simply consent to another magazine profile.) But before that day, let's celebrate these waning moments of the most splendid stretch of basketball we've ever seen.
Dec. 16, 2015—The Warriors defeat the Phoenix Suns at home, 128-103, a final score that doesn't express how truly one-sided this game was. (The Warriors were up by 40 after three quarters.) Klay Thompson finishes with 43 points, including 27 in the third quarter; undersized forward Draymond Green records his fourth triple-double of the still-young season. This is the first game of the Warriors' second winning streak of the 2015-16 season; four nights earlier they suffered their first loss, on the road against the Milwaukee Bucks, which dropped them to an ever-so-slightly human 24-1. The Warriors will go on to win their next four games before losing again, on the road against the Dallas Mavericks. Still, the Warriors enter 2016 at a remarkable 30-2.
Any discussion of the Warriors' likability should probably start with Stephen Curry, currently the most popular basketball player on the face of the Earth. Curry is the most dominant offensive player of his generation, an unprecedented scoring force and absurdly gifted ball-handler and passer, all in the body of a particularly fit guy from the office.
Curry's absurd range and flick-knife release has introduced an unseen mode of explosiveness to the sport, horizontal rather than vertical. The evolution of the NBA has historically been driven by players finding new ways to create space for themselves, usually through either complex offensive systems or sheer individual athleticism. Curry's epiphany—rational in theory, insane in execution—was that the new undiscovered efficiency in a league gone mad for the three-pointer was simply to shoot from farther away than anyone else. Provided you can make them (a huge provision), there is no more difficult shot to guard in basketball than the recklessly long three.
Remarkably, this revolution has been waged nearly as ferociously by Curry's own backcourt-mate. Klay Thompson might be the second-best shooter in the NBA, and he just happens to play on the same team as the greatest shooter the league has ever seen. Thompson likes third quarters—last year he scored a record 37 points in one of them, against the Sacramento Kings—and his rampages have played a major role in Golden State's dominance. Thompson's outbursts lack the antic incandescence of Curry's but have their own awesome relentlessness. He's the stoic roller at the craps table who keeps hitting the point, his friends feeding him the dice over and over and over.
No duo entertains quite like Curry and Thompson. Watching a ball sail cleanly through a hoop from a great distance might be the purest aesthetic pleasure basketball has to offer, and the Warriors provide this with unprecedented generosity.
Jan. 25, 2016—The Warriors absolutely annihilate the San Antonio Spurs at home, 120-90. The game, which starts at 10:30 p.m. Eastern time and is shown only on the godforsaken cable channel NBA TV, had been billed as the greatest regular-season NBA matchup of all time: Going into the contest, the Spurs' defense was playing at a historically high level, and advanced stats suggested that the San Antonio bench alone was better than most teams in the league. Then Steph Curry scores 37 points in a mere 28 minutes, and sits out the entire fourth quarter, watching his team extend its record to a staggering 41-4.
There are a number of contenders for "signature blowout" of the Warriors' season—their 50-point demolition of the Grizzlies in early November; their 34-point rout over the Cavs in Cleveland in January—but for sheer memorability, none surpasses the 30-point thrashing of the San Antonio Spurs in late January. The 2015-16 Spurs are also one of the best regular-season teams in NBA history and were particularly hot going into this showdown, which led many smart and not-so-smart people to believe the Spurs might win.
How did we go so wrong? One of the more extraordinary aspects of the Warriors' season is that their dominance has been so thorough that it sometimes confounds conventional measurement. Most people who read statistical indicators in sports work from a baseline assumption that both teams play hard. Going into the Spurs-Warriors game, a lot was made of San Antonio's historically lofty point differential, which sat at 14.5, significantly higher than the Golden State's. Entering Wednesday's finale, the Spurs' point differential was a hair higher than Golden State's, 10.8 to 10.6. But look a little closer. After three quarters, the Warriors' average lead was 9.9 points. The Spurs' was 8.6.
From this angle, it starts to look as if the reason the Warriors aren't up by more at the end of games is because they're up by so much at the end of the third quarter that they take their foot off the gas. To put it another way: The Warriors haven't been blowing teams out by as much as they might have because they've actually been blowing them out by more than they should have. That sentence doesn't totally make sense, but it's just the sort of loopy, Cheshire Cat illogic that the Warriors have wrought this season. (The Spurs, of course, would beat the Warriors in San Antonio in March, a methodical 87-79 grinder that perhaps more accurately portends a meeting between the two teams in the Western Conference Finals. It should go without saying that this would be the most anticipated nonchampionship playoff matchup in NBA history.)
Feb. 27, 2016—The Warriors beat Oklahoma City on the road, 121-118, in overtime. The game is won by Steph Curry, who makes a 32-footer with 0.6 seconds left to dispatch a Thunder team that's played Golden State about as well as a basketball team can play another one. Curry's game-winner becomes instantly iconic, and emblematic of the Warriors' 2015-16 campaign—impossible, virtuosic, effortless. This is also the straight-up best game of the NBA season: Curry scores 46; Thompson, 32. Kevin Durant finishes with 36 points; Russell Westbrook gets 26, 13 assists, and 7 boards; and Serge Ibaka chips in 15 points and 20 rebounds. During the third quarter, ESPN's Lisa Salters reports that Draymond Green, feeling scapegoated by coaches for various mistakes, had lost his temper at halftime and gone on a "profanity-laced tirade."
Draymond Green is an extraordinary, even transformative basketball player—years from now we may well argue whose revolution was more consequential, Steph's or Draymond's—as well as one of the most consistently compelling people in the NBA. If there's one area that's a bit wanting with the Warriors, personality-wise, it's that they can be a bit antiseptic, at least in terms of public presentation: Steph seems like a good guy in a predictable Christian-jock sense; Andre Iguodala seems like a good guy in a gruff-dad sense; Steve Kerr seems like a good guy in a 2028-Democratic-presidential-nominee sense.
But Draymond is the guy you'd want to hang out with, the tenacious and irrepressible everyman from Saginaw, Michigan, a place best known to many people from a Simon and Garfunkel lyric about leaving it. Green is the second-round pick dreams are made of, an undersized polypositional wonder with an awesome mom who once joked in an interview that the only thing that kept him from crying when he found out he made the All-Star team was his fear of becoming an internet meme. He's a human being.
It seems right, then, that the one real whiff of discord around this team came from Draymond and his halftime flare-up in Oklahoma City. Salters reported that Green shouted "I'm not a robot," apparently in response to complaints that he was shooting too much, and dared the team to bench him. In his critics' defense, Green finished the game 0-for-8 from the field; in Green's defense, he also chipped in 14 assists, 14 rebounds, and 6 steals, and he had attempted only three shots prior to halftime. Whatever went down, it was hard not to empathize, to put ourselves into the shoes of the guy we'd like to imagine is most like us. Here was a ferocious competitor who has rightly internalized a sense of being undervalued, losing his cool in a moment of professional frustration. Put simply, Draymond yelled at his bosses and co-workers, and despite all our tired saws about locker-room decorum and hierarchical deference, what's more likable than that? (His boss might even agree, lest we forget Steve Kerr once punched teammate Michael Jordan.)
March 30, 2016—The Warriors beat the Utah Jazz in overtime, 103-96. The matchup, a late-in-the-season second leg of a back-to-back on the road against a young and surging opponent, has all the hallmarks of a "trap" game, and indeed it almost is. But the Warriors pull together and win it anyway: Steph scores 31 and Klay, 18; Draymond puts together an exceedingly Draymond 13-8-6 in 43 grueling minutes, in the process becoming the first player in league history with 1,000 points, 500 rebounds, 500 assists, 100 steals, and 100 blocks in a single season. The victory brings Golden State's record to 68-7, five away from immortality.
Winning 73 games is insanely difficult. We always knew this, but watching it actually happen only heightened our awareness of this fact. Winning 73 requires winning games like this one, a night that unfolds like a cozy invitation to ease up, just a little, and really who would've blamed the Warriors if they had? They had no real reason to win this game, no real reason apart from 73 of them.
And here is where you realize the central truth of the 2015-16 Warriors: The thing that makes them likable is the thing that makes them great—the greatest, maybe. The Warriors really, really wanted this. They wanted it badly and unapologetically. They didn't pantomime humility or serve up auto-replied banalities about how the regular season doesn't matter in the end. After the Warriors' 72nd win, a steel-eyed dismantling of the Spurs in San Antonio, Draymond Green revealed that over the All-Star break, Michael Jordan himself had exhorted the team to break the Bulls' record. At no point did the Warriors pretend that this piece of history didn't mean an awful lot to them; at no point did they make faux-stoic pronouncements about how none of this would matter if they didn't end up with a ring. The Warriors wanted to win 73 regular-season games because they wanted history, because winning 73 games is just awesome.
And cheers to that. Championships are great, but acting like they're the sole essence of success is a silly and fundamentally childish attitude, as well as pretty clearly anti-fan. If championships were really the only thing that mattered, no one would watch the NBA save for residents of two cities during a couple weeks in June. NBA fans don't watch basketball to see championships. We watch it for the possibility of seeing the extraordinary on a nightly basis, because we're invested in all the tiny on-court dramas that unfold before that final big one, because when basketball is played at the highest level it's a sport capable of peerless beauty and athletic sophistication. The Warriors know this and have known it all year, which is the best thing we can say about them, and the thing we'll still be saying years from now. The Warriors play basketball like they know we're watching, like we're watching for them.