This Chart Sums Up the Pentagon's Paid Patriotism Program
All 50 sports teams that were bought off to salute America's military.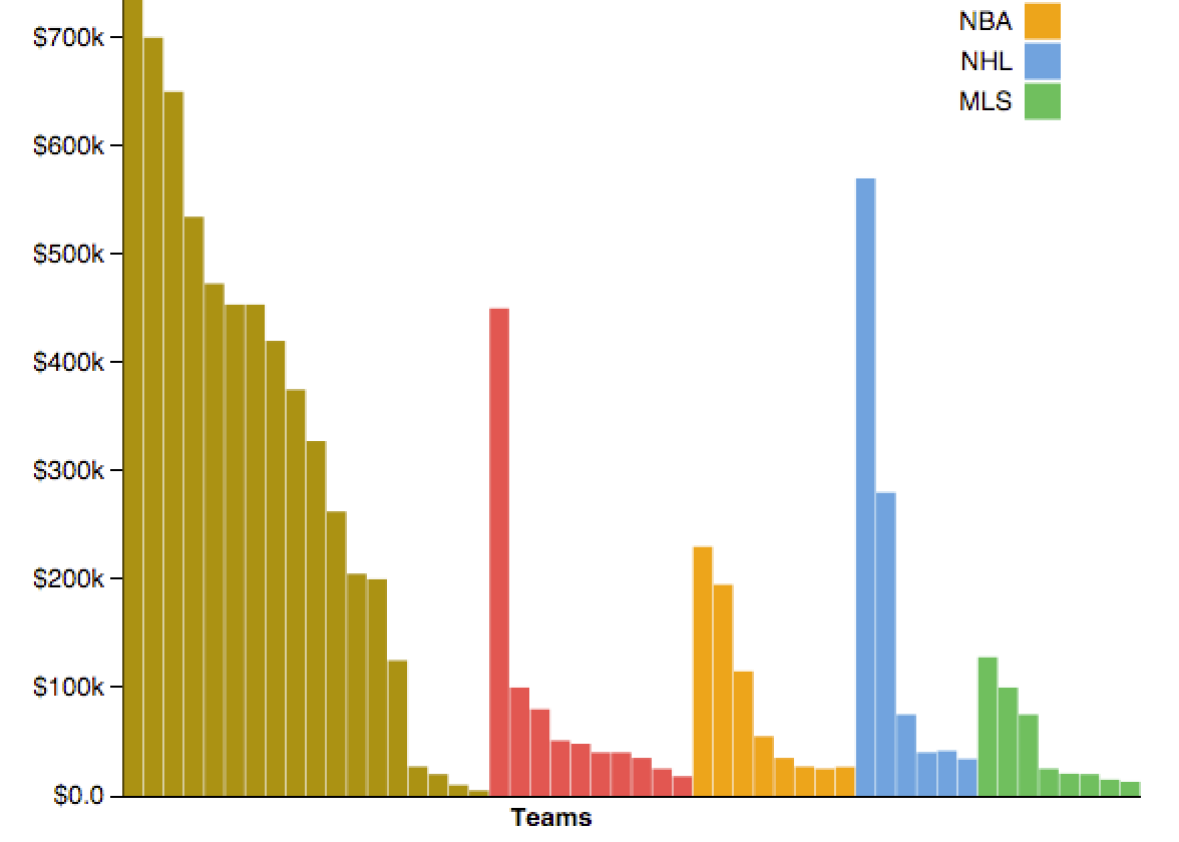 Military tributes are a staple of professional sporting events, from surprise homecomings of veterans, to color guards, to enlisted men and women throwing out ceremonial first pitches. But according to an oversight report released Wednesday by Sens. Jeff Flake and John McCain of Arizona, many of these seemingly genuine displays of patriotism have actually been marketing stunts paid for by the Department of Defense with taxpayer money.
According to the latest report, a follow-up to one McCain released in May, military services have dished out $53 million in sports-related marketing and advertising contracts since 2012. Of that, more than $9 million went directly to teams in the five biggest American professional sports leagues (the NFL, MLB, NBA, NHL, and MLS). Although Flake and McCain determined that some contracts constituted legitimate marketing and advertising, such as stadium signs and recruiting booth space at games, 72 of the 122 contracts they uncovered involved inappropriately funded "patriotic tributes."
What do these tributes look like? The Minnesota Vikings hosted military appreciation nights. The New York Jets held hometown hero ceremonies. The Atlanta Falcons invited National Guard members to sing the national anthem. The report calls these funded displays "boondoggles," wasting taxpayer money and tricking fans into thinking they were watching "authentic, voluntary shows of support."
Did one of your favorite teams take money from DOD for paid patriotism? Check the chart below.
Professional Sports Teams Receiving Pentagon Money,
2012-2015
Interactive: Katie Rose Quandt | Source: Tackling Paid Patriotism Report
Following McCain's oversight report earlier this year, DOD banned paid patriotism and the NFL instructed its teams to stop collecting payment for patriotic salutes. Flake and McCain write in this latest report that they were startled to discover many missing contracts in the military's official response to their request. Several of DOD's official contract summaries downplayed the arrangements, implying that some paid benefits had in fact been free, while documentation was incomplete.
Of the major sports, NFL teams had the largest contracts with DOD, with the Atlanta Falcons (contracts totaling $879,000) and the New England Patriots ($700,000) collecting the most. The Atlanta Braves were the highest-paid baseball team at $450,000, and the Minnesota Wild led the NHL with $570,000. Additional contracts (not shown in the chart above) went to NASCAR and its individual drivers, a snowmobile race in Alaska, and some college athletic departments.