Atswhatimtalknbout
How racehorse names got so long and goofy.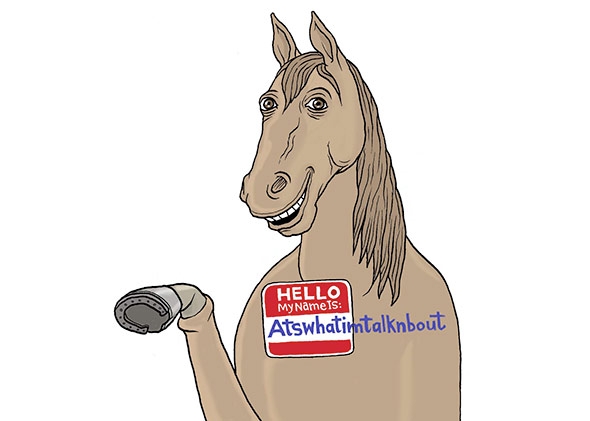 One of the best parts of Triple Crown season is seeing what strange and wonderful names the winning horses inevitably have. This year, American Pharoah—with his untraditional spelling—crossed the line first in the Kentucky Derby, beating out horses like Danzig Moon, Mubtaahij, and Ocho Ocho Ocho. But it wasn't always the case that every racehorse had a mouthful of a name. Ever heard of the winner of the 1889 Belmont Stakes? It was Eric. Not Eric the Pharoah, Eric Moon, Erictaahij, or Ocho Ocho Eric—it was just Eric. When the horses turned down the stretch, the drama hinged on Eric.
Learning about Eric the Belmont champion of more than a century ago made me wonder: Have horse names been getting weirder and longer over the years, or does it just look that way? To figure this out, I collected the names of every horse to ever compete in the Kentucky Derby, Preakness Stakes, or Belmont Stakes between each race's inception and 2014. Going back all the way to 1867, when the first Belmont was won by Ruthless, there have been more than 3,200 horses to race in a Triple Crown event.
Measuring the oddity of a horse's name is subjective. Is Wicked Strong (2014) a weirder name for a horse than Bad News (1903)? What about Dr. Rice (1893) versus Dr. Miller (1961) or Dr. Greenfield (2001)? Or how weird is it to name a horse Correlation (1954)?
While "weirdness" isn't an objective criteria, it is possible to check if there is a correlation between name length and year to see how names have changed. It turns out that there is a trend and that pattern is clear: Names of horses have grown more complicated.
For the first half-century of Triple Crown races, the average name length of horses was between about 7.5 and 8.5 letters. Between 1910 and 1959, that average name length inched its way up to nine letters. Then, starting in the 1960s, the names started to grow to their current lengths—just under 11 letters on average. It may not sound like a huge change, but it's an objective measure of the growing eccentricity of names.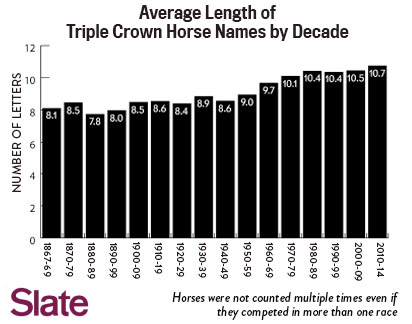 There is a limit as to how far the average name could grow, though. Names can be rejected by the Jockey Club, which as a current rule sets the limit at 18 characters. Since this rule was created, four horses have reached that limit without the help of spaces or punctuation marks: Lookinforthebigone, Atswhatimtalknbout, Imawildandcrazyguy, and Sweetnorthernsaint.
Below, I've assembled the 111 longest (and often times most amusing) names of Triple Crown horses.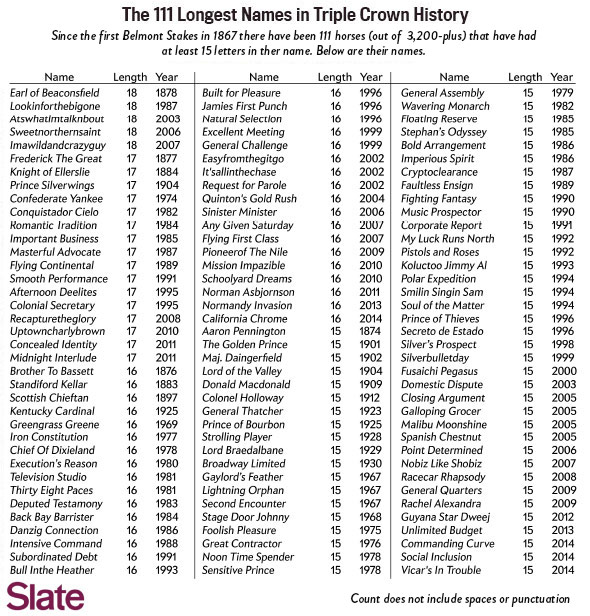 On the other end of the spectrum, there is no official letter minimum. But, as a general rule, Eric is almost as short as it gets. The Jockey Club does not allow names consisting of initials to race in the Triple Crown (they give C.O.D. as an example of a banned name), but nine horses have competed with just three letters: Add, Azr, Hea, Zal, Zev, Jeg, Orb, Dit, and War.
The three individual years with the shortest Triple Crown horse names were 1892, 1887, and 1880—all years with average name lengths of fewer than seven letters. The three years with longest names were 1985, 2006, and 2010—all years with average name lengths of more than 11.1 letters. While Azra was the Derby winner in 1892, one of the shortest name years on record, the lengthy name year of 1985 saw Spend a Buck edging out horses like Stephan's Odyssey, Chief's Town, and Floating Reserve to claim victory.*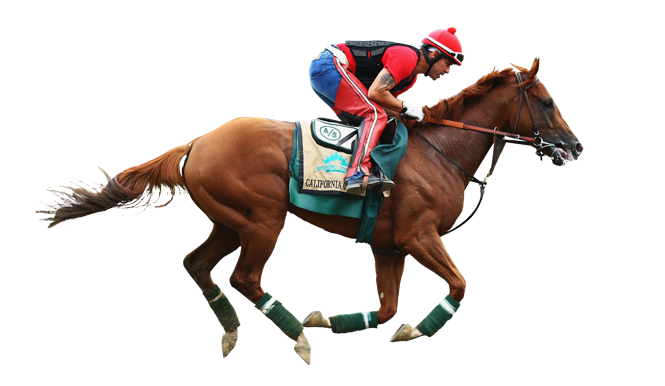 Longest Name
Decourcey (9)
Shortest Names
Monday (6)
Rivoli (6)
1867
(Average Triple Crown Horse Name Length = 7.3 Letters)
So what is causing the upward trend in horse name length? There's no single answer but Steven Crist, editor and publisher emeritus of the Daily Racing Forum, believes that one contributing factor has been the change in who owns horses. Fifty years ago, more horses came from stables that bred their own horses and these stables preferred conservative or regal names. Places such as Claiborne Farm, which were responsible for a larger proportion of Triple Crown horses in the past, had a string of horses with simple names ending in E, such as Blame, Swale, Dunce, and Drone. Today many more people own competitive horses who had not before, which could be what's leading to the wackier and less traditional names.
If there is any entity that suffers from silly names, it may be the people like Crist who cover horse racing and have to worry about proper spelling. This year's winner was American Pharoah, with the aforementioned misspelling of "Pharaoh." And possibly the most troublesome name, according to Crist, was the horse that sired American Pharoah: Pioneerof the Nile. That is not a typo: In order to come in under the 18-character limit the owners had to eliminate the space between "Pioneer" and "of."
"As a writer and editor," Crist said of covering Pionerof the Nile, "it was tremendously irritating."
Correction, May 15, 2015: This article originally misspelled Azra, the name of the horse who won the 1892 Kentucky Derby. (Return.)