The Iron Giant
Just one pitcher in baseball history had a better postseason than Madison Bumgarner's 2014 playoff run.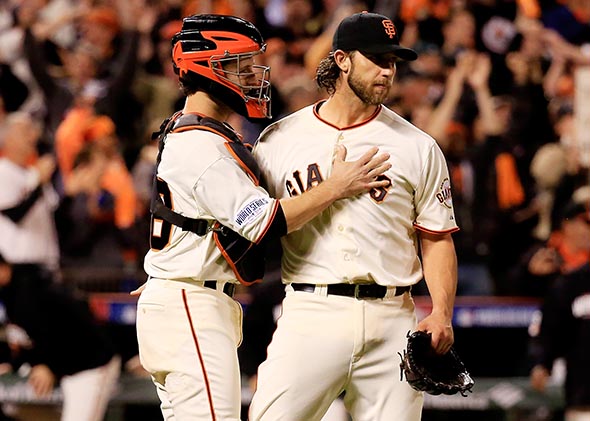 Last Wednesday, following his terrific performance in Game 1 of the World Series, I wrote a piece for Just a Bit Outside putting Madison Bumgarner's 2014 playoff run into some historical perspective. One of the primary takeaways from that piece was just how amazing Curt Schilling's 2001 performance was, as it clearly stood at the top of the heap as the best postseason a pitcher has ever had.
Here's the table that ran in last week's column, listing both the ERA and FIP of the starters who had at least five starts of seven or more innings pitched in the same postseason.
There was only one player on that list who matched the criteria, but actually had six starts of at least seven innings in a single postseason. Now, after Bumgarner's complete game shutout in Game 5, there are two.
The similarities between Schilling's 2001 postseason and what Bumgarner has done so far this postseason don't end there. Here are their overall numbers.
Almost identical, across the board. The biggest gap is in strikeouts, where Schilling dominated with an absurd 32 percent strikeout rate. Besides that, every other number is within two units of each other, and most of them are exact matches. Bumgarner has had Schilling's 2001 postseason all over again, almost matching it to a tee.
If we were trying to split hairs, we would have to note that all of the differences do tend to lean in Schilling's favor. He gave up one fewer run, even though Bumgarner's extra run allowed was classified as unearned. He did strike out 15 more batters while facing two fewer, and did so at a time when the National League strikeout rate was 18 percent, compared to the 20.5 percent average from this season. Three of his six starts came in the World Series, and two of them came on short rest. The 2001 Yankees had a better lineup than the 2014 Royals, and Chase Field and Yankee Stadium are better places to hit than AT&T Park or Kauffman Stadium.
If you make all the adjustments for ERA, opponent, and park effects, Schilling posting the same numbers as Bumgarner comes out as a bit more impressive, given the difference in degree of difficulty and the amount of outs he recorded on his own. But there's also the reality that Bumgarner's 2014 postseason might not be over yet. If this series goes seven games, the finale would come on Wednesday, Bumgarner's traditional throw day between starts. At the very least, you'd expect Bumgarner to pitch an inning or two in relief of Tim Hudson, and depending on how effective he was, getting up to three or four innings probably isn't out of the question, especially if Hudson struggles early.
If Bumgarner manages to throw a few more dominant relief innings in Game 7, then there really will be a case that his run this year will have surpassed Schilling's 2001 season as the best postseason pitching performance in the history of the game. At the very least, though, he's put himself in the conversation, and has had the kind of October that will never be forgotten.
Schilling's 2001 postseason shouldn't be forgotten either, though. While the BBWAA collective nearly elected Jack Morris to the Hall of Fame because of one memorably great World Series start, Schilling's 2001 run was the kind of performance that would have made a borderline HOF case an easy call. The fact that Schilling is not a borderline case—18th all time in pitching WAR by FIP, 32nd by RA9—should make him one of the easiest selections on the ballot.
Voters: If you're admiring Bumgarner's run and where it places him in baseball history, how about honoring the guy who did this 13 years ago, too?
More stories from FanGraphs: