The Dreaded C-Word
Bryce Harper ran face-first into a wall. Why are the Washington Nationals afraid to say he had a concussion?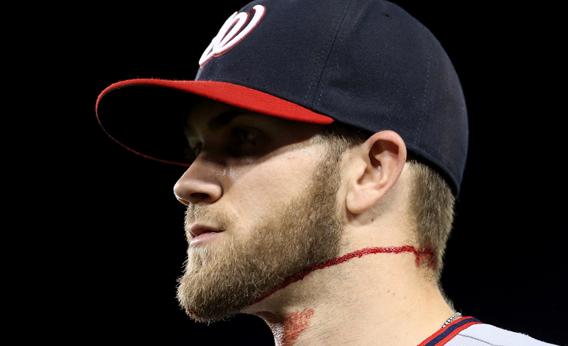 A person's head collides with an object. Unprepared for the impact, the head jerks in a violent whiplash motion. The person collapses, rolling on the ground and holding his head, before rising slowly and unsteadily. Eyewitnesses testify that the person was confused or disoriented.
"By definition, that's a concussion," says Dr. Daniel P. Perl, a professor of pathology at the Uniformed Services University of the Health Sciences in Bethesda, Md., the American military's medical school. "A concussion is a transient loss of neurologic function following a blow to the head. Typically it can be confusion, memory loss or loss of consciousness."
That's what happened to soccer star Abby Wambach last month when she was hit in the face by a speeding ball, and it's what happened Monday when Washington Nationals outfielder Bryce Harper ran face-first at full speed into the outfield wall at Dodger Stadium. "Initially, it was like he was confused," teammate Denard Span said. "I don't think he realized he was on the ground."
Wambach's and Harper's brains rattled inside their skulls and they were out of it. The extent of their injuries would be determined during treatment. But they had concussions. And neither they nor their teams—nor the reporters who cover them and their teams—would say it.
Here's where years of medical studies and media coverage and treatment protocols for head trauma in sports have finally led: a place where saying the word concussion is perceived as worse than the injury itself. Concussion is becoming to sports what it is to Monty Python's Knights Who Say Ni. Just saying the word makes people cover their ears in pain and horror.
The Harper incident is a neat encapsulation of everything dumb and wrong about how concussions are discussed inside sports. The day after his Wile E. Coyote moment, Harper revealed how poorly educated athletes can be about concussions. "I feel a little carsick, I guess you could say, like the feeling of that," the 20-year-old told reporters. "I don't have a concussion or anything like that, which is very pleasant to hear."
Harper apparently didn't understand, or wasn't told, that nausea is a checklist symptom for a concussion. He might as well have said that his arm was broken but that he was relieved that he didn't have a broken arm.
For three days, the Washington Post dutifully recorded and uncritically printed the remarks of Harper; his manager, Davey Johnson; his agent, Scott Boras (who was named along with Nationals officials as the source of the news that Harper didn't have a concussion); and the team's athletic trainer, Lee Kuntz, none of whom are brain trauma specialists. The paper initially erred on which post-injury neurological test had been administered to Harper, and it failed to tell readers that the tests it cited aren't always determinative of whether someone has suffered a concussion. On Wednesday, it reported that Harper "felt nauseous all day Tuesday" but didn't note that nausea is a concussion symptom. The next day it allowed Kuntz, the trainer, to imply that Harper's nausea was just hunger, and to compare it to a cab ride on a Los Angeles freeway.
Then there was this doozy from the 70-year-old Johnson, which sailed like a Stephen Strasburg fastball past the Post's reporter and editors: "He got hit on the chin. Nobody gets a concussion from getting hit on the chin. You might get knocked out. You don't usually get a concussion from that. He's got a few aches and pains, but he's young. He'll probably be alright today." The ignorance and flippancy in those few sentences is breathtaking. Yes, one can indeed be concussed by a blow to the chin because a blow to the chin can rattle the head, causing the brain to bang inside the skull.
So what's everyone's motivation here? A cynic might say that the Nationals' main concern is to keep Harper in the lineup. He also might say that the main concern of Harper's agent, Boras, is to make sure that the brash, aggressive, fearless, and gifted Harper isn't tagged as a concussion risk. Harper's motivation is to play, regardless of injury and pain. With youthful bravado, he defended the collision. "I will keep playing this game hard for the rest of my life even if it kills me! Ill [sic] never stop!" Harper tweeted. (Post columnist Thomas Boswell, the paper's only rational voice on the matter, noted that Harper didn't get concussed because he was playing hard. Rather, he "did everything wrong" on the play that left him bruised and bloodied.)
All of that indicates an apparent fear of having concussion attached to Harper's name. Even without anyone invoking the word, Harper was required to be evaluated because, per Major League Baseball rules, he was "in a collision with a player, umpire, or fixed object." The Nationals said that on Monday night and on Tuesday, Harper was given the Sport Concussion Assessment Tool 2, or SCAT2, test, a physical and cognitive exam, and that the results indicated that he had not suffered a concussion.
But the SCAT2, like other concussion tests, is imperfect as a diagnostic tool. The test itself warns that "[s]coring data from the SCAT2 ... should not be used as a stand alone method to diagnose concussion, measure recovery, or make decisions about an athlete's readiness to return to competition after concussion." A study presented last year at the 4th International Consensus Conference on Concussion in Sport in Zurich, Switzerland, concluded: "Recommending the use of the SCAT2 as a standard of care to diagnose a concussion or to ascertain recovery from one may be premature at this time."
Part of the problem is that concussion treatment is as much art as science. Protocols like those instituted in baseball and other sports help ensure attention and diagnosis. But they also can offer a false sense of finality. "You have to make a judgment on something," Dr. Perl says. "But the concept that this is the test, if you pass the test your brain's OK and there's no more risk in going back on the playing field, I question the scientific basis for that kind of criteria."
Giving the Nationals the benefit of the doubt, it's possible that Harper's scores on the test were low enough that his injury did not indicate a concussion. Plus, he was examined by Nationals and Dodgers medical staff. An MLB official told me that the sport's medical director, Gary Green, a professor at UCLA's medical school, reviewed Harper's case and that Harper was cleared to return to play. (He pinch hit Wednesday in Los Angeles and hit a mammoth home run Thursday in San Diego.)
In 2011, Major League Baseball adopted a policy that includes a seven-day disabled list for players diagnosed with concussions. But the seven-day DL is not mandatory for players who get whacked in the head and show concussion symptoms—St. Louis Cardinals third baseman David Freese was beaned in 2011 and returned to play five days later.
There's nothing wrong with that—a disabled list is less a medical ward than an administrative process that gives teams the option of replacing a player temporarily. And it would be unfair to say that baseball has stigmatized the treatment of concussions; its protocol appears logical and its implementation consistent. According to Major League Baseball, 22 players have been placed on the concussion DL since the policy was implemented. Boston Red Sox catcher David Ross was struck in the mask by two foul balls in a game Saturday and was DL'ed the next day. His teammate, shortstop Stephen Drew, who missed most of spring training after he was hit in the head by a pitch, went on the concussion DL and has now returned to everyday play. Other players, such as Justin Morneau and Jason Bay, were treated with great caution after concussions that derailed their careers.
The Nationals aren't alone in running from the C-word. The National Hockey League had one of the weirdest cases of concussion semantics last month when Joffrey Lupul of the Toronto Maple Leafs said he had a concussion after getting plastered into the boards but the team said he didn't. This went on for more than a week—with Leafs coach Randy Carlyle saying concussion was "a bad word"—before the team finally admitted that its player did have a concussion. Similarly, it took a week and a half for the National Women's Soccer League to concede that Wambach was concussed.
Admitting to a concussion doesn't make a player damaged goods (though the accumulation of them might), nor does it mean she will get dementia (though, again, she might). But every time a team dances around the word, it only makes the public perception of the injury worse. "Why they just don't take this head-on is beyond me," says Dustin Fink, an athletic trainer in Illinois who writes a blog about sports concussions. "It's a concussion, a brain injury, and if handled correctly it's no more trouble than a broken bone or strained ligament for the vast majority of those with the injury."
So instead of declaring, Oz-like, that Harper was fine, what if the Nationals had said this: "By definition, Bryce Harper sustained a concussion. But his scores on a physical and cognitive test were very encouraging. Team, MLB, and independent medical professionals continue to monitor his condition. Concussions are complicated. It is possible for athletes to become asymptomatic quickly and be cleared medically to return to play. That's our hope with Bryce."
Joking and misleading the public about an athlete's head injury only makes teams and leagues look backward and uninformed. It also sends the wrong message to fans. Staying in a game after being knocked silly, as Wambach did, and running into scoreboards, as Harper did, isn't about toughness and determination. It's about physics and physiology. Even the great Bryce Harper's brain will rattle around inside his skull when he runs straight into a wall.