Not Using Their Heads
How Abby Wambach, her team, and the National Women's Soccer League botched the star player's head injury.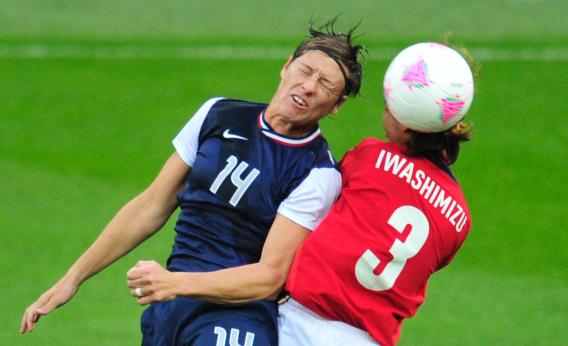 On the April 29 edition of the Hang Up and Listen podcast, Stefan Fatsis followed up on his April 25 Slate piece on Abby Wambach's head injury and the National Women's Soccer League pitiful response. The transcript of Fatsis' story is below, and you can listen to him read it by clicking on the audio player beneath this paragraph.
Abby Wambach did not play in her team's opening home game on Saturday in the new women's pro soccer league, and that's because she was clocked in the head a week earlier by a ball traveling I'd guess 50 or 60 miles per hour that was struck by a teammate who was standing about 6 yards away. As I wrote in a piece on Slate last week, Wambach collapsed lifelessly and rolled into the fetal position, grabbing her head. She stayed down for 31 seconds. The ref, a World Cup and Olympic veteran named Kari Seitz, raised her right palm to stop a trainer from coming on the field. Wambach stood, took two off-balance steps, and play resumed.
It was the 90th minute of a tie game. Wambach played the next four minutes and headed the ball on the game's last play. When the whistle blew, she went to her knees, the trainer rushed on, and Wambach needed help getting off the field. The goalkeeper for the other team said Wambach was mumbling, and that she told her she was out of it. Her coach said she wasn't doing too well. But she boarded a bus for the long ride home from Washington to Rochester, N.Y.
I was at the game, and it was frightening. Wambach was clearly and dangerously compromised, but everyone around her let her play on. Hey, the Western New York Flash needed her! Crunch time in a big game against the Washington Spirit! If Wambach had taken another similar blow to the head—well, just Google "second-impact syndrome."
If at this point a professional athlete, coach, trainer, league official, or journalist isn't taking sports head injuries seriously, they need to wake the hell up. The level of denial and ignorance I've witnessed since Wambach went down last week has been profound and stunning. Let's start with Wambach herself. The day after the game, she tweeted out a photo of herself on her knees at the game's end with the opposing team's goalkeeper, Ashlyn Harris, waving for help. "I'm all good here everyone. Thanks for the well wishes," she wrote.
All good? All bad. Instead of B.S.-ing her nearly 241,000 Twitter followers—many of them preadolescent and teen girl soccer players who idolize her—here's what Wambach could have said: "I made a mistake everyone. I should have come out of that game. Play it safe. Don't take risks with head injuries."
Instead, Wambach and her team, the league, and local media spent the last week treating the episode like an annoying distraction from what really matters—the next game. Last Monday, Wambach told reporters that she had passed concussion tests, was symptom-free, and, referring to her "hard-headedness," was confident that she would play the following Saturday. But she didn't practice that day and no one from the team or league publicly discussed her status on Tuesday or Wednesday. The league's commissioner did talk to me. She said that "everyone who was out there"—on the field—"handled that appropriately." And she gave me other reasons for why Wambach soldiered on despite a head injury that sent a collective gasp through the crowd.
Wambach and the Flash's coach, Aaran Lines, talked to reporters. Lines said that Wambach was "fine" but that there are "certain procedures" to be followed that have "come of late through what's happened in the NFL." Wambach finally said—and I'm willing to bet she was asked to say it—that she, the team, and league "take these things seriously." But her and her coach's statements left me wondering just how seriously. The most telling quote came from the coach: "She wasn't quite right Monday. We left it to Tuesday to recover and then late Wednesday the medical staff came in, and you need five days from that point. That was the issue."
Wait, what? Wasn't she symptom-free on Monday? And the team "left it" until Tuesday for her to recover, and didn't call in medical staff or begin the return-to-play concussion protocol until late Wednesday? So why was the team telling the public that Wambach was "fine"? Why was it implying that the only reason she wouldn't play were these pesky return-to-play guidelines that the league has to follow—which are the fault, by the way, of the National Football League?
On Friday, I emailed the commissioner of the National Women's Soccer League, Cheryl Bailey, and its PR guy, and the PR guy for the Flash. I asked them to explain the timeline in Wambach's care and treatment as described by the player and her coach. I also told them I'd rewatched the video and it looked like Wambach displayed four and possibly all five of the symptoms of a concussion that are part of the league's guidelines. [The first four]: slow to get up, unsteady gait, falling to ground grabbing/clutching head, dazed/confused blank or vacant look. And judging by the way she fell, limply, that it was even possible she displayed the fifth sign, losing consciousness.
And, finally, I asked this: "Do you still feel that your policies were correctly followed on the field? Have you discussed what happened with the referee, coaches, trainers, and other players who were present? Do you plan any policy changes going forward or other actions? And do you have any plans for how you might discuss the incident, and head injuries more generally, with league constituents including players, coaches, and fans?"
As I speak, I've heard nothing back from the league. No one involved has actually mentioned the word "concussion." Since sharing that picture of herself in clear distress, Wambach hasn't tweeted a word about her injury. At halftime of Saturday's game, she did tell the crowd that she'd be ready to play on Wednesday, though her coach said afterward that she hadn't been medically cleared. Hmm. [Update, April 30: The team now says that Wambach has been medically cleared and will play on Wednesday.]
I love women's soccer. I took my daughter to the Women's World Cup in 2011. I have taken her to many more games since, including the Wambach fiasco. As I wrote in the Slate piece, the sport has played the role-model card to great effect, and with great sincerity, since the 1990s. Controversies have been few, and limited to on-field matters.
But if this new league—the third in the last decade—wants to be taken seriously, it needs to behave seriously. It can't just be about fun and autographs and encouraging girls to play. In fact, I'd argue that the National Women's Soccer League has a better chance of not failing if it takes a progressive stand on issues central to the life of female athletes—including injuries, especially now concussions. Be progressive, be honest, do some good—for your own athletes and for the ones watching. Pretending that something didn't happen doesn't make it so.