"Males—Minimize Exaggerated or Theatrical Movements"
The controversial new "etiquette guideline" that has rocked the world of competitive cheerleading.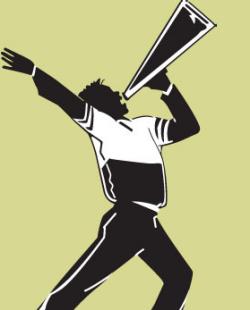 On the afternoon of March 28, Kyle Gadke was busy with a private cheerleading lesson. When his student took a water break, the 26-year-old, Illinois-based coach looked at his phone and saw an email from the U.S. All Star Federation. The message was about a series of changes to the rules of competitive cheerleading that would take effect next season. Gadke scanned the note quickly, then kept working until late in the evening. By the time he got home, he'd received a torrent of voicemails, texts, and Facebook messages. The new USASF rules included an "image etiquette" guideline that Gadke, who is gay, hadn't noticed on his first read-through. Under the header "minimize the negative," the document said, "Males—minimize exaggerated or theatrical movements."
This weekend, as teams from around the world convene at Orlando's Walt Disney World for the world championships of competitive cheerleading, controversy will compete with choreography for the cheer world's attention. Reaction to nearly every aspect of the March rule changes has been negative. Some think that restrictions on acrobatics—"Consecutive bounding, twisting skills are not allowed"—will limit competition. Others feel that restrictions on hair-bow size—"Bows should not be excessive in size (acceptable bows are generally no more than 3" in width) and shouldn't be a distraction to the performance. Bows should be worn in a manner to minimize risk for the participants"—are needlessly draconian. A change.org petition has been circulating that asks for the rules to be revoked. It has close to 7,000 signatures.
That petition may not be necessary. On April 5, many of the rules were revised—standing double fulls are still banned in tumbling passes, but standing fulls are OK—and the original documents from March were removed from the USASF site. In addition to rewriting some of its guidelines, the USASF rules committee also issued a letter explaining that the image policy had been meant to address "the unflattering media stories that have focused on how our sport is presenting its athletes, particularly those in the younger age groups." Still, there was no direct explanation for the guideline about male theatricality.
A bunch of cheerleaders who are upset about an image policy—a document devoted to such topics as skirt length and appropriate makeup usage—aren't likely to be taken seriously outside the sport's community. But one upset cheerleader is trying to change that. Kyle Gadke has taken the matter to the American Civil Liberties Union and the Gay & Lesbian Alliance Against Defamation.
At first, Gadke didn't know how widespread the outrage was. "I thought it was discriminatory, but I thought maybe it was one of those things where I was just too close to the issue," he says. On March 29 he went on Fierce Board, an online cheer forum where participants "shimmy" instead of liking a post. "I feel like this is a sugar-coated way to say 'We don't want the guys to look gay!' " Gadke wrote. "Am I being defensive and reading too much into this?"
The response on Fierce Board was pretty much unanimous: No, he wasn't reading too much into it. One young, gay poster, who reminded readers of recent cases of young cheerleaders committing suicide, explained that the cheerleading mat was the only place he could be his real self. "No societal images to uphold, no fear of embarrassment because you shimmied really damn hard after landing your pass for the first time in competition, nothing, and yet the USASF dares to try and take that away?" he wrote.
It's a sentiment Gadke can understand. The cheerleading coach grew up in a rural Iowa town where he didn't feel comfortable coming out of the closet. "During the day, there'd be name-calling, the typical high-school drama that goes along with picking on a male cheerleader," he says. "But there was a safe haven in all-star cheer. Cheer provides that environment where it's OK to have different types of personalities." Gadke knows coaches who've housed teenagers whose parents would not accept them, and teenagers who are out at their gyms but not to their families. For many young men who've found comfort in competitive cheer, the admonition that they "minimize exaggerated or theatrical movements" felt like an unprovoked attack from a world where they'd always found support.
The USASF would not respond to repeated questions about the reasoning behind the image etiquette guideline, and why male cheerleaders were singled out. "Rules were released with language that we understand upset participants of our sport and members of our community," USASF Chairman Jim Chadwick said in an email, on behalf of the organization. "It was not the intention of the USASF to offend or single out anyone."
According to Chadwick, the rules regarding theatrical movements will be revised "to reflect all participants of this sport." Another member of the rules committee, Justin Carrier, made a public statement on Facebook on March 30 that "we understand that some of the language has upset many people" and that the group would "take a long hard look at it, and make sure the language is right and that it reflects the spirit of our industry." As of April 27, those promised revisions still have not been made public.
Randy Dickey, the co-founder of a gym owners' group called the All Star Gym Association, says he sees why some people think the admonition to male cheerleaders is homophobic. He also believes the rules weren't properly vetted. And Dickey, who is straight, is certainly aware of the level of anger out there: Shortly after the rules were issued, 996 members called in to a regularly scheduled ASGA conference call that usually attracts a few dozen people. Even so, he doesn't think the new rules weren't designed to be discriminatory. "I don't think that the people who made the rule would be that ignorant," he says.
Dickey's guess is that the guideline on theatricality was designed to make teams look more cohesive—to prevent the most extroverted kids from stealing the spotlight. But that philosophy isn't consistent with how cheerleading works, as talented participants are given solos all the time. "One girl will do a kick-kick-double and everyone else does a kick-double," Dickey explains. And it also doesn't explain why men in particular were singled out for their theatricality.
There is another theory that perhaps offers a better explanation of what the USASF was thinking. As competitive cheer grows, the sport's poobahs have an interest in attracting more and better athletes to what is supposed to be a coed activity. The quest to minimize male theatricality, then, could be seen as an effort to change the sport's image in a way that would increase its appeal to young male athletes who aren't comfortable with shimmying.
But cheer is an activity in which it's always been OK for boys to shimmy. The USASF's new rules have threatened to destroy that safe space. Gadke is still waiting to see the promised revision to the guidelines, and he's still talking with the ACLU and GLAAD. He wants not just a revision but an apology. After all, cheerleading is a sport that's built on trust. At this weekend's championships, children and adolescents will toss themselves in the air on the assumption that a teammate will be there to catch them. If the USASF doesn't right itself soon, the entire sport will be in for a hard fall.