Will the Gators Chomp the Tigers?
The second round of Slate's NCAA Tournament mascot death match.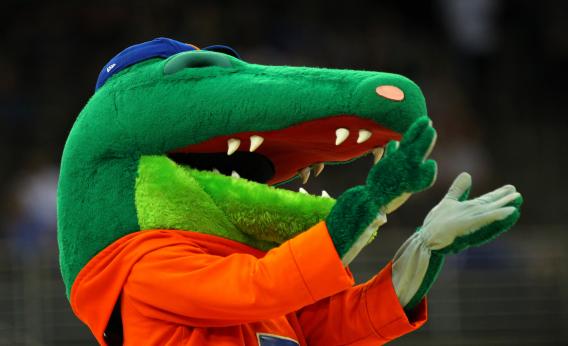 In the first round of Slate's NCAA mascot deathmatch, readers picked the Cyclones to level the Huskies, the Rams to bludgeon the Racers, and the Tigers to devour the Billikens. Now it's time to see who advances to the Sweet 16. Can alligators slaughter tigers? Can wolverines bring down bulls? Again, the matchups are five-on-five, and take place in a spacious yet enclosed gym. (For the full rules and the results of our first-round reader surveys, check out the original write-ups.)
If you don't agree with my analysis, register your dissent in the surveys below. The second-round winners will be determined based on your choices. Check back later this week to see who won the second-round matchups and vote on the Sweet 16.
No. 16 Mississippi Valley State Delta Devils vs. No. 8 Iowa State Cyclones
In the mascot tournament, a No. 16 seed has as good a chance as any team to fight its way to the championship. But after tearing through Kentucky's Wildcats in Round 1, the Delta Devils—pointy-eared orange demons who seem to be able to conjure fire from their palms—run into an overwhelming force in this matchup. The cyclone—which is actually a tornado, if you go by the intentions of the 19th-century Iowans who nicknamed the team—uses the demons' pyromania against them, transforming into a nightmarish fire tornado. The demons are immolated in their green capes.
No. 5 Wichita State Shockers vs. No. 13 New Mexico State Aggies
These squads have a lot in common. Shockers harvest wheat; Aggies do agricultural stuff. Until 2005, this would have been an easy win for the Aggies. Their mascot was Pistol Pete, a gun-toting cowboy apparently modeled on a real-life Old West character named Frank Eaton. Now it's just Pete, his weapon a lasso. Still, it's enough to overcome the shockers, whose wheat-shaped mascot, WuShock, is armed with only a scowl.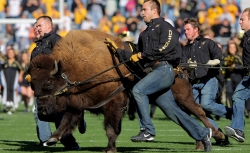 No. 11 Colorado Buffaloes vs. No. 3 Baylor Bears
No. 10 Xavier Musketeers vs. No. 2 Duke Blue Devils
This showdown raises all sorts of epistemological questions. Do the musketeers carry muskets, as their nickname plainly implies, or just rapiers, as Alexandre Dumas' fictionalized Three Musketeers were wont to do? The Xavier mascot is named D'Artagnan, an obvious Dumas reference—but also a real 17th-century figure who was reportedly killed by a musket ball in the Siege of Maastricht. As for the Blue Devils, we decided in the first round that they are French World War I fighters, not PMS 287-hued demons. In the end, the musketeers' weaponry isn't the deciding factor: The blue devils' 20th-century weapons are far superior to flintlock muskets anyhow. What matters is whether D'Artagnan is as tricky as his fictional namesake—or as dead as his real-life inspiration. We say dead.
No. 1 Michigan State Spartans vs. No. 8 Memphis Tigers
No. 5 New Mexico Lobos vs. No. 13 Davidson Wildcats
The wildcats toyed with cardinals in the first round, while the lobos stalked and slayed a band of 49ers. This one's a mismatch: The force of a grey wolf's bite is twice that of a German shepherd, and its stomach can hold up to 20 pounds of food—enough for an average-sized wildcat, plus dessert.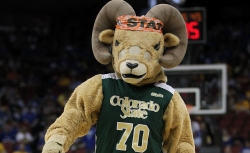 No. 11 Colorado State Rams vs. No. 14 BYU Cougars
We picked the racers—a team of thoroughbreds and riders—to stomp the rams, but readers picked the hard-headed rams to butt their way through to the second round. Here, though, the outcome should be clear. Sheep, including bighorns, are a staple of the mountain lion's diet.
No. 7 Florida Gators vs. No. 2 Missouri Tigers
The gators' huge jaws and bony armor were too much for the cavaliers in the first round, while the tigers pounced on the Spartans. Now these two man-eaters face each other in one of the tournament's premier matchups. The gators' rough hides will again serve them well, and if they were in water they'd probably prevail. On a basketball court, though, the tigers will use their quickness to put the reptiles in a full-court press. Once that happens, this fight will unfold just like this video—the tiger will clamp onto its larger rival's neck and dig in.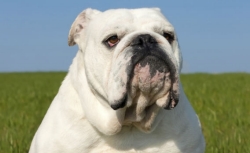 No. 16 UNC-Asheville Bulldogs vs. No. 9 Southern Mississippi Golden Eagles
To golden eagles circling in the sky, their wings measuring seven majestic feet from end to end, bulldogs might appear to be easy pickings. They're far smaller than ibex, say, or mountain goats, both of which have fallen prey to eagles in the wild. But on first attack, the eagles' talons will likely sink into folds of skin with little effect. And if a bulldog can clamp onto a leg or a wing, it's not going to let go until it rips it off or dies trying. Yet the eagles will adjust, perhaps dive-bombing the dogs and then floating back out of reach; bulldogs, like white men, aren't known for their jumping. In the end, they'll suffer death by a thousand pecks.
No. 5 Vanderbilt Commodores vs. No. 13 Montana Grizzlies
Whether this is a fair fight depends on whether the commodores carry guns. As mentioned in the first round, their namesake is Cornelius Vanderbilt, who was not actually a naval officer, just a really rich guy who liked boats. And even if they're armed, the commodores would have to aim well and fire fast, as grizzlies can sustain multiple gunshots and keep coming. It'll be messy, but the grizzlies survive.
No. 11 Texas Longhorns vs. No. 3 Florida State Seminoles
Few animals can take down a half-ton longhorn, but armed warriors on horseback have a better chance than most. The Seminoles' fate will depend on what weapons they employ—over the years, they used not only the iconic tomahawk, but clubs, spears, blow guns, and eventually muskets. Tomahawks won't get the job done here, but a flaming spear like the one Chief Osceola plants before each Florida State home football game will. The Seminoles ride into the Sweet 16.
No. 10 West Virginia Mountaineers vs. No. 15 Loyola Greyhounds
Greyhounds can hit 40 mph in pursuit of a bunny. That's not fast enough to outrun a bullet.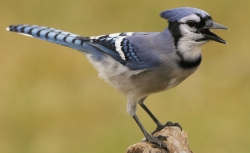 No. 16 Vermont Catamounts vs. No. 8 Creighton Blue Jays
Blue jays are feisty, and their mobility helped them score an upset over a crimson tide in the first round. But catamounts are cougars. They ate the Tar Heels last round, and now they'll feast on bird.
No. 12 South Florida Bulls vs. No. 4 Michigan Wolverines
The bulls have the toughest road in this tournament. Having already gored the mighty golden bears and tracked down the elusive owls, they now face five vicious wolverines. Yet the wolverines themselves are battered from their own win over the bobcats, and they lack the size and power to bring down an aggressive one-ton bovine. The wolverines draw blood, but a few well-placed horns end their campaign.
No. 6 North Carolina State Wolfpack vs. No. 14 Belmont Bruins
The wolfpack, licking their wounds after a close win over the Aztecs, cannot be thrilled to see a bunch of hulking brown bears in the second round. These foes have met before in the wild, where they occasionally tangle over a carcass. Packs of wolves can sometimes use their superior teamwork to slay an inexperienced bruin, but this revealing footage shows a lone juvenile bear fighting at least four wolves to a standoff. The bruins lumber on.
No. 10 Purdue Boilermakers vs. No. 15 Detroit Titans