The United Sports of America
If each state could have only one sport, what would it be? (Pennsylvania, you get field hockey.)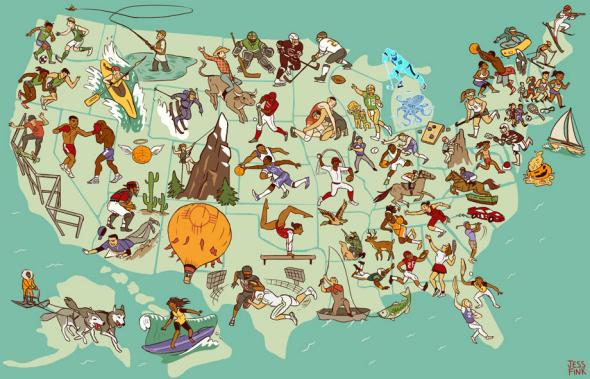 Click an illustration above or a state below to learn more, or start with Alabama.
« Previous state
Next state »
X
Sport:
Click to learn more
Full List of States and Sports
Alabama (college football)
Alaska (mushing)
Arizona (spring training baseball)
Arkansas (duck hunting)
California (skateboarding)
Colorado (mountain climbing)
Connecticut (squash)
Delaware (pumpkin chunking)
District Of Columbia (kickball)
Florida (jai alai)
Georgia (tennis)
Hawaii (surfing)
Idaho (whitewater kayaking)
Illinois (16-inch softball)
Indiana (high school basketball)
Iowa (wrestling)
Kansas (men's college basketball)
Kentucky (Thoroughbred horse racing)
Louisiana (bass fishing)
Maine (biathlon)
Maryland (lacrosse)
Massachusetts (marathon)
Michigan (pro ice hockey)
Minnesota (high school ice hockey)
Mississippi (deer hunting)
Missouri (pro baseball)
Montana (fly fishing)
Nebraska (college baseball)
Nevada (boxing)
New Hampshire (cross-country skiing)
New Jersey (youth soccer)
New Mexico (hot-air ballooning)
New York (streetball)
North Carolina (stock car racing)
North Dakota (college hockey)
Ohio (cornhole)
Oklahoma (gymnastics)
Oregon (track and field)
Pennsylvania (field hockey)
Rhode Island (sailing)
South Carolina (golf)
South Dakota (rodeo)
Tennessee (women's college basketball)
Texas (high school football)
Utah (church basketball)
Vermont (snowboarding)
Virginia (steeplechase)
Washington (pro soccer)
West Virginia (rock climbing)
Wisconsin (pro football)
Wyoming (downhill skiing)
If the United States had an official sport, what would it be? Baseball can call itself the national pastime until the sun burns out, but the correct answer is good old American football. Next question: If every state in the union had to choose an official sport, what would they pick? Football, football, lacrosse, football, skiing, football, football … and Alaska gets the one with sled dogs. But what if you had to assign one sport to each state, and could use each of those sports just once? How would you disperse our favorite pastimes among the 50 states and Washington, D.C.?
Now that's a more interesting parlor game. Only 12 states have bothered to name any kind of "official sport," which leaves a lot of room to impose one's sporting will on the American people. Alas, there must be rules, lest this barroom argument descend into anarchy. Here are my four commandants.
1. No two states can have the same sport. The most important rule of them all. If we declare that Calvinball belongs to West Virginia, then it's off the board—no other state can have it.
2. Sports can be atomized. An immediate exception to Rule No. 1. Some states prefer college football to pro, some prefer high school basketball to college. Allowing different states to own different flavors of the same sport reflects the reality of the American landscape. It also makes it possible to create a map without stooping to include "sports" like pinochle and punch buggy.
3. A sport can be anything that is plausibly a sport. Yeah, punch buggy and high-speed multiplication probably shouldn't count, but I'm no stickler. Competition is a necessity, but sticks and balls are not required. Wife-carrying, chess boxing, noodling—you're all welcome (at least theoretically) in these United Sports of America. But I draw the line at metaphors. However fitting it may seem, politics is not and will not be the official sport of Washington, D.C.
4. Official state sports will be honored if possible. But it's not always possible. South Dakota, Texas, and Wyoming all chose rodeo as an official sport, but only one state can be America's true rodeo king. (Rodeo fight!)
With those ground rules established, I got to choosing, with some help from colleagues. (Slate is still recovering from an all-staff email debate that destroyed an entire afternoon of workplace productivity and led one aggrieved Ohio resident to insist that grievous harm had been done to the Buckeye State.) Browse through the map above, illustrated beautifully by the amazing Jess Fink with interactive design by Chris Kirk, to see what we decided. Surprisingly, we had a bunch of respectable sports left over: pro basketball, swimming, indoor and beach volleyball, softball, bowling, table tennis, water polo, figure skating, fencing, badminton, diving, windsurfing, shooting, mixed martial arts. Want to pop any of those sports in or switch other ones around? Leave your best alternative arrangements in the comments.
Correction, Oct. 8, 2013: Due to a production error, Connecticut's sport was originally displayed as women's college basketball in the full list of states below the illustrated map. Connecticut's sport is squash. The interactive also misstated that Ted Nugent lives in Michigan. He has a ranch in Michigan but lives in Texas.