Moneygolf
Will new statistics unlock the secrets of golf?
At every PGA tournament, tucked away in a parking lot among the beverage trucks and television satellites, there's a white trailer with "ShotLink" emblazoned on the side. When I climb up the stairs and open the door, it's like stepping into a Dell computer—everything is gray and black. Five guys are looking at their laptop screens and making polite requests on two-way radios. They are talking to volunteers out on the course. The volunteers, about 200 of them, are using lasers to track every shot taken by every player.
I stand behind one of the ShotLink producers, Jason Stefanacci, and watch the shots roll in. The first round of the AT&T National is in progress, and 40 threesomes of pro golfers are making their way around the course. The par is 70, which means that the ShotLink team will record around 8,400 shots today. Since ShotLink became fully operational in 2003, the system has recorded more than 7 million golf shots: shots that have landed in trees, shots that have landed in spectators' laps, four-putt greens, double eagles.
Bundled together, those 7 million shots make up the richest dataset in sports. These shots teach us about the dynamics of competition: Do golfers really play worse when Tiger Woods is in the field? They teach us about choking: Do golfers who are in contention on Sunday miss more easy putts? And they help us answer golf-world conundrums that have always floated above the fairway, in the realm of hunches and best guesses: What separates an average pro from a champion?
We're in a golden age for golf research because the PGA Tour has opened ShotLink's books to researchers. Two professors at the Wharton school, for example, looked at 1.6 million tour putts and concluded that professional golfers are risk-averse. They examined putts for par and putts for birdie from the same distances and discovered that pros make the birdie putts less often. They suggest that pros leave these birdie putts short out of fear of making bogey, and then calculate that this bogey terror—and the resultant failure to approach birdie putts in the same way as par putts—costs the average tour player about one stroke per tournament.
It's insights like these that offer the provoking notion that a Moneyball-type revolution awaits golf. Of course, professional golf is not analogous to baseball, where a general manager spends his days trawling for inefficiencies, coldly evaluating the players on the field and trading for those he believes will perform the best. In baseball, the groundbreaking research of Bill James and his cohort was important not just because it showed fans and math buffs how baseball works. It also changed the way baseball was played as teams used Jamesian statistical insights to earn a tactical advantage.
There are no general managers on the PGA Tour. The golfer, with help from a caddie and coaches, must evaluate himself, searching for inefficiencies in his own game: Am I putting as well as the other guys? Is my wedge play up to snuff?
For touring pros, the new statistics and research can provide clear answers to these questions. When a player qualifies for the PGA Tour, he's given a laptop that he can use to access all of his stats. But is it a good idea for an elite athlete to fill his head with numbers? When I talked to PGA Tour players, many were skeptical about how stats could help them. Some, like U.S. Open champ Lucas Glover, were openly disgusted.
Me: "Hey, Lucas, do you ever look at your ShotLink stats?"
Lucas (South Carolina drawl): "Ab-so-lutely not."
Glover went on to express a perception on tour that ShotLink is disorganized and often wrong. That may have been partly true in the system's early years, but ShotLink is now a tight ship. I watched as the ShotLink producers corrected errors in real time and asked volunteers to verify any shot that looked out of whack. Besides, even if a few errors slip into ShotLink during a tournament, it's hard to ignore 7 million shots. Those shots are going to tell a true story, perhaps one that a golfer may not want to hear.
On the other end of the spectrum, there are players who have truly scrutinized the data to find holes in their game. I spent a long time on the range talking stats with Chris Stroud, a young Texan looking to make his name on the PGA Tour. He prints out all of his ShotLink numbers at the end of the year and analyzes them with his coaching team to figure out his weaknesses. This year, he noticed his putting, chipping, and bunker play were lacking, so that's where he put in the majority of his practice time.
But even the pros who told me they looked at ShotLink appeared a little confounded by it. "I try to simplify everything," Stroud told me, whereas ShotLink makes the game seem more complicated. After all, the system features 47 stats just for shots off the tee. It can be difficult to locate the meaning in that sea of numbers, and it's not surprising that so many pros find it easier just to rely on their own instincts. This is where the new golf research comes in: Analytical minds who love the game are on a quest for better statistics, numbers that reflect what is happening on the course and can be easily grasped by players and fans alike.
In this effort, golf researchers follow in the footsteps of the pioneering attempt to study golf. It took place in the 1960s and was led by Sir Aynsley Bridgland, an Australian industrialist who would recall later in life that he had three ambitions as a young man: "To own a Rolls-Royce, to be a millionaire, and to be a scratch golfer." He accomplished all three, "and he always said that it was the last of the three which satisfied him the most." After a visit to America, where he heard that professional golfers were participating in MIT-led "high speed photographic studies" of the game, Bridgland decided to attack the game scientifically. He assembled and helped bankroll a formidable team of scholars, including ballistics experts, physiologists, and Britain's first professor of ergonomics. In 1968, after five years of research, they published their results in a landmark book called Search for the Perfect Swing.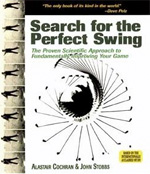 The British team helped answer fundamental questions about how the game is played. They described the golf swing as a double-pendulum and examined how the shape of the club head affects swing path and ball flight. They studied the ball itself, describing the aerodynamics of dimples and how the materials respond to the impact of the club. The book had an enormous influence on golf equipment companies, who began to hire physicists and materials engineers. (Karsten Solheim, the founder of Ping, was a big fan.) But the team was limited in its ability to answer basic questions of strategy—for example, is putting or driving more important for shooting a low score?
In our time, the search for the perfect swing has become coupled with the search for the perfect round. With GPS, laser surveyors, computers, and new mathematical strategies, we can analyze golf at a level of sophistication that Sir Aynsley Bridgland never could have imagined. Thanks to these tools, we are on the cusp of discovering the optimal way to play the game. Throughout this series, I'll explain the revolutionary research that may change the way you watch and play golf. I say "may" because golf has always been about balancing intuition and analysis. In the past, the game has leaned more toward the Zen, the mystical. In the sprit of our data-driven times, the game is about to get a lot more statistical.

Next: How Golf Really Works

To hear Michael Agger, Josh Levin, Mike Pesca, and Hanna Rosin discuss Agger's "Moneygolf" series, click the arrow on the audio player below and fast-forward to the 16:35 mark: