The Penises of the Icelandic Handball Team
The sculpture they inspired and the controversy they touched off.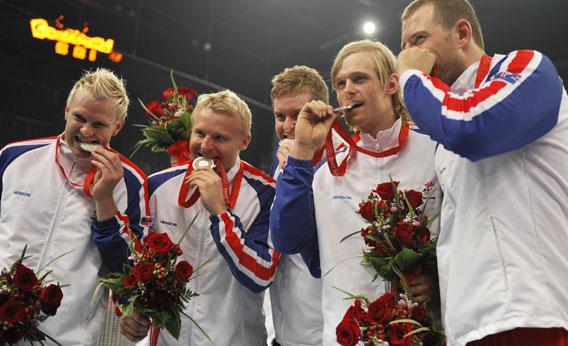 LONDON—Many exciting things happened to the Icelandic men's handball team when it won the silver medal at the Beijing Olympics four years ago. Some 40,000 people crowded the streets of Reykjavik to greet the players when they returned home. Eighty-five percent of the population of 320,000 watched the handball final on television, and a water-usage study by a local utility company revealed that in the final moments, virtually nobody in the entire country went to the bathroom.
The players became instant celebrities. "Everyone knows who we are," said Gudmundur Gudmundsson, the coach, after his team beat Argentina in the preliminary round of this year's Olympics competition. Olafur Ragnar Grimsson, the president of Iceland,, told Time,* ""Handball, for us, has become not just a sport but the core of the national spirit."
The team even made it into a local museum. That would be the Icelandic Phallological Museum, which was moved several years ago to immortalize the victorious handball players in an unusually raunchy sculpture called The Icelandic National Handball Team. The sculpture consists, basically, of a bunch of silver penises pointing at the ceiling in a kind of wild-mushrooms-waving-in-a-field effect.
The sculpture—which would have been gold if the Icelandic team had won the title in Beijing—is more flight of fancy than reality-based artwork. It is displayed right under a large photograph of the virile 2008 handball team but, somewhat confusingly, does not depict its actual members.
"No," declared the goalkeeper Hreidar Levy Gudmundsson, one of the players from the 2008 squad who remain on the team, when asked after the Argentina match whether he had anything to do with the sculpture. He became a little flustered. "We didn't make it. We didn't have a session after the game, if that's what you mean. I think it's a little bit weird, to be honest."
The artist who fashioned the piece, Thorgerdur Sigurdardottir, said she made it as a favor for her father, Sigurdur Hjartarson, the founder of the museum, which bills itself as "the only museum in the world to contain a collection of phallic specimens belonging to all the various types of mammals found in a single country."
When her father asked Sigurdardottir, 44, for a contribution that would honor the handball team, "I thought, 'OK, I will do a bunch of men with dicks,' " she said in a phone interview. But then she decided to dispense with the men's nonpertinent (from the museum's perspective) body parts. "I thought, 'OK, it's a phallus museum, so I'll just make, you know, phalluses,' " she said.
So, whose phalluses are they?
"I didn't have any models," she said. "I just made them from experience."
General experience, not handball experience.
"I'm not very much a sports person," she confessed. "But Iceland is a handball nation, and a part of that, maybe, is that Icelandic men have the kind of builds that work in handball." Still, many unwitting visitors are inevitably moved to guess which penis belongs to which player.
"That is part of the fun," said Hjortur Gisli Sigurdsson, Sigurdardottir's brother, whose decision to take over the running of the museum from his father makes him probably the world's only hereditary penis-museum operator.
Sigurdsson, 48, a former logistics manager in a plastics company warehouse who says he is also "a child of nature, a hunter-fisher, and self-taught master chef," said that the sculpture was in keeping with the museum's quirky and, truth be told, slightly random spirit. "It's provocative," he said of the museum. "It gets people thinking about, 'Why is this thing so taboo in everyday life?' "
In addition to the penises that do not really belong to the handball players, the collection includes 280-odd Icelandic mammal phalluses, ranging from a tiny mouse bone in a case to a huge whale penis floating impressively in liquid. There are also foreign animal phalluses; a framed passage from Moby-Dick about a whale member "longer than a Kentuckian is tall"; more artwork from phallic-focused artists; and most curiously, the pickled parts of Pall Arason, a 95-year-old Icelandic man who died in 2011 and graciously bequeathed to the museum his posthumous penis.
In The Final Member, a documentary that had its premiere in Toronto earlier this summer, Hjartarson, the museum's founder, is shown saying that he failed to do justice to Arason's gift, which became unflatteringly shriveled during the preservation process. "I should have put him in some vinegar," he says.
Many years ago, Hjartarson—a teacher, schoolmaster, author, and translator of textbooks on Latin American history—received a preserved bull penis as a surprise gift. It was a joke, more or less, but it inspired him to think beyond bulls to other species. "He had always done some odd things," Sigurdsson, his son, said. "He also collected books."
Hjartarson kept his penis collection private for many years before opening the museum in 1997. It moved to Husavik, in northeast Iceland, for a few years and returned to Reykjavik last fall when Sigurdsson took over.
It has always been a family project.
"It could be a bit embarrassing, because he used to phone around Iceland to see if he could get different animals, and sometimes he sent us to collect for him," Sigurdardottir, his daughter, said. Once she was dispatched to a slaughterhouse, where, because of a mortifying timing mishap, she arrived just as all the workers were taking a lunch break in the cafeteria. "Someone asked, 'What's in the basket?' " she recalled. "I had to say, 'I'm collecting a frozen goat penis.' After that I said, 'I will never collect for you again.' "
The museum can evoke unexpected responses. Solkatla Olafsdottir, who was working behind the front desk recently, said that it had helped cure her of hang-ups about various body parts. "Also, we're selling scrotum lamps," she added. To their credit, they do not come across as what they really are, but rather look like slightly unusual lamps fashioned from some sort of generic, nonscrotal material. "They're very pretty, if you don't think about what they're made of," Olafsdottir said.
Visitors on a recent day included a couple from Germany. "I found it on the Internet, and it looked very crazy, and I thought, 'I must see it,' " said Ramona Kester, 27. Her boyfriend, who was less enthusiastic, suddenly noticed that he was having a conversation under an elephant specimen protruding aggressively from the wall. "It looks very … big," he said uneasily, declining to give his name because of embarrassment.
Everyone loves the handball sculpture, and it is often mentioned in the guestbook, which serves as a useful forum for visitors' stream-of-consciousness views. Many have seized the opportunity, for instance, to contribute their own interesting drawings.
"I've never seen so many penises—and I went to boarding school!" wrote a visitor from New Zealand. "They're bigger in the USA," said someone from Wisconsin. "Is there a vagina museum?" asked another visitor.
Back at the Olympics, where the Icelandic men lost to Hungary 34-33 in the quarterfinals on Wednesday, the players on the handball team were still distancing themselves from the "The Icelandic National Handball Team."
"What can I say?" said Gudjon Valur Sigurdsson, one of the players. "I was on the team in 2008, and my sculpture wasn't taken from me."
Correction, Aug. 11, 2012: This story originally failed to include attribution for a quote from Iceland President Olafur Ragnar Grimsson. The quote was given to Time magazine. (Return to the corrected sentence)