The Lover and the Object of His Affection
The truth and the fiction behind John Gilbert and Greta Garbo's romance.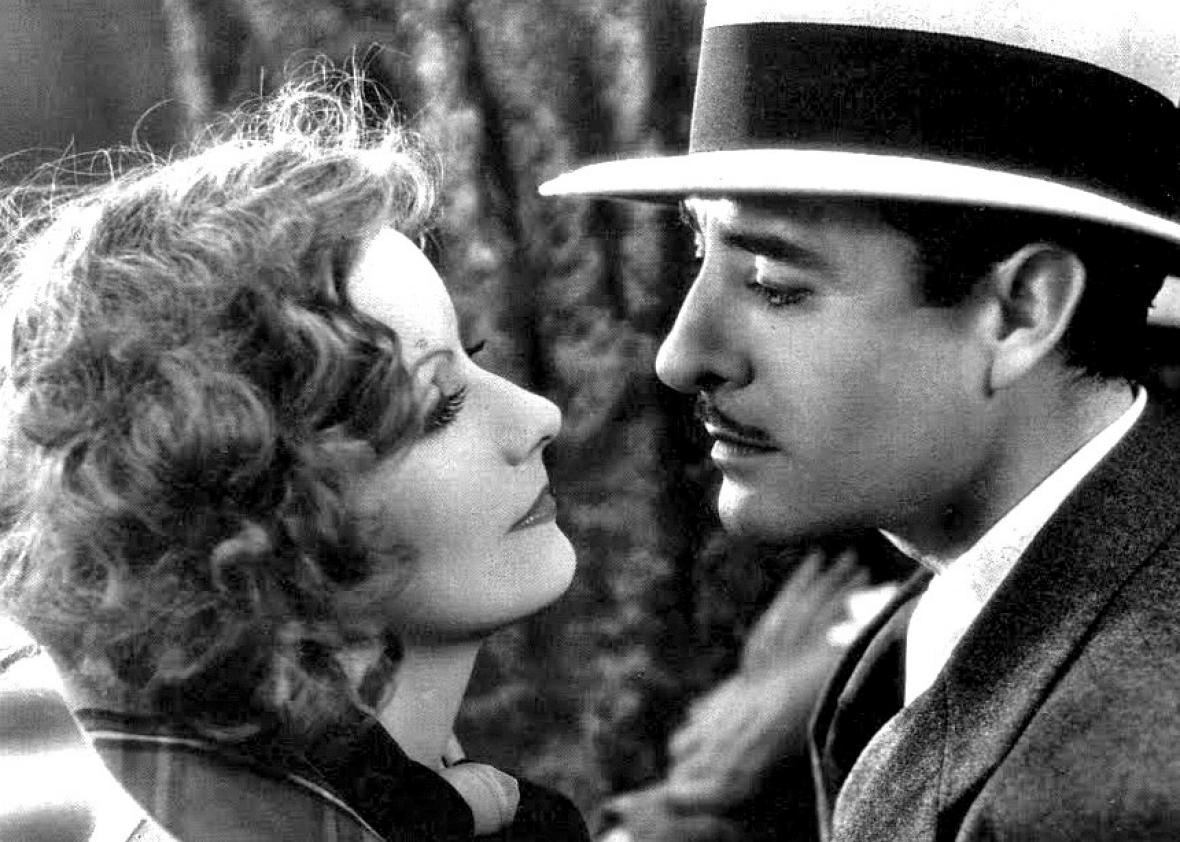 You Must Remember This, the podcast that tells the secret and forgotten history of 20th-century Hollywood, has joined Panoply. And when each episode airs, creator and host Karina Longworth will share some of the research that went into the episode in a transcript excerpt here on Slate. Listen to the complete Episode 4 below, and subscribe to You Must Remember This on iTunes.
Greta Garbo is still, today, held up as one of the unmatchable stars of Hollywood's Golden Era, even though most of her films are rarely revived. But if you were watching Hollywood in the mid-to-late 1920s, you were getting mixed messages about Garbo: You were told she was this enigmatic lone wolf on screen and off, and you were also asked to believe that she was in true love with her frequent co-star, John Gilbert, a king of the silent era whose transition to sound film was as rocky as anyone's. There is a pervasive idea that Gilbert's career was done in not by sound alone but because of a grudge held against him by Louis B. Mayer.
Early on, producers seem to have understood that Gilbert was really great at wearing surprisingly ornate clothes and generally looking pretty. He gave the viewer as much or even more on an eye-candy level as the actresses he was cast against, and the characters those actresses played were usually overcome by his charms. But what was interesting about Gilbert wasn't necessarily his impact on the women in the frame or in the audience—it was the way he performed the impact of women on him. By 1924, when Gilbert was cast in the second lead in the Norma Shearer/Lon Chaney circus movie He Who Gets Slapped, Gilbert had begun to establish his persona as a star: not so much a lover as a man overcome with love.
The following year, 1925, Gilbert anchored two of MGM's biggest hits, Erich von Stroheim's The Merry Widow, and King Vidor's World War I epic The Big Parade. The other big MGM hit of 1925 was Ben-Hur. While in Europe for the agonized and ultimately mostly aborted first shoot of that film, Louis B. Mayer traveled from Rome to Berlin, where he screened a number of new European movies with his interpreter translating the intertitles live in the screening room. A girl in a German film called The Atonement of Gösta Berling caught Mayer's eye. Or, rather, she caught him with her eyes. Mayer believed that there was ineffable thing that you could detect in the eyes of a performer that would tell you whether or not they had what it took to be a star. This young girl in the German movie, this Greta Gustafsson? She had the thing in the eyes like no one Mayer had ever seen. Mayer arranged to have the actress meet him at his hotel, and by that night, she had signed her first MGM contract, for $400 a week.
Irving Thalberg put Greta through an intensive makeover: Her hair was defrizzed, her waistline defatted, her boyish personal wardrobe was junked in favor of stylish new threads, paid for out of her weekly salary. She was then cast in a film called Torrent as a Spanish peasant who goes to Paris and comes back an elaborately costumed singer. And as soon as the rushes started to come in, that thing that Mayer had seen was now visible to everyone else.
Torrent would establish Greta Garbo as an ingénue, the screenland discovery of 1927, but it didn't make Greta any happier. Feeling insecure and depressed, she started openly longing for her homeland of Sweden, but now MGM was determined to keep her around. They decided to make the most of her apparent melancholy, her penchant for solitude and distaste for the Hollywood social scene, and started crafting a persona for Garbo, as an implacable beauty with an untouchable heart.
Perhaps it's because the roles they supposedly played with each other off screen seemed so closely aligned with the roles they played on screen, that some have long suspected that John Gilbert and Greta Garbo's romance was an invention. Louise Brooks, who claimed to have had a fling with Garbo, said the icy Swede's affair with the tempestuous, alcoholic Gilbert had been invented by MGM's publicity department to cover up Garbo's bisexuality. Others have said Garbo never had much interest in sex with anyone. Certainly, there are enough conflicting stories about the Gilbert/Garbo love affair that all of them should be taken with a grain of salt, but the conflicting legends have been printed again and again for a reason—the contradictions complete the picture of Garbo as the most unknowable of superstars.
In 1926, director Clarence Brown wanted to cast Garbo opposite Gilbert in a romantic tragedy called Flesh and the Devil. It's been reported that Greta and Jack, as all knew him, fell in love at first sight, that visible spark flew between them the first time they locked eyes. It's a fact that this is what happened between the characters they played in their first scene together on film, in Flesh and the Devil. Certainly, the performers had a kind of chemistry together that comes along once in a lifetime, which is captured in the movie. The two could turn scenes in which virtually nothing is happening, shots in which they look at each other or look away from each other or meaningfully walk past each other or almost touch each other into something resembling an erotic dream. Many people believe that Gilbert, in a sense, taught Garbo how to be Garbo on the set of this film, by giving her direction in their scenes together that superseded the actual director's direction. I'm not exactly sure how that would work in practice, but I don't think you can discount the power that Gilbert had, when he was in his element. By now, he was the best man in Hollywood at playing a man in love, and Garbo soon became the best woman in Hollywood at playing an object of desire.
If you believe that Gilbert and Garbo had a real romance, then you have to believe that they became swept up in each other very quickly. Flesh and the Devil was shot in about three weeks, and by the end of the shoot, the couple were apparently speaking seriously of marriage. According to director Clarence Brown, Gilbert started proposing almost immediately. To outside observers like Brown, it seemed like the two were in love, but Gilbert was always more in love than Garbo. Again, not unlike the roles they played on screen.
One biographer has Garbo crediting Gilbert with her Hollywood success—in that, if they hadn't met and found in each other a kindred spirit, on screen for sure if not also off screen, then she would have surely abandoned her American career and gone back to Sweden. And yet, as one version of the story goes, Garbo stuck around to become a star because Gilbert didn't give her what she wanted. As that version goes, Garbo wanted to quit movies, and she told Gilbert that she would marry him and give up her career. Gilbert was like, yes, please, marry me, but don't give up your career. Garbo apparently thought this meant that Gilbert wasn't serious about her, that he just wanted an acting partner. But few accounts other than Garbo's question Gilbert's seriousness. King Vidor was set to marry actress Eleanor Boardman, and Gilbert arranged that it be a double wedding, that the Boardman/Vidor nuptials be followed by the union of Garbo and Gilbert. But the day of the wedding, Garbo didn't show up. Gilbert was incredibly upset. At one point, he was in the bathroom weeping. According to Boardman, Louis B. Mayer walked in, saw his romantic idol whimpering, and said, "Sleep with her, don't marry her." Gilbert punched Mayer in the face. Mayer, on the floor, his eyeglasses broken in pieces, allegedly then said, "I will destroy you."
A lot of people believe Louis B. Mayer personally destroyed Gilbert's career. Others believe Mayer didn't have to do anything to bring Gilbert down a notch, because Gilbert's movies very quickly stopped making money and started losing it. Because he was getting paid so much for each picture, his movies really couldn't be made for less than $500,000, which meant they had to gross in the neighborhood of $800,000 in order to turn a profit. After 1929's His Glorious Night, no John Gilbert film grossed as much as $700,000. Gilbert knew the score. He felt humiliated. He had always driven around town with the top of his convertible down, but now he started leaving the car closed, because when it was open, when he'd stop at intersections he was certain everyone of the sidewalk was laughing at him.
Just because he was paranoid, that didn't mean that Louis B. Mayer wasn't plotting against him. His apparent strategy became to make sure Gilbert played out his contract, without allowing the actor to do anything that might reverse his fortunes. In 1929, Howard Hawks contacted Gilbert about starring in The Dawn Patrol, a World War I talkie that Hawks was prepping at Warner Brothers. Hawks and Gilbert set a meeting with Mayer to discuss the possibility of loaning Gilbert out to the other studio. Loan-outs of contract stars were common and beloved by the studio that was doing the loaning, because they usually made a profit on the difference between what the borrowing studio was willing to pay and the star's contracted salary. But there was no chance of making a profit on Gilbert's contracted salary, and Mayer apparently only took the meeting in order to get Gilbert's hopes up and crush them.
In 1931, an L.A. Times story called Gilbert "Hollywood's Unhappiest Man," reporting that he skulked around the MGM lot with his hat pulled down over his eyes. With his wife Ina Claire's career on the ascendency, their marriage fell apart. In divorce court in Reno, Claire said of Gilbert, "He said he wanted to be left alone"—paraphrasing the famous line associated with Greta Garbo at least as far back as 1929.
For her part, Garbo was at the peak of her career, starring in MGM's biggest films of 1931 and 1932, Mata Hari and Grand Hotel. She and Gilbert had remained close, even as their romantic lives diverged. In 1933, Garbo insisted that Gilbert be cast opposite her in Queen Christina. Gilbert got himself together, temporary quit drinking, and the two were able to recapture some of their old silent magic in the age of talkies. But the comeback didn't hold. By 1936, Gilbert was dead. Garbo, who was in Sweden at the time, did not attend the funeral.
Garbo would continue making movies for MGM until 1941, and in fact, she would never make a film for another studio. With her box office results waning in the late 1930s, MGM finally decided it was time to shake up the Garbo persona, by casting her in a comedy, Ninotchka, in 1939. The Ernst Lubitsch film was a hit, so MGM doubled down and cast Garbo in a madcap dual role in the George Cukor film Two-Faced Woman. But Two-Faced Woman couldn't find its tone, the National Legion of Decency protested its supposed cavalier attitude toward marriage, critics hated it, and audiences didn't show up. The film was released three weeks after Pearl Harbor, and Garbo decided to take a hiatus from Hollywood for the extent of the war. She never came back and lived out the next 50 years in enigmatic semi-seclusion.
She never married, and though plenty have suggested this was because she preferred the company of several women to any one man, a close friend of Garbo's reported shortly after her death that Garbo had once drunkenly admitted that Gilbert was her great love, but when it came to marriage, she couldn't face the thought of giving herself up to another person. "I froze," she is reported to have said. "I was afraid he would tell me what to do and boss me. I always wanted to be the boss."