Mom and Dad Are Fighting: The Barrenness Edition
Listen to Slate's parenting podcast on child support and the choice not to have children.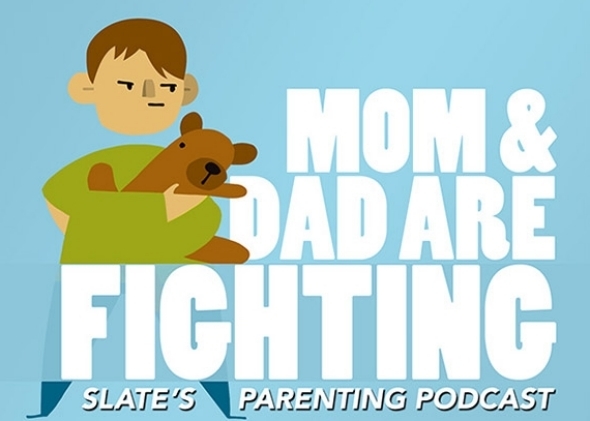 Listen to Mom and Dad Are Fighting by clicking the arrow on the audio player below:
In this week's edition of Slate's parenting podcast Mom and Dad Are Fighting, Slate editors Allison Benedikt and Dan Kois talk to writer and mother Kimberly Seals Allers about child support and why she decided to forgive her ex-husband's $38,750 debt. Then, a conversation with writer Meghan Daum about the choice not to have kids and her new book, Selfish, Shallow, and Self-Absorbed: Sixteen Writers on the Decision Not to Have Kids, which features essays by Anna Holmes, Laura Kipnis, Geoff Dyer, and Lionel Shriver, among others. Also: parenting triumphs and fails, a listener call about pacifiers, and recommendations.
This week on Slate Plus, Allison Benedikt talks with Heidi Moon, a product manager at Slate and the mother of an 11-year-old daughter, about an amazing parenting triumph or heartbreaking fail.
Items discussed in the show:
Allison recommends that you visit Harold's Place, a bar inside this hotel in Naples, Florida. She does not recommend bringing kids along to open houses. If listeners have advice on how to make house-hunting fun for kids, email momanddad@slate.com.
This week's advertisers are:
Stone Reset by Gemvara: Turn old jewelry or a loose stone into a new design setting you'll love. Get 15 percent off the stone reset of your choosing by going to Stonereset.com/momanddad.
Macmillan is a publisher of children's books including The Skunk, a whimsical tale by Mac Barnet and Patrick McDonnell. The Skunk is on sale now from Roaring Book Press
Shari's Berries: Treat your mom to something sweet this Mother's Day with a gift from Shari's Berries. Visit berries.com, click on the microphone, and use the code "momanddad."
Email us at momanddad@slate.com to tell us what you thought of today's show and give us ideas for what we should cover in the next edition. Got questions that you'd like us to answer on a future episode? Call and leave us a message at 424-255-7833.
Podcast produced by Ann Hepperman. Our intern is Jessie Chasen-Taber.